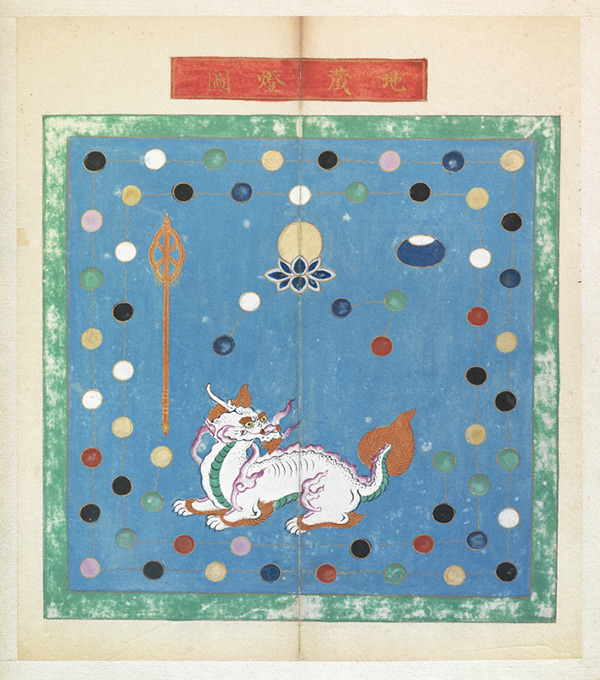 Lantern design in Kangxi dengtu (Kangxi-era lantern patterns), Chinese, 1790. Ink and watercolor, 29.7 x 24 cm. The Getty Research Institute, 2003.M.25
Imagine being able to pore over a sketchbook by Jacques-Louis David in minute detail, to investigate Mayan, Aztec, and Zapotec ruins in Mexico, or to study the costumes and social mores at Versailles. All of these things are possible with today's addition to the Open Content Program, which includes 5,400 artwork images from the collections of the Getty Research Institute—bringing the total number of available images to over 10,000.
These high-resolution images span centuries and continents, and include artists' sketchbooks, drawings and watercolors, rare prints from the 16th through the 18th century, 19th-century architectural drawings of cultural landmarks, and early photographs of the Middle East and Asia. Over the coming months, we'll supplement these images with other material critical to the study of art history, including artists' books and letters, stockbooks of famous art dealers, documentary photographs of art and monuments in situ from around the world, important historical treatises, and archives of famous artists, photographers, and collectors.
Making images and documentary materials available freely to all will play a major role in the transformation of art history. When I was new to the field of art history, scholarship was synonymous with the task of gaining access. A colleague of mine who studied a very specialized field used to say that no more than ten people in the world had ever seen the primary documents on the topic.
Realizing that new scholarship is dependent on primary materials, the Getty Research Institute has long strived to connect scholars to their original objects of study and to facilitate academic publishing. Early on, this meant having a highly professional cataloguing and curatorial staff and a state-of-the-art reading room. Today, access is increasingly taking digital form. This has led to a tremendous democratization of scholarship, as more and more people without the means or opportunity for far-flung travel can engage in primary research.
We hope the Open Content Program will accelerate this democratization process, enabling not only scholars but also students, artists, designers, and anyone who is interested to work with rare materials to produce new artworks, designs, and erudition that extend beyond the confines of the academy and the museum.
Art institutions, including the Getty, are redefining the relationship between their collections and their publics. Instead of looking at ourselves primarily as the owners of the objects under our safekeeping, we are conceiving of ourselves as stewards engaged in active collaboration and engagement with multiple communities who are discovering myriad new uses for images and documents. It is a very exciting time for art history.
Find all images in the Open Content Program via Getty Search Gateway.