Thousands of German tourists come to the Getty each year, but today's visit was special. The Chancellor of Germany, Angela Merkel, visited the Getty and was welcomed by L.A. Mayor Antonio Villaraigosa, Getty president and CEO Jim Wood, and the director of the Getty Research Institute, art historian—and fellow German—Thomas Gaehtgens.
The day began as trams filled with press arrived on the plaza at the top of the hill, and were ushered to a cordoned-off area where they waited for the Mayor and the Chancellor to meet.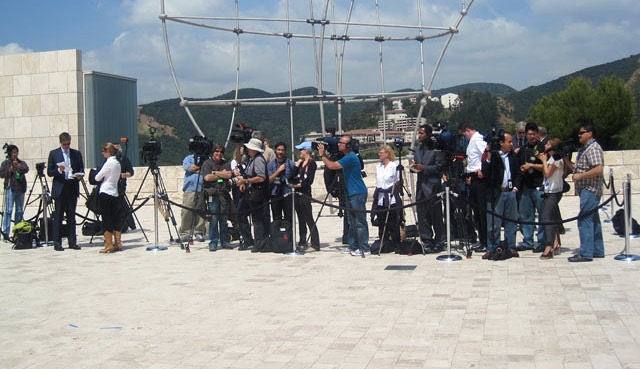 Nearby, a school group from the Community Honoring Inclusive Model Education (CHIME) Institute's Arnold Schwarzenegger Elementary School—a school in Woodland Hills that addresses special needs within their existing child development program—received a special treat when the Mayor and the Chancellor stopped by to talk to them. The Mayor couldn't resist asking them if they knew where Germany was.
We worked with the Mayor's office, the German consulate, and the Secret Service to make sure things went smoothly. It was definitely an experience trying to keep the press under control (they were supposed to stay in the "press pen") while the cameras rushed all around us to photograph the Mayor talking to the kids!
After visiting with the kids on the museum steps, the Mayor and the Chancellor went to see a medieval German book in the exhibition Building the Medieval World: Architecture in Illuminated Manuscripts.
The gallery visit was followed by the lunch meeting, which was attended by L.A. business and entertainment leaders. Los Angeles is the fifth most popular U.S. destination for German tourists, and Germany is the fourth-largest source of foreign investment in Southern California. Berlin is also one of L.A.'s sister cities.
Visitors to the Getty loved seeing all the VIPs, the Secret Service, and the photographers—and were thrilled to see the Chancellor and the Mayor. Just another day at the Getty…