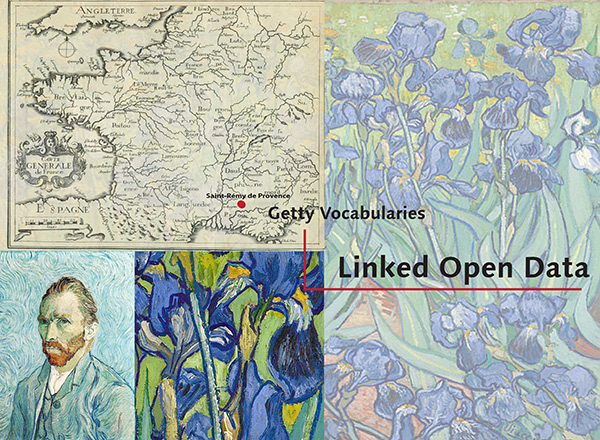 We're delighted to announce that today, the Getty has released the Art & Architecture Thesaurus (AAT)® as Linked Open Data. The data set is available for download at vocab.getty.edu under an Open Data Commons Attribution License (ODC BY 1.0).
The Art & Architecture Thesaurus is a reference of over 250,000 terms on art and architectural history, styles, and techniques. It's one of the Getty Research Institute's four Getty Vocabularies, a collection of databases that serves as the premier resource for cultural heritage terms, artists' names, and geographical information, reflecting over 30 years of collaborative scholarship. The other three Getty Vocabularies will be released as Linked Open Data over the coming 18 months.
In recent months the Getty has launched the Open Content Program, which makes thousands of images of works of art available for download, and the Virtual Library, offering free online access to hundreds of Getty Publications backlist titles. Today's release, another collaborative project between our scholars and technologists, is the next step in our goal to make our art and research resources as accessible as possible.
What Is Linked Open Data?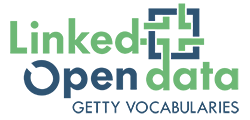 Linked Open Data is a way of publishing information so it can be connected with other information (linked) and freely used (open). Making data both linked and open makes it widely accessible and easy to recombine with information from other sources to create new knowledge. (For a great demonstration of Linked Open Data, see this video from Europeana.)
Publishing information as Linked Open Data unlocks the full knowledge potential of databases, allowing researchers to access, query, and recombine data created and stored by institutions of all kinds—libraries, museums, archives, laboratories, universities, research centers, governments, publishers, and others. It is a tool with enormous potential to advance scholarship, within the humanities and beyond.
Why Does Linked Open Data Matter?
Because Linked Open Data is specifically structured to "talk" to other data across the Internet, it makes new webs of connections, and therefore new discoveries, possible.
Let's take a work of art—Van Gogh's Irises—as just one example. Linked data makes it possible to find information available globally about Van Gogh—images and information about his other works previous owners, conservation treatments, exhibitions, other artists in his circle, current events at the time and place he painted Irises, letters and primary documents, sales records, the location of the actual painting, and more.
What's Next
Over the next 18 months, the Research Institute's other three Getty Vocabularies—The Getty Thesaurus of Geographic Names (TGN)®, The Union List of Artist Names®, and The Cultural Objects Name Authority (CONA)®—will all become available as Linked Open Data. To follow the progress of the Linked Open Data project at the Research Institute, see their page here.
The release of the Vocabularies as Linked Open Data will help link cultural heritage information across cultures and between disciplines, leading to new advances in the humanities. I am always delighted to see the new ideas and profound revelations that come from cultural research—and I'm especially excited to see what this 21st-century approach to research will yield.
As always, we welcome comments and input from the user community. If you have a suggestion or find the Getty's Linked Open Data useful in your own work, please share it here or email the Getty's Linked Open Data team at vocabLOD@getty.edu.