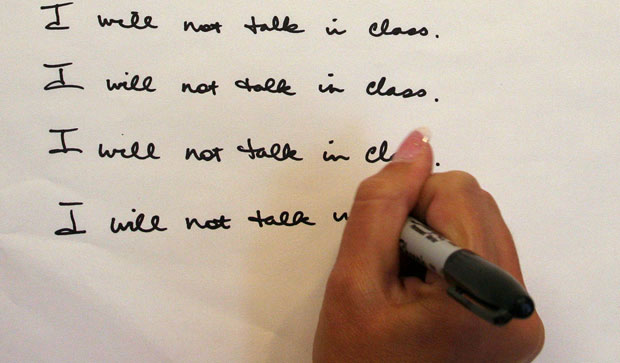 Expensive, large, and burdensome to travel with, the camcorders I was first exposed to served only one purpose: to painstakingly document every birthday party, dance recital, and performance of Shakespearean soliloquies on the stage (ahem, fireplace) of my childhood.
It was years later, as a high schooler in a modern and contemporary art course, that I first learned of alternative—and highly preferable—uses for video. The instructor played an 8-minute clip from a 32-minute video that left most of the class bored, asleep, or giggling like immature imbeciles. Meanwhile, I sat riveted as I watched a hand scribbling the phrase, "I will not make any more boring art," over and over and over and over again.
Superficially, perhaps it was the not-yet-faint memory of writing "I will not talk in class" ad nauseum for Mrs. Redman in third grade that generated the appeal, but the paradox espoused by the piece also reached me on a far deeper and more profound level. This was my first interaction with three artistic vocabularies that would come to be integral to my aesthetic as an adult: John Baldessari, video art, and conceptual art.
Years later, I was delighted when GRI curator Glenn Phillips included Baldessari's I Will Not Make Any More Boring Art (1971) in the brilliant—and, for me, transformative—exhibition California Video, a 40-year survey of video art in California at the Getty Center in 2008. Sadly, the Getty's exhibition came to a close, but the video is always viewable in the GettyGuide™ room at the Museum. Also, the video is currently on view in Baldessari's extraordinary retrospective Pure Beauty at LACMA (through this Sunday), along with some other classics, such as Baldessari Sings LeWitt (1972) and I Am Making Art (1971).
Or watch it here (browse by artist) whenever the mood strikes you!