It wasn't your typical house party! Monday's College Night was an evening at the Museum just for college students, but also something more—an interactive and dynamic atmosphere where students could enjoy exhibitions, tours, and art against the backdrop of nighttime views of Los Angeles and live entertainment.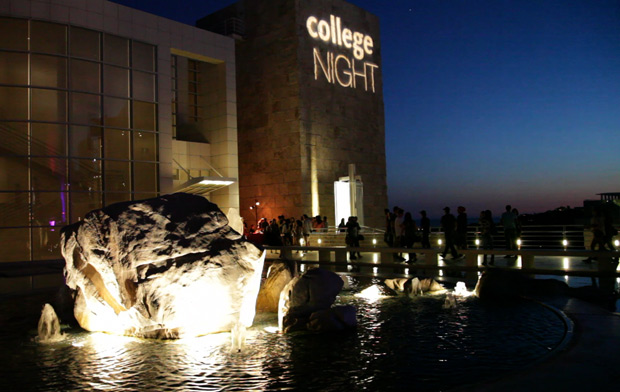 Each year we recruit a committee of local students, who come together to consult and collaborate, making the event truly from a college student's point of view. This year, students from UCLA, USC, UC Riverside, and California Lutheran University helped to plan, create, and market the event to their fellow students around L.A.
The awesome result? Music from indie-pop band Lady Danville and DJ Trackstars and activities inspired by the exhibitions Paris: Life & Luxury and Brush and Shutter: Early Photography in China, including gallery talks, a scavenger hunt, curator Q&As, a presentation of 18th-century fashion, and a calligraphy demonstration by Qingnian Tang—plus a photo booth with fun props, and (yes!) unlimited sandwiches and French fries. We even had fun LOLCATS-inspired tags for our curators and gallery teachers.
Unique to College Night 2011 was <Re>Vision, a multimedia art project created by students from the UCLA Department of Design | Media Arts under the direction of artist Jennifer Steinkamp within the Getty Artists Program. The works varied in scope and size. Upon arrival at the Getty Center, enormous twirling vases (inspired by this monumental vessel in the Museum's collection) projected onto a wall greeted you, and inside the Museum Entrance Hall, where the majority of the installations resided, you could find J. Paul Getty's bust speaking to you!
Did you hear Mr. Getty speak? We'd like to hear what you thought, and what you'd suggest for next year.