We really turned it up this year at Saturdays Off the 405 with an eclectic mix of the best and brightest new music—including a season finale on October 9 with New Wave favorite the Tom Tom Club, doing totally live versions of their hits without sequencers or backing tapes.
Since bassist Tina Weymouth and drummer Chris Frantz were both members of the Talking Heads, we got to hear a few of those jams too. It was a warm night perfect for sparkle and an '80s throwback dance party!
During their classic dancehall song "Genius of Love," the band got on the stage floor and went for a ride…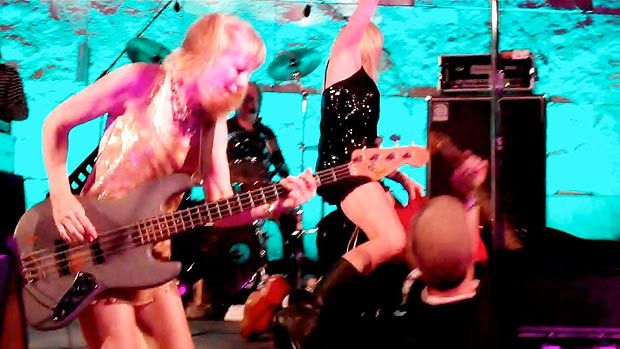 To continue the ride and celebrate the end of the season, we give you the Getty's illustrious SOT405 2010 Official Playlist, featuring some of the awesome music that filled the Museum Courtyard this season.
See you next year for more outdoor music in the courtyard!
Saturdays Off the 405 Playlist (2010)
• Les Savy Fav—What Would Wolves Do?
• Les Savy Fav—Sleepless in Silverlake
• Mayer Hawthorne—Maybe So, Maybe No
• Mayer Hawthorne—Just Ain't Gonna Work Out
• Dawes—Love Is All I Am
• Dawes—When My Time Comes
• Bomba Estéreo—Fuego
• Bomba Estéreo—Feelin
• The Antlers—Two
• The Antlers—Shiva
• Aloe Blacc—I Need a Dollar
• Aloe Blacc—Find a Way
• To­m Tom Club—Genius of Love
• Tom Tom Club—Wordy Rappinghood (Live)