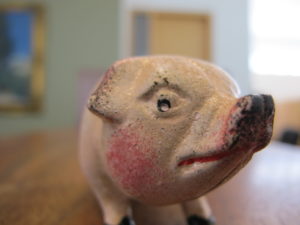 It's a lot of pressure, day after day, holding the same pose. I've been standing up, staring at the underside of a ringing bell for years now. I love hanging out with my pal Saint Anthony, but how can I be expected to handle work on a weekend like this?
With the Museum—actually all of L.A.—in the throes of Carmageddon, we works of art are enjoying a day off. Nothing to do, no one to impress all weekend long! (Though of course we will miss our trusty guards, glamorous tourists, meticulous curators, and enthusiastic schoolkids…)
So check out the great time I've been having!

Life moves pretty fast. If you don't stop and look around once in a while, you could miss it.
You still here? Go relax at home…and come visit me next week!