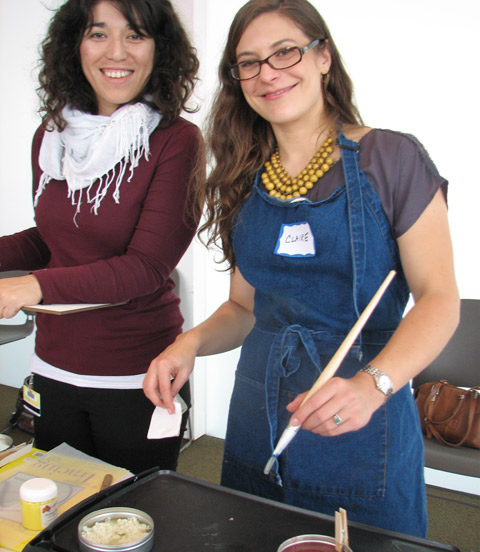 We're doing something different for our Question of the Week series on the Iris this month: an invitation of the week. Join us at the Getty Center on Saturday, October 29, for a Masterpiece of the Week talk followed by informal collage-making in the Museum Courtyard. 
We'll kick off with Audrey Chan giving us the scoop on the granddaddy of collage portraiture, Ed Kienholz's Walter Hopps, Hopps, Hopps. Telephone parts, candy, dental molds, and human vertebrae are just four of the oddities you'll find in this seven-foot-tall assemblage that honors and pokes fun at Kienholz's friend Walter Hopps, the eccentric genius Nancy Reddin Kienholz described as "the best, numero uno curator in the world."
You can also browse the wonderful other assemblage and collage pieces in the Crosscurrents exhibition, including The Librarian by George Herms, created in tribute to an honest-to-goodness small-town librarian. (Hear how a librarian reacted to seeing dirty books with nails in them here.)
Next, we'll head downstairs to the Museum Courtyard to talk and create our own collage portraits. We're asking you to identify an object that suggests the spirit of a person who is meaningful to you and that would serve as a focal point of a collage portrait of that person. We'd love to hear in the comments below about an object you'd choose and why. If you're coming to the workshop, bring your object to the table!
We'd be thrilled to share what you've made and your thoughts about it here on the Iris. Look for Steve at the photo table.
Why collage? As an activity, it's a great way to meet people and compare and contrast. As an art form, it brings out the beauty in the ordinary. And as a process, it has unexpected depths. When you make a collage, you find yourself adding and rearranging and reworking until, suddenly, you get stuck. Getting unstuck is where the creativity happens.
Let's get stuck together. See you then!
Collage Meet-Up at the Getty Center

Saturday, October 29 | 4:00–6:30 p.m.
The Getty Center, 1200 Getty Center Drive, Los Angeles

First-come, first-collaged! Free; just drop by. Parking is $15 before 5:00 p.m., free after.

WHEN AND WHERE

4:00–4:15 p.m.: Talk in the galleries of Pacific Standard Time: Crosscurrents in L.A. Painting and Sculpture 1950–1970.

4:15–6:30 p.m.: Free, drop-in collage-making in the Getty Center's Museum Courtyard.

6:30–9:00 p.m.: Galleries remain open; we'll offer tips for exploring more collage and assemblage art in the Pacific Standard Time exhibitions here.

WHO

Us: Artist and educator Audrey Chan, gallery teacher Lilit Sadoyan, and us collage-loving web folks.

You: All ages and levels of experience. If you can wield a glue-stick, you can collage.

WHAT

We'll bring: Collage-making supplies: paper, cardboard, fabric, twigs, scissors, gluesticks, Elmer's, and assorted etc.

You'll bring: One or more 2- or 3-D objects related to a person meaningful to you. Materials that work well for collage include photographs, magazines or newspapers, natural elements (leaves, feathers, or twigs), beads or jewelry, printed ephemera (tickets, receipts, packaging materials), cardboard, textiles, and so on. Inspiration here.  Please bring small, nontoxic, nonallergenic, inanimate objects. Weird is good, but nothing that would scare pets or small children. Your special objects should fit comfortably in a small grocery bag.

Also bring warm clothes, because we'll be outside and temps may dip perilously below 70°.