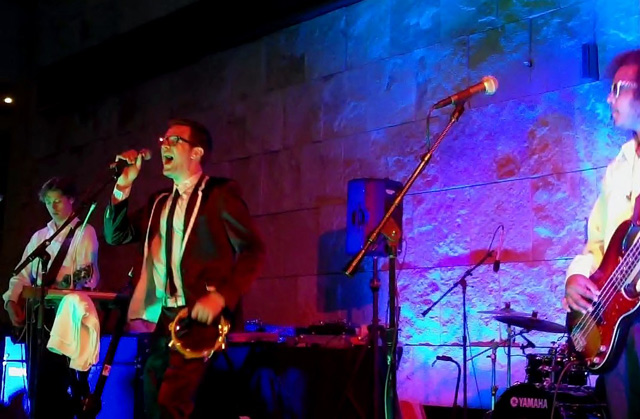 With heart-shaped LPs and fizzy mint juleps in hand, energetic fans welcomed Mayer Hawthorne and the County's dazzling retro-crooning act on June 12 at our second outdoor concert of the summer.
It was a stylish show. Mayer set the fashion bar in a black satin tux with white tipping, fat Buddy Holly glasses, and gleaming silver hi-tops. The County donned crisp black trousers and white cotton shirts, and the pretty young backup dancers, clad in black dresses and gold sandals, pinned feathers to their tresses.
The audience seemed to have heard to call to bring a bit of flair, and milled around the museum in seersucker suits, pageboy haircuts, crimson lipsticks, breezy printed dresses, and towering stilettos. A few fortunate early visitors picked up the limited edition records and tees imprinted with secret love songs not featured on Mayer's albums.
DJ Clifton, resident spinmaster at the Echo, was a perfect match, and in his trademark dapper suiting he finessed the mood with a sweet set of funky soul.
Then Mayer hopped on stage, and brought the splashy, flashy, love-filled music bonanza he's known for to the outdoor courtyard. As the sun faded, the lights grew electric, and Mayer turned on his charm, flirting with the crowd and choosing special souls who'd staked a stageside spot to sing straight into their star-filled eyes.
He sang about love and its inevitable counterpart, heartbreak, but always with lifted harmonies and sleek choreography. Swaying band members framed Mayer's tambourine-laced lyrics, and then he'd sidle up alongside his vivacious, smiling dancers, the Mayerettes.
Adoring fans—both male and female—took note of his inspiring attitude towards youthful adventures in romance: love can have its share of pain, but you might as well enjoy the ride. And they did, filling the night with buzzing laughter and genuine verve.
Saturdays Off the 405 continues with Dawes this Saturday, July 10, then Bomba Estéreo (July 24) and the Antlers (August 28).