If you're a parent, you might be wondering whether Pacific Standard Time is safe for tender eyes. It's true that several PSTinLA shows tear into grown-up themes, from feminist protest to LGBTQ aesethetics, but there are also plenty of ways for pint-sized Baldessaris and Saars to get in on the action.
Here at the Getty, for example, Crosscurrents in L.A. Painting and Sculpture 1950–1970 is full of works with a sense of humor that kids totally dig. How did clouds get trapped in a box, and why is the Los Angeles County Museum on fire? Try hunting for the world's tiniest banana and the sculpture that's so happy to see you it breaks into dance.
Heading downstairs from the Exhibitions Pavilion, you can star on video monitors in Bruce Nauman's Four Corner Piece or test out your reflections in De Wain Valentine's Gray Column. Julianne Reiser, who visited Gray Column with her kids and wrote about it on her blog J. Is A Bird, told me that both her children were immediately drawn to Valentine's sculpture. "The first thing they saw was themselves, which was a great way for them to interact with it," she explained. Funny faces were made.
Across SoCal are several other Pacific Standard Time shows great for families. LACMA's California Design show is full of things shiny (an Airstream trailer), wacky (a lobster swimsuit), and playful (an original 1959 Barbie). Several exhibitions and artworks appeal to kids' sense of wonder, from colored light in at the Museum of Contemporary Art, San Diego and a giant tower of Warhol's Brillo Boxes at the Pacific Asia Museum. And at the Natural History Museum, you can even sneak in a little art between your dinos and mammals.
You can find more suggestions in the Pacific Standard Time family guides, with topics such as design, performance art, and photography.
Lots of museums participating in Pacific Standard Time have been putting on creative programs for families. In October, we hosted a free daylong extravaganza here at the Getty Center, which included mail art making, Chicano art-inspired paper fashion, tie-dye body pillows, and more, all set against the musical backdrop of a toy piano, tubas, a travertine wall played like xylophone, singing, and alphorns. If was full and experimental and fun, and we captured some of the moments here.
The day also included a communal recreation of the Peace Tower to which kids and families contributed political messages such as "More Art, Less War," "Less Homework," and my personal favorite, "Try Not to Be Picky."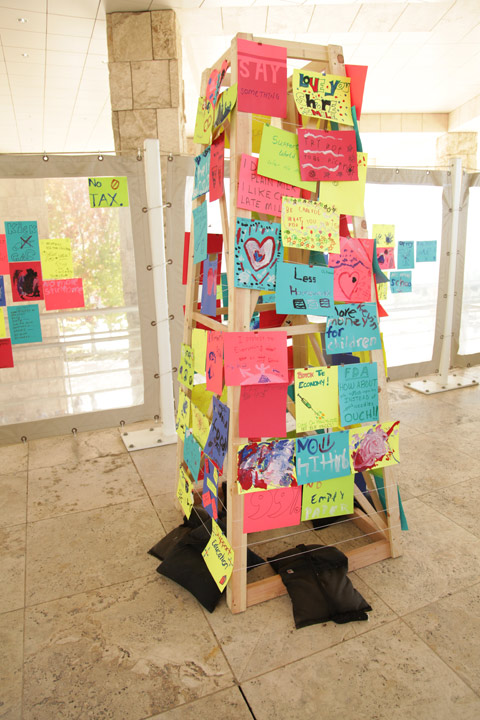 There's lots more coming up, including a winter-themed family day at the Orange County Museum of Art this Saturday. Rounding the corner to 2012, look for a family day at the Chinese American Museum and a "Cool School" workshop at Barnsdall, both on January 21, and California cool workshops on Sundays in February at LACMA. Plus, many museums (including the Getty) invite school visits for students to explore the galleries with their teachers.
There's one more bonus to bringing the kids to Pacific Standard Time: you get to come, too. As Julianne told me, "The fun of having kids is that you get to relive the fun stuff, but you also get to show them the things you find important and expose them to the things you wish you could have done when you were younger." Like making funny faces at sculpture.
(Video by Steve Saldivar)