One of the coolest parts about working at the Getty is discovering the many artistic talents of your coworkers—the curator who bakes professional-quality wedding cakes, the project manager who hulas, the software engineer who writes environmental poetry. Everyone is just so ridiculously interesting.
Every two years we Getty employees, docents, and volunteers let our talents—however questionable—loose for Getty Underground, our staff art extravaganza-slash-talent show. Last night at the opening, all kinds of art broke out, from the baroque (classical guitar) to the bonkers (stiltwalking). Also on tap were live rock, a photo booth with handmade steampunk-inspired props, and of course the art show, nestled deep underground in one of the Getty Center's many byzantine corridors.
There were oil paintings, drawings, and photographs from professional artists who work here, but also sculptures (a pegagus of recycled produce twist ties), collages (George Washington's head on Johnny Ramone's body, atop sandpaper), videos (a chimpanzee and a woman enacting the same apelike behaviors). Upstairs, staff and their friends and families painted-by-numbers on a giant van Gogh's Irises while a flash mob did the macarena and the electric slide.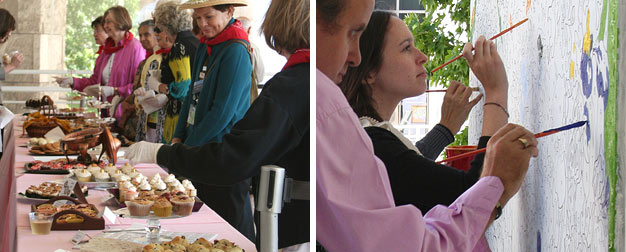 Complementing the festivities was a menu of popcorn, hot dogs, ice cream, and beer, plus a ginormous table of baked goodies from our foodie colleagues. People who work at a museum can't bake a boring cookie—whether crow-shaped black crisps encased in lace or bacon-topped cupcakes, there was something for everyone.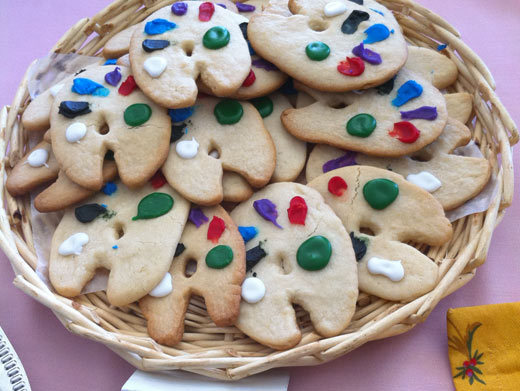 Just like any other day at the museum.
Getty Underground isn't open to the public, but we wanted to share it with you anyway. Below are just a few of the many creative projects we'll be talking about in the corridors through the end of summer.