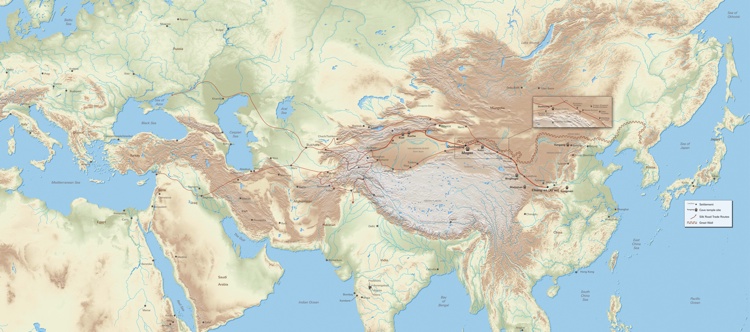 The Silk Road and its vast trade routes. Design by Clyde Crossan for Cave Temples of Dunhuang. See this map larger.
The loose group of ancient trade routes known today as the Silk Road ran from eastern China to the Mediterranean and greatly affected everything in its way—from commerce to the arts, from technology to religion.
The Silk Road passed through numerous countries and destination points. It skirted mountain ranges, branched into sub-routes, and turned cities into hubs of activity. Many of these cities still exist today, sometimes under modern names, while some remain only as ruins. The Road has been on our mind this spring as the Getty prepares for the exhibition Cave Temples at Dunhuang: Buddhist Art on China's Silk Road. The show focuses on Dunhuang, an important site along the Silk Road.
The Getty Thesaurus of Geographic Names (TGN), maintained at the Getty Research Institute, is a resource in discovery and access for information about these places and many thousands more. TGN can be searched online, built into collection management systems, used in retrieval mechanisms, and even linked to GIS (Global Information Systems) and maps through Linked Open Data.
TGN houses records for over 100 settlements and sites along the Silk Road, as well as hundreds of historic or contemporary variant names in languages from Arabic to Uyghur. This allows researchers to pinpoint a place, whatever spelling they're using. For example, TGN can link the city of Xi'an in Shaanxi province, considered the start of the Silk Road, to its historic name of Chang'an, its romanized modern name of Sian, and its Chinese name, 西安; TGN can link it to the Silk Road and place its coordinates in context with other nearby sites along its immediate ancient corridor, from Lanzhou to Dunhuang.
One example of an ancient city on the Silk Road trade routes is Palmyra, Syria (pictured above). Through semantic links built into its data structure, TGN reveals that Palmyra was formerly known as Tadmor, is adjacent to the present-day city of Tadmur, and has a preferred name in Arabic of تدمر. TGN can also link Palmyra to other, similar UNESCO World Heritage Sites, on or off the Silk Road.
A simple search for "Silk Road" in TGN yields a list of yet more significant places on the ancient route, from Aleppo (Syria) to Zhangye (China)—via, of course, Dunhuang.

This post is part of the series
Cave Temples of Dunhuang
, featuring stories inspired by the exhibition
Cave Temples of Dunhuang: Buddhist Art on China's Silk Road
.
See all posts in this series »