December 20, 2011–May 6, 2012
J. Paul Getty Museum, Center for Photographs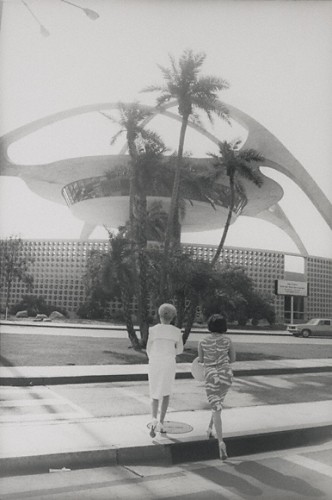 This exhibition presents approximately 30 photographs from the Museum's permanent collection made in Los Angeles between 1945 and 1980. Both iconic and relatively unknown works are featured by artists whose careers are defined by their association with the city, who may have lived in Los Angeles for a few brief but influential years, or whose visit inspired them to create memorable images. Works by Robert Cumming, Joe Deal, Judy Fiskin, Anthony Friedkin, Robert Heinecken, Anthony Hernandez, Man Ray, Edmund Teske, William Wegman, Garry Winogrand, Max Yavno and others are loosely grouped around the themes of experimentation, street photography, architectural depictions, and the film and entertainment industries.
This exhibition is organized by the Department of Photographs at the J. Paul Getty Museum.
Admission to the Getty Center is FREE. No tickets or reservations are required for general admission. For visitor information, see information on planning a visit or call (310) 440-7300. All events are free, unless otherwise noted. Reservations are required for performances, lectures, seminars, and courses.
Point-of-View Talk
Los Angeles-based architect Fred Fisher known for his creative spaces. He and his firm, Fisher Partners, designed the Walter and Leonore Annenberg Center for Information Science and Technology at the California Institute of Technology and the Robert F. Erburu Gallery at the Huntington Library, Art Collections, and Botanical Gardens, among others. Fisher presents a gallery talk exploring representations of Los Angeles. Free; no reservations required. Sign-up begins at 1:00 p.m. at the Information Desk. Saturday, March 10, 2012, 2:00 p.m. Getty Center, Museum galleries
Curator's Gallery Talk
Virginia Heckert, curator in the Department of Photographs at the J. Paul Getty Museum, leads a gallery talk on the exhibition. Meet under the stairs in the Museum Entrance Hall. Free; no reservations required. Wednesday, February 29 and March 7, 2012, 2:30 p.m. Getty Center, Museum galleries