Gehry is currently having a moment, with a retrospective at LACMA, a new biography by architecture critic Paul Goldberger, and the 2015 Getty Medal. He's also at work on many local projects, including Grand Avenue, the Sunset Strip, the Jazz Bakery in Culver City, a center for children in Watts, and the L.A. river. Gehry is continuing to shape the local landscape, and luckily Angeleos are privileged by close proximity to dozens of Gehry projects spanning the evolution of his career.
Gehry has been designing in L.A. since the late 1970s—in fact, there are more than 20 Gehry buildings located here. Here are ten highlights spanning his career, from Venice to downtown.
Gehry Residence (Completed 1978)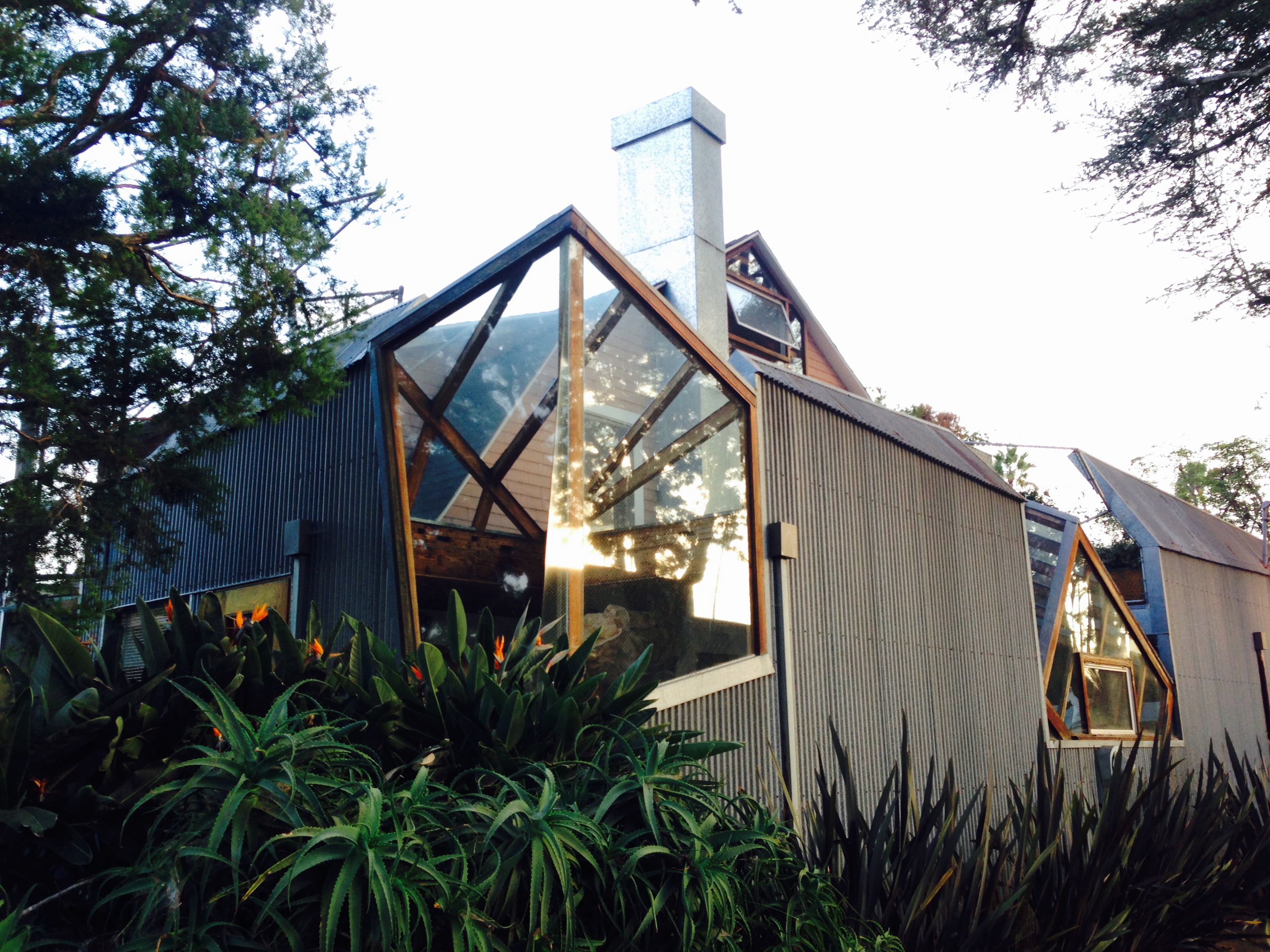 This home, originally made for Gehry's own family, launched his career and placed him in the architectural canon. Gehry intervened in a typical "suburban home" from the 1920s by combining it with industrial, inexpensive materials such as corrugated aluminum and chain-link fencing. Before Gehry, these materials had been commonly used in construction but never exposed in finished products.
Gehry created a new exterior but left parts of the original structure intact and exposed, a technique inspired by the assemblage artworks of Robert Rauschenberg. The house contains multiple unusual features because of this technique: two front doors, for example, and a kitchen with an asphalt floor that used to be the garage. Gehry was also interested in Dadaists such as Marcel Duchamp, and angled panes of glass reference the layered figure in Duchamp's famous painting Nude Descending a Staircase.
This residential project was completely revolutionary and critically acclaimed, but was infamously hated by Gehry's neighbors.
Loyola Law School (Various Buildings Completed 1978-2002)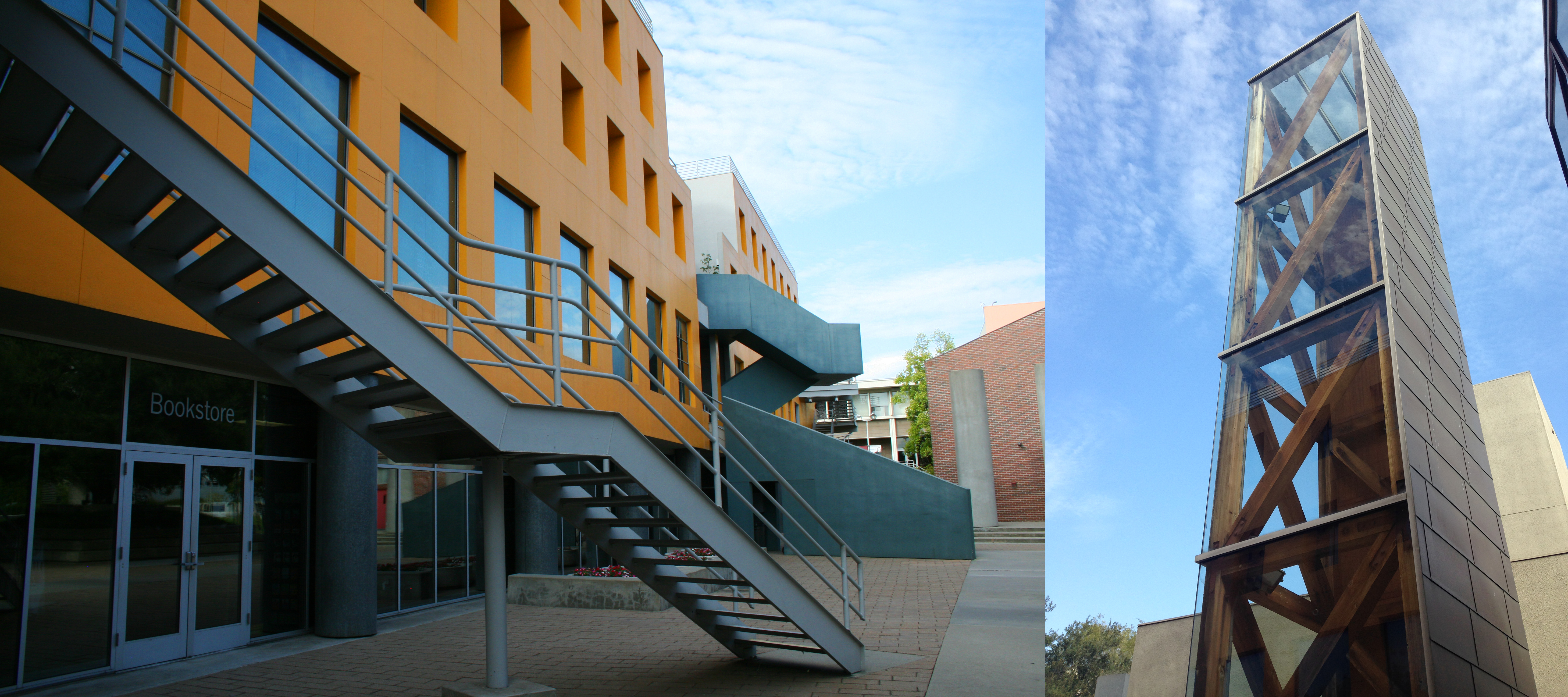 In the late 1970's Gehry was tapped to design his first school. A series of completely different but complementary buildings take up just one city block adjacent to Downtown Los Angeles. The playful campus takes inspiration from Thomas Jefferson's ideal university plan of an "academic village," allowing students plenty of space to interact.
Once again, Gehry didn't try to hide the construction materials, which can be seen in the exposed wood beams of the prayer house.
The campus is a sampler platter of materials, form, and colors that foreshadow experimentations in Gehry's later career. The stand-out building is a four-story mustard-colored rectangle with angled staircases emerging from multiple locations. Gehry also collaborated with artists Claes Oldenburg and Coosje van Bruggen to create a sculpture of a toppled ladder with spilling paint.
Spiller House (Completed 1980)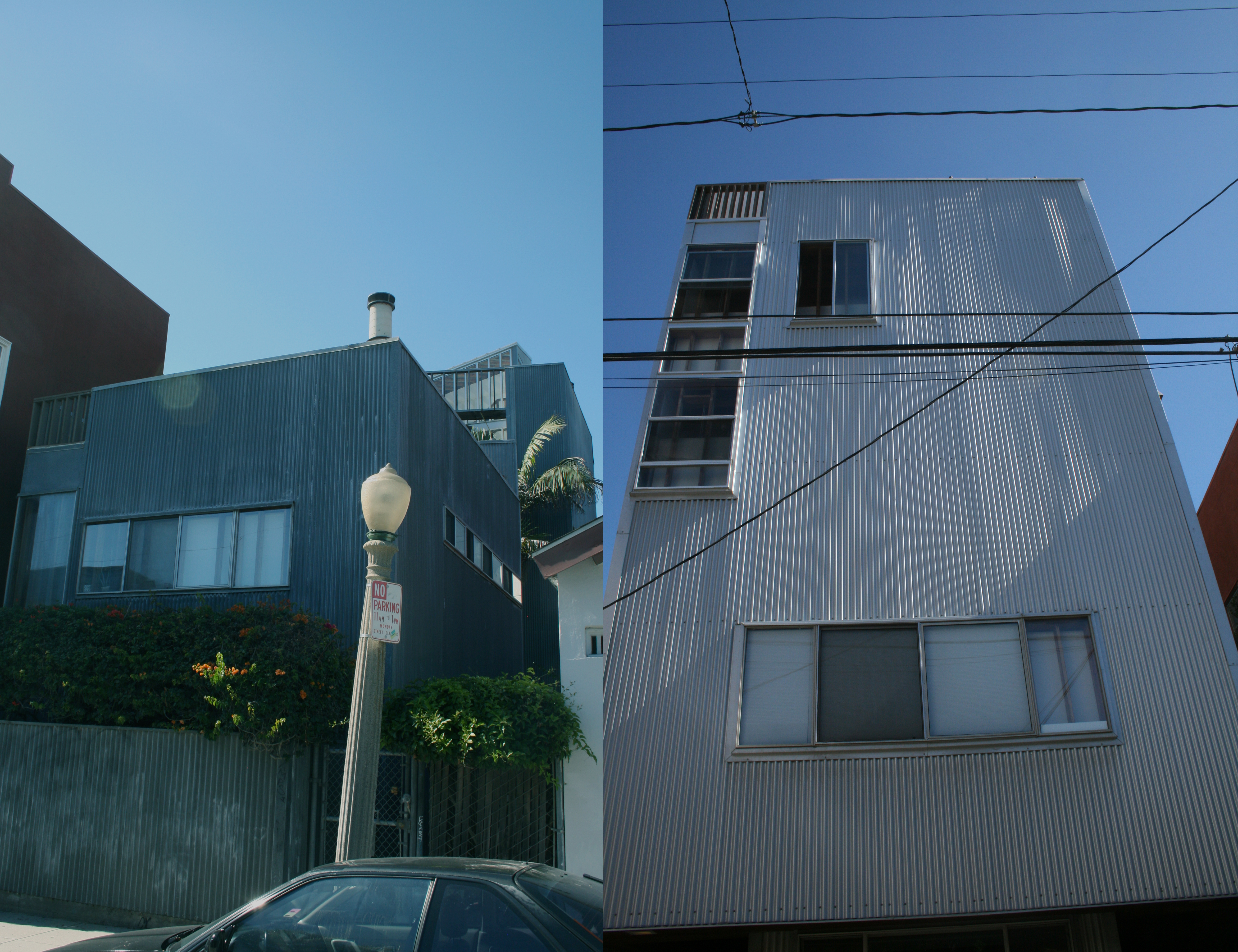 This two-unit building is wedged between a three-story brick building and a home on a small sliver of land just a block from Venice Beach. The project called for one home for the owner and one to be rented out. Gehry successfully completed a two-story building in front, and a larger self-contained four-story home for the owner in back, with the two separated by a courtyard.
Gehry again used utilitarian materials such as corrugated metal and multiple types of wood. Both structures also contain rooftop decks to take advantage of the abundant beach sunlight, and the larger house's roof was carefully constructed to be taller than neighboring buildings and offer unobstructed views of the ocean. The back house effectively uses solar panels to provide heat, and skylights to offer natural light to lower levels of the building.
Cabrillo Marine Aquarium (Completed 1981)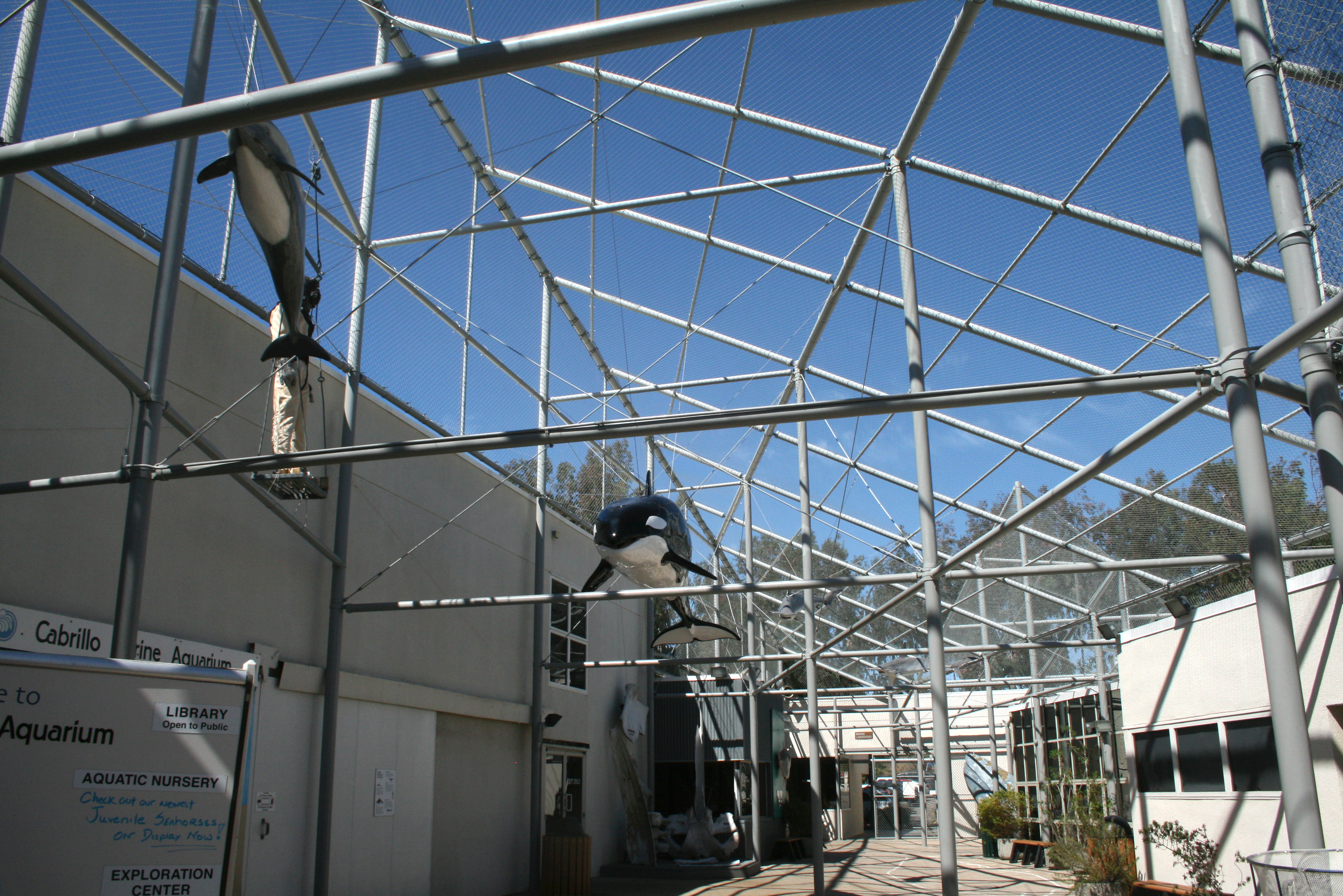 Located on the site of a former 20,000-square-foot parking lot, the Cabrillo Marine Museum is an education and conservation center focusing on Southern California marine life. Gehry, typically inspired by context, decided to reference the nearby Port of Long Beach by creating structures that resembled cargo containers.
Gehry took advantage of sunny weather and placed the circulation areas outdoors under an experimental shadow structure that connects the exhibition galleries and laboratories. This was Gehry's first completed museum, and led to additional commissions.
Air and Space exhibit building at the California Museum of Science and Industry (Completed in 1984)

By the 1980s Gehry's reputation was growing in Los Angeles, and he was approached to create a complex of five museums in Exposition Park in time for the 1984 Los Angeles Olympics. The only building completed in time was the California Aerospace Museum, a celebration of California's contributions to the industry. Two ninety-foot structures were raised next to a former armory, and resemble a collage of exploding forms frozen in time.
The building has an iconic F104 instead of a sign, and a giant forty-foot door to allow for the transportation of large exhibition pieces. This was Gehry's most public work to date, and one for which he received international recognition.
Norton House (Completed 1984)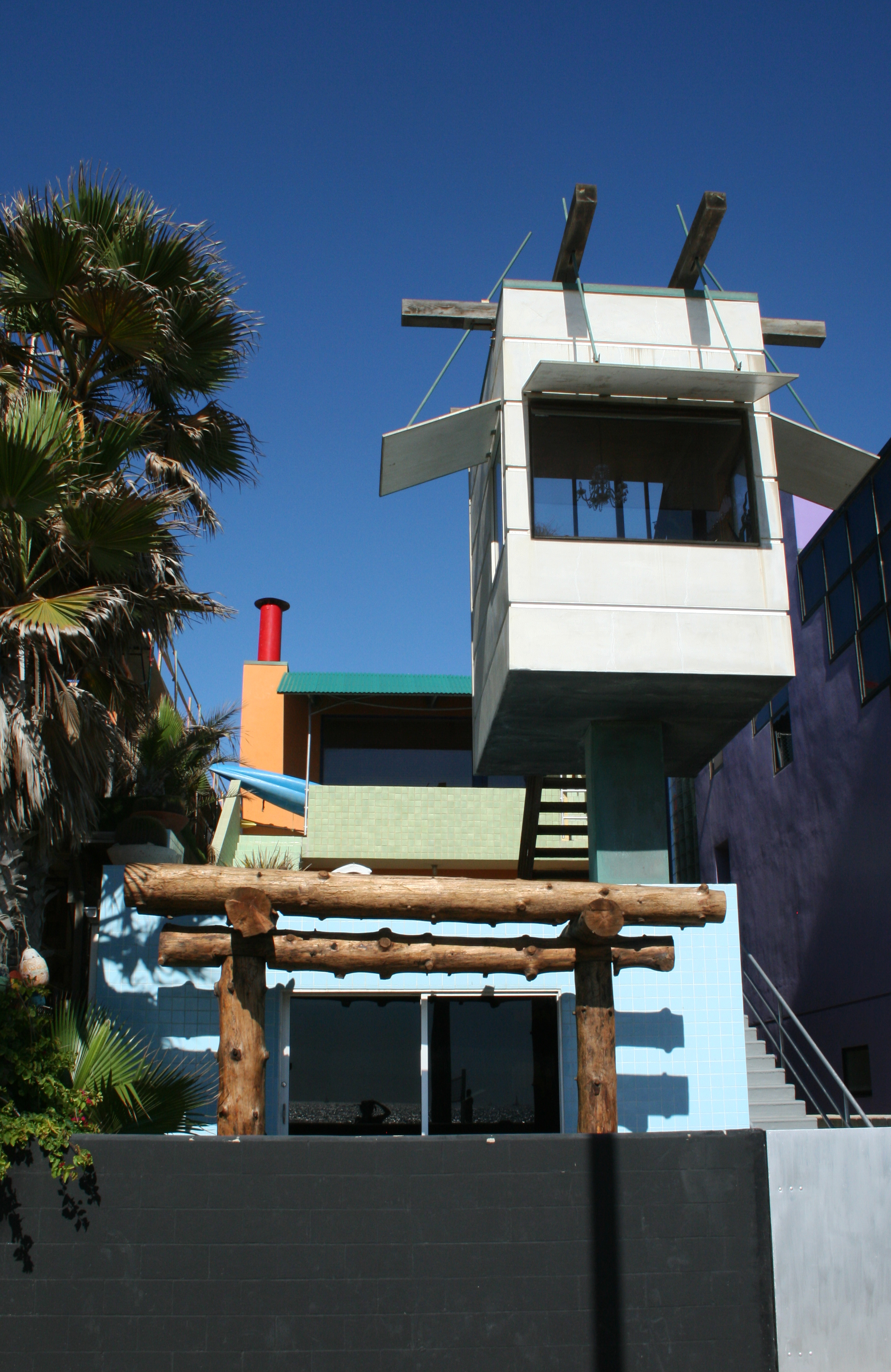 This house's eclectic materials and forms were inspired by the surrounding visually chaotic and diverse neighborhood of Venice Beach.
Gehry carefully planned the home with the residents' privacy in mind by positioning the living quarters toward the back of the lot, away from the pedestrian beachfront path. The bedrooms are above pedestrians' eyeline, overlooking a second-story deck. A small studio is perched high on a pillar and offers clear views of the ocean. The studio's design resembles a lifeguard tower, an intentional nod to the owner's previous career.
Frances Howard Goldwyn Hollywood Regional Library (Completed 1985)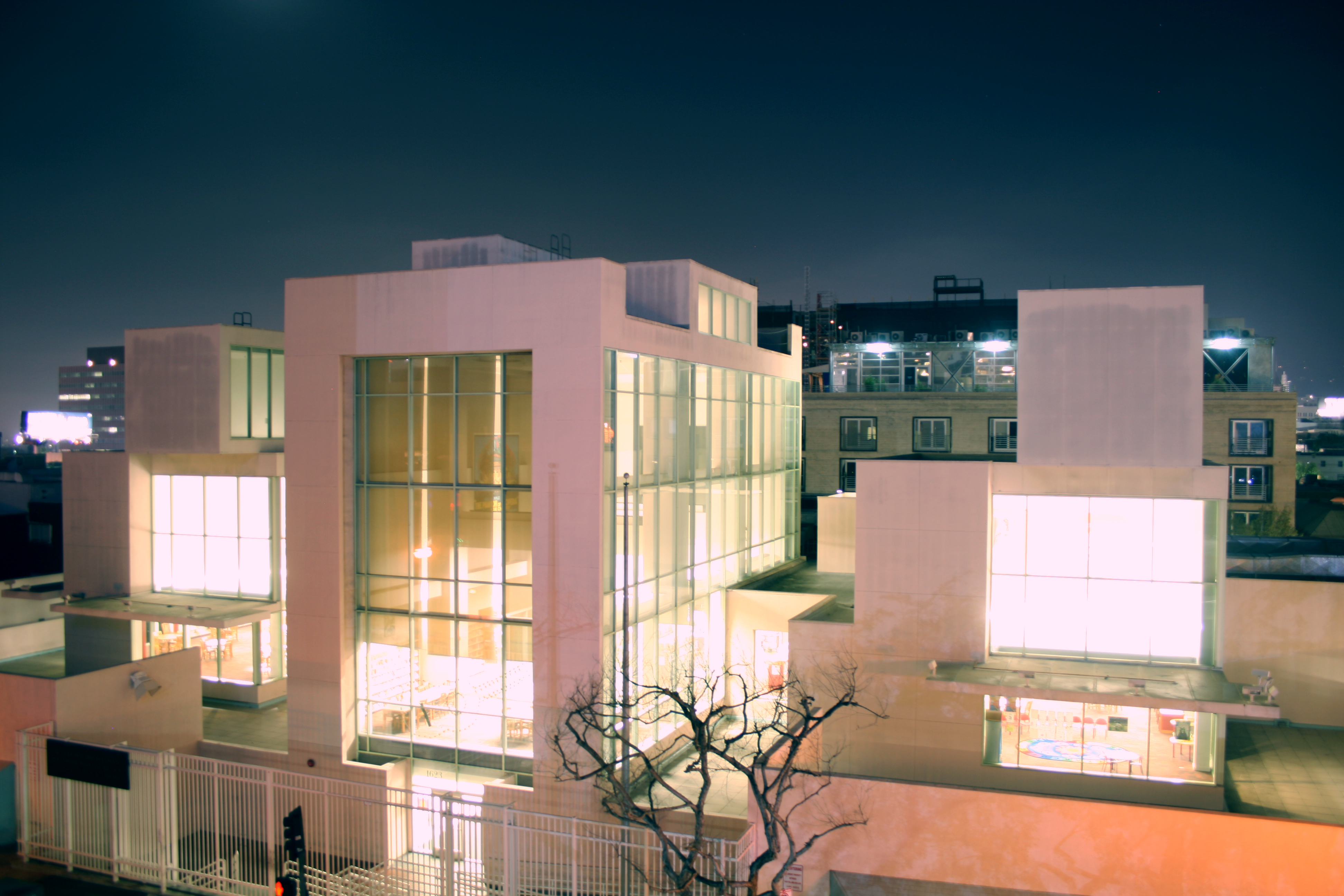 After a mysterious fire, the Hollywood branch of the Los Angeles Public Library was left without a home. Gehry designed a monumental, fortresslike building that creates an educational oasis inside a rowdy Hollywood neighborhood. Three symmetrical buildings all contain windows that face the sky and the Hollywood hills. The library has been compared to a military compound because it is surrounded by a fifteen-foot wall.
Binoculars Building – Originally Chiat/Day Building (Completed 1991)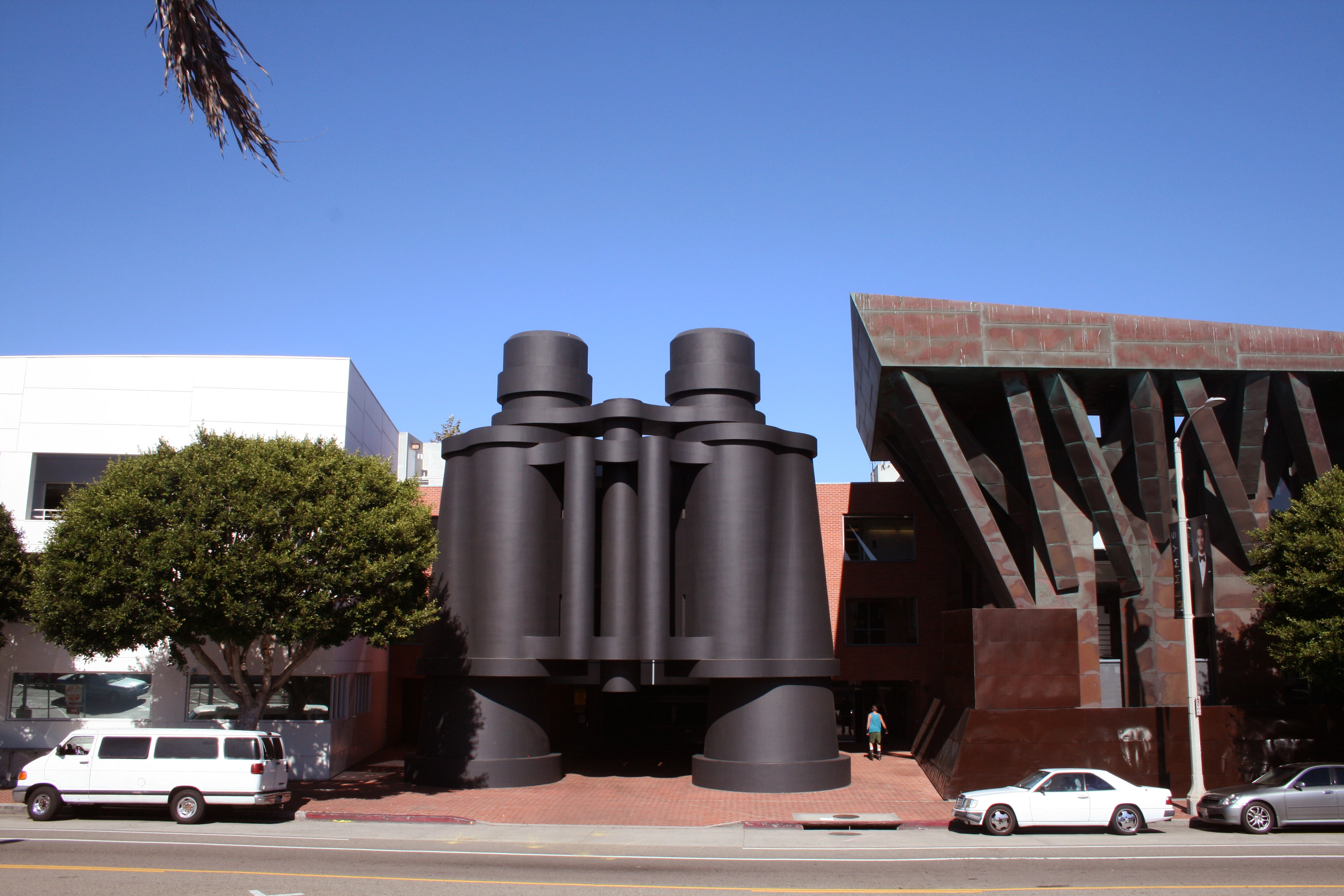 One of the Westside's most iconic buildings was originally home to the Los Angeles headquarters of Chiat/Day, an advertising agency for whom Gehry has designed numerous international offices. Three distinct buildings sit on an L-shaped lot in Venice. The site's most iconic feature is the binoculars, yet another collaboration with Claes Oldenburg and Coosje van Bruggen. The kitsch structure actually has a function, forming two meeting rooms with skylights.
Next to the binoculars, Gehry built forestlike columns that help to shield tenants from the sun. Gehry carefully coordinated the production of this building with mechanical and electrical teams so that it would not exceed the Coastal Commission's thirty-foot height limit. The building was delayed for more than two years because toxic waste was found on site, but it was finally completed in 1991.
This was Frank Gehry's last Los Angeles project until the Walt Disney Concert hall. Chiat/Day has since moved offices, and Google is the current tenant.
Team Disney Anaheim (Complete 1995)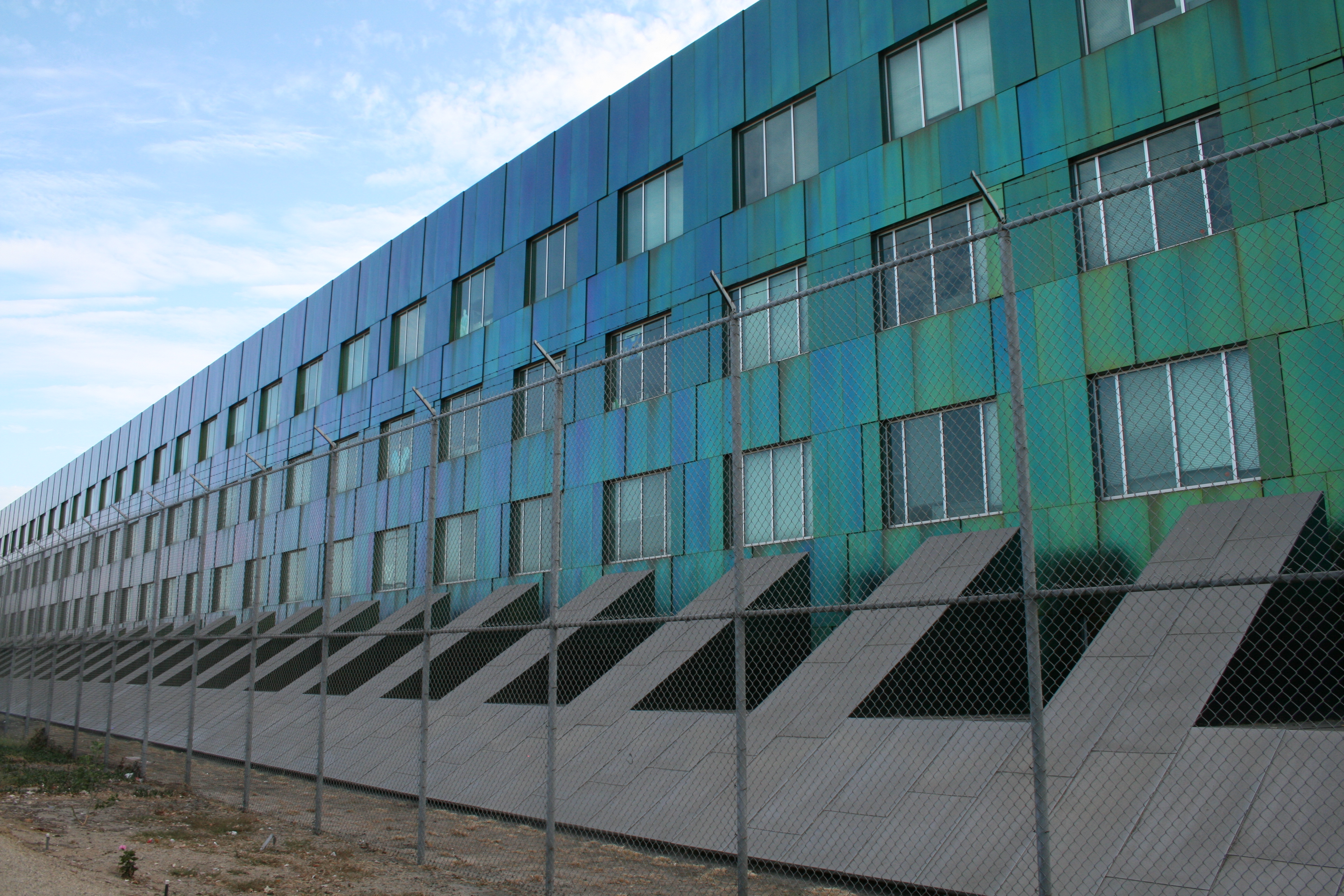 While not technically in Los Angeles, this iconic structure has been seen by millions of Angelenos traveling to nearby Disneyland. Its sleek and shimmering green façade is hard to miss on the 5 Freeway, but many do not know the bubbling bright yellow interior. The building is just one of many international collaborations between Gehry and Disney, and hosts 900 feet of administrative offices for Disneyland.
Walt Disney Concert Hall (Completed 2003)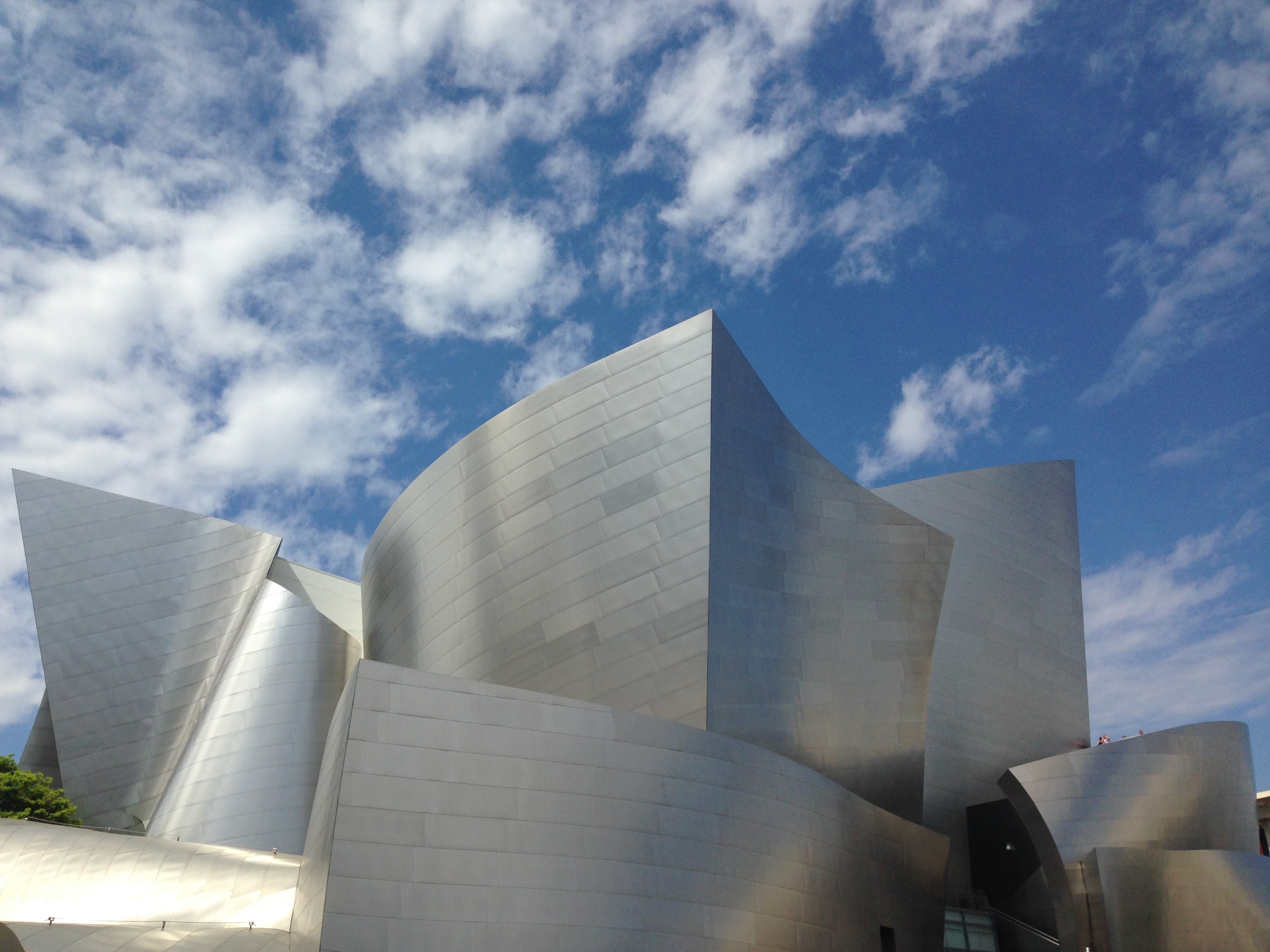 Frank Gehry submitted his proposal for this, one of Los Angeles's most iconic buildings, in the late 1980s. The project had strict criteria:
The hall must have the best possible acoustic sound and create closeness between audience and performer,
The building should reflect the culture and climate of Los Angeles, and
The project should create a relationship to the existing Music Center, MOCA, and the redevelopment of Bunker Hill.
Gehry accomplished it all. The building's exquisite final form is an organically shaped, steel-covered, sail-like structure with perfect acoustics. The Concert Hall's outer form was a direct consequence of the functional interior space to provide the best sound quality possible. Its interiors are made up of central stage surrounded by tiny boxes and organic curves that allow sound to flow uninterrupted. After decades of work, the Concert Hall was opened in 2003, and it is now known as one of America's most important buildings.
If you are interested in visiting any of these masterworks in person, follow this guide map:
All photographs by Tristan Bravinder