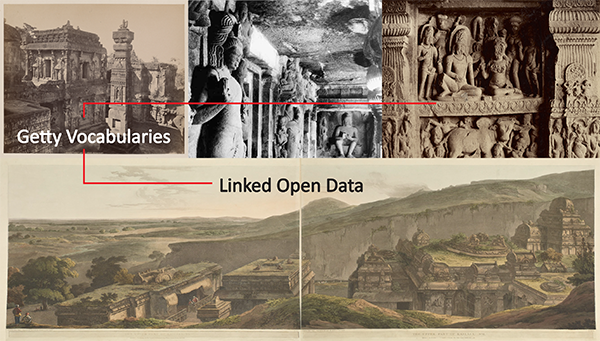 We're delighted to announce that the Getty Research Institute has released the Getty Thesaurus of Geographic Names (TGN)® as Linked Open Data. This represents an important step in the Getty's ongoing work to make our knowledge resources freely available to all.
Following the release of the Art & Architecture Thesaurus (AAT)® in February, TGN is now the second of the four Getty vocabularies to be made entirely free to download, share, and modify. Both data sets are available for download at vocab.getty.edu under an Open Data Commons Attribution License (ODC BY 1.0).
What Is TGN?
The Getty Thesaurus of Geographic Names is a resource of over 2,000,000 names of current and historical places, including cities, archaeological sites, nations, and physical features. It focuses mainly on places relevant to art, architecture, archaeology, art conservation, and related fields.
TGN is powerful for humanities research because of its linkages to the three other Getty vocabularies—the Union List of Artist Names, the Art & Architecture Thesaurus, and the Cultural Objects Name Authority. Together the vocabularies provide a suite of research resources covering a vast range of places, makers, objects, and artistic concepts. The work of three decades, the Getty vocabularies are living resources that continue to grow and improve.
Because they serve as standard references for cataloguing, the Getty vocabularies are also the conduits through which data published by museums, archives, libraries, and other cultural institutions can find and connect to each other.
Why Linked Open Data?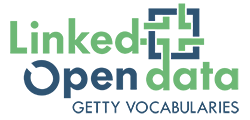 When data is linked and open, it is structured and published in ways that allow it to be recombined with data from other sources to create new knowledge. In other words, Linked Open Data connects information from diverse publishers and areas of scholarship, enabling the dramatic expansion and acceleration of research.
When the vast trove of data in the Getty vocabularies is released into the Linked Open Data ecosystem, researchers will not only be able to retrieve more complete data, but hone it to their precise requests. In short, they can ask, and answer, ever more complex queries.
What artists were working in Venice in the 1520s? When, where, and under whose patronage were Buddhist temples built in India? What museums or libraries currently own folios from a disassembled 14th-century medieval Psalter? What was the iconography of the illuminations in this Psalter? Today these questions are time-consuming and difficult to answer. In the world of Linked Open Data, they could be just a few clicks away.
A Rich Data Ecosystem
To show how Linked Open Data from TGN can enhance research, let's take the single example of Ellora Caves in Maharashtra, India, a UNESCO World Heritage Site famed for its astonishing rock-cut architecture. TGN contains not only the caves' location but also their geographical hierarchy, variant names in multiple languages, and the religious traditions represented there. Now imagine that this data is linked to other data—such as maps, books and articles, and photographs depicting this location. A vast trove of interrelated resources, currently only findable individually through manual search using variant spellings, becomes click away.
Within the Getty alone, in a future Linked Open Data world multiple resources could be interlinked: a digitized volume from the early 1800s from the special collections of the Getty Research Institute; art historically significant early photographs of the site by English, French, and Indian photographers in the collection of the Getty Museum; and multiple publications from the Getty Conservation Institute including an update on conservation efforts.
Next Steps and Feedback
All four Getty vocabularies will be released as Linked Open Data by late 2015. To follow the progress of the project at the Getty Research Institute, see our Linked Open Data page.
We're grateful to members of the digital humanities community who have taken the time to make suggestions or to let us know how they are making use of Art & Architecture Thesaurus data released in February. We welcome the continued comments and input of the user community; if you have a suggestion or find the Getty's Linked Open Data useful in your own work, please share it here or email the Getty's Linked Open Data team at vocabLOD@getty.edu.