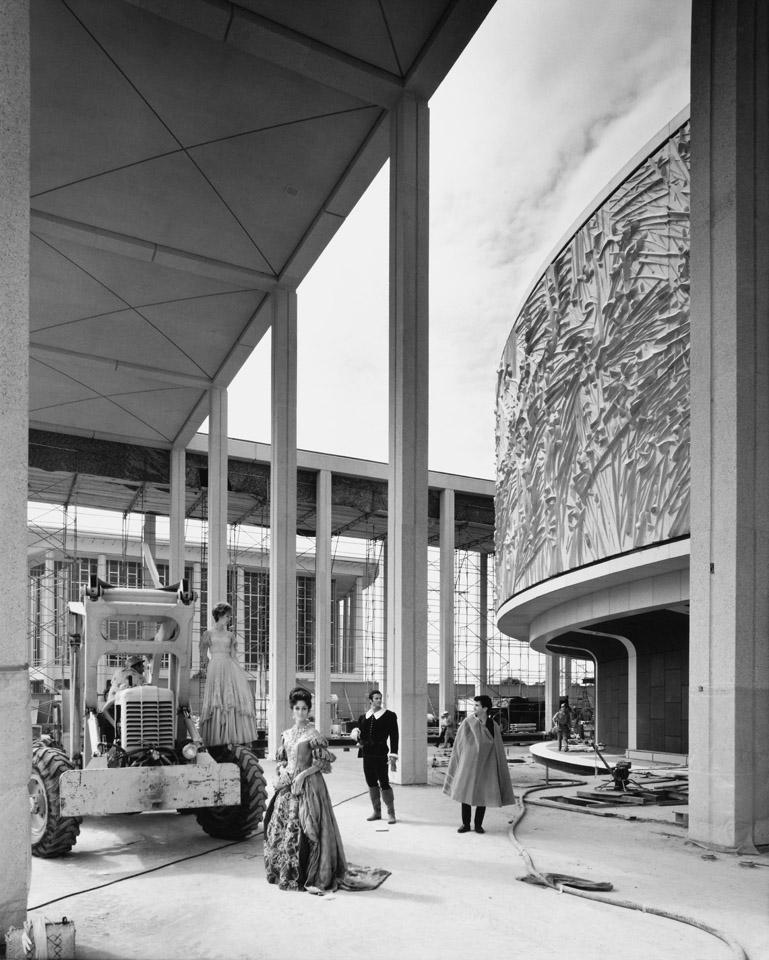 Mark Taper Forum (Los Angeles, Calif.), exterior with actors, 1966, Julius Shulman. Welton Becket and Associates, architects. The Getty Research Institute, 2004.PR.10
A decade ago the Getty Research Institute acquired the archive of legendary architectural photographer Julius Shulman. Consisting of more than 260,000 prints, negatives, and transparencies, this vast array of images quickly became one the Getty's most popular collections.
Shulman, who passed away in 2009 at the age of 98, was a pivotal force in the creative development of Southern California's global identity. His prolific photography career inadvertently began in 1936, after he was inspired by the innovative architecture of Richard Neutra. For more than seven decades, a significant dimension of Shulman's work was dedicated to the documentation and promotion of L.A.'s rapidly evolving built environment. As a result of this lifelong local engagement, his compelling photographs ultimately became the foundation for the Research Institute's holdings of seminal designs by 20th-century architectural pioneers, including Welton Becket, Ray Kappe, Pierre Koenig, William Krisel, Franklin Israel, and John Lautner.
Since 2005, my colleagues and I have enjoyed exploring and sharing Shulman's alluring images through a series of exhibitions including Julius Shulman, Modernity and the Metropolis; Julius Shulman's Los Angeles; and Overdrive: L.A. Constructs the Future, 1940–1990. These shows have traveled across the globe to Chicago, Washington, D.C., Guadalajara, Madrid, and Berlin. Regardless of the international venue or format, Shulman's artfully composed photographs always elicit visceral and enthusiastic responses from broad audiences. People connect with his imagery, whether or not they are familiar with the buildings captured by his lens.
One of my favorite Shulman photographs is this dramatic 1934 composition of Los Angeles City Hall taken from the construction site of Union Station. Eighty years after he framed this remarkable tableau, this captivating image is now on display within this impressive structure. Twenty-six of Shulman's finest L.A. photographs, curated by Mayor Eric Garcetti and myself, have been loaned to the Mayor's Office. As a result of this special collaboration, city staff, regional colleagues, and international dignitaries now enjoy unique, historic perspectives of this region's urban landscape in their daily lives.
Hear more from the mayor about these photographs and why he selected them for his office in this video made for #GettyInspired.
For years, I have marveled at how Shulman's images effortlessly bring people together. I am hopeful that these photographs, hung proudly by Mayor Garcetti, will encourage informal social interactions and personal connections, which may ultimately help facilitate the daily exchange of challenging ideas and concerns discussed in the chambers adjacent to this enlivened civic corridor.
______
This long-term Getty loan will be displayed throughout Mayor Garcetti's term in office.