"On the Summer Solstice …Whatever is dreamed on this night, will come to pass."
—William Shakespeare, A Midsummernight's Dream
Shakespeare certainly waxed poetic about the charms of the summer solstice, which arrives each year between June 20 and 22. This day is special because it has the most hours of daylight—it's the year's longest day. In 2016, the solstice falls on Monday, June 20, and coincides with the full moon for the first time in 70 years.
The word solstice, which comes from the Latin words sol (sun) and sistere (to stand still), reflects what our ancestors learned about the sun and how it travels across the sky on the longest day of the year. Historically, the summer solstice was used to establish noon and to mark the middle of the year. When people watched the movement of the sun across the sky, they were seeking knowledge about time that could help them predict when to plant and harvest or when the floods might come.
To watch the sun's movements, they turned the horizon into a giant ruler and marked off where the sun would appear at a given time each day. The winter and summer solstices mark off the easternmost sunrise and the westernmost sunset. The summer solstice also marks the sun's highest point in the sky during the year.
In its library, open to scholars, researchers, and staff, the Getty Research Institute has a special feature that honors the summer solstice. Architect Richard Meier designed an oculus, a circular opening, in the center of the building that acts as a skylight for the below-ground level. It was constructed to cast light on an ephemeral earthen sculpture created for the site by artist Andy Goldsworthy. The oculus is specially angled so that as the sun passes over the Research Institute on the day of the solstice, it casts a shadow aligned with the center of a glass plate in the floor of the lowest level.
These pictures, which I took during the 2007 solstice, show the progress of the sun across the sky from shortly after noon until about 1:00 p.m.
Looking up at the oculus: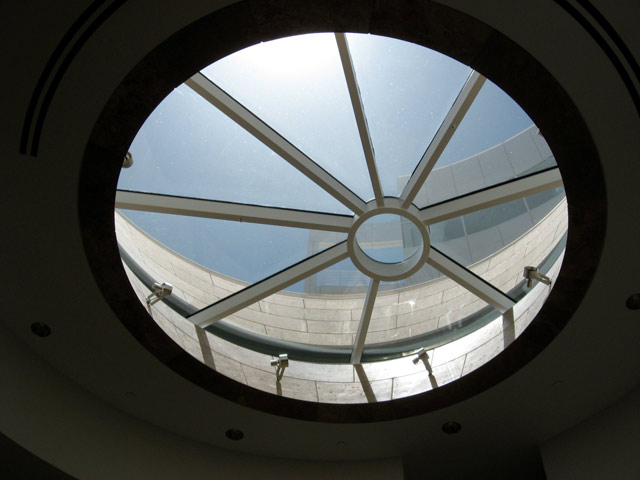 At 12:09 p.m.: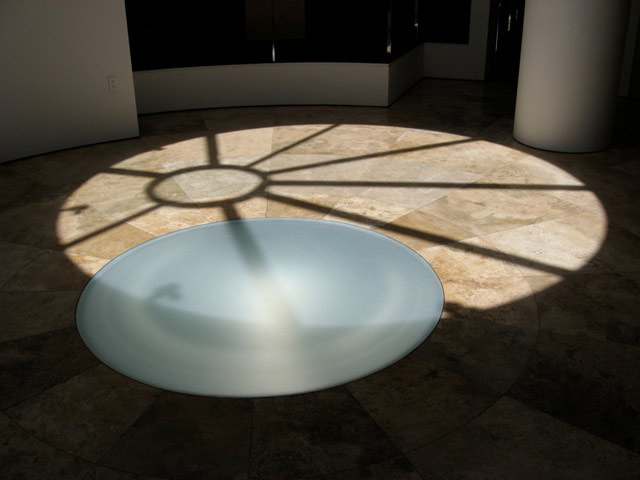 At 12:42 p.m.: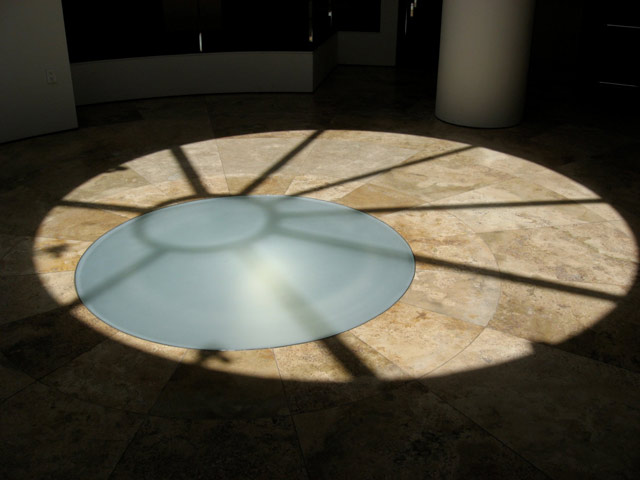 And directly on center, at 1:00 p.m.: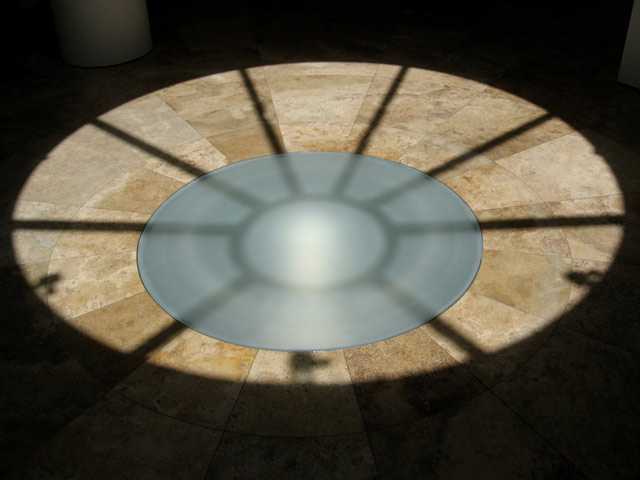 Looking up through the oculus just after the solstice, at 1:04 p.m.: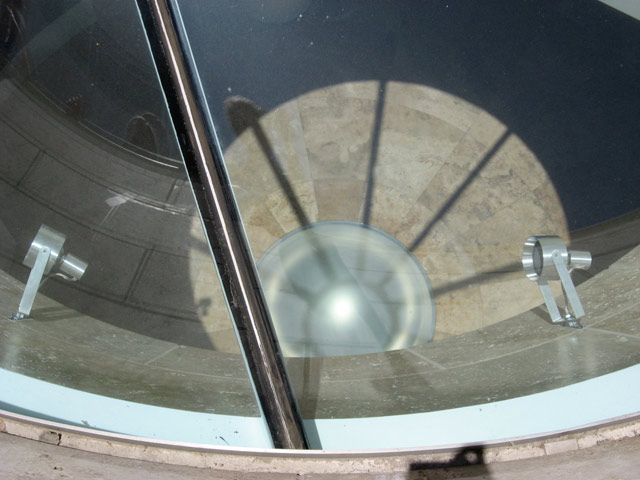 Staff gather each year to watch the light pass along the floor. And each year, the number of attendees grows!