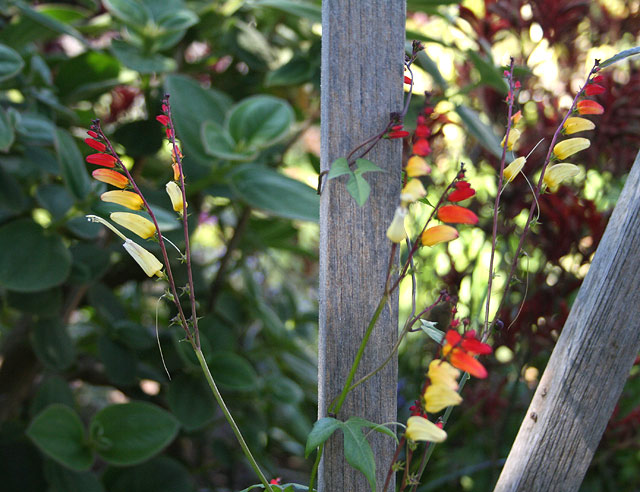 "What's that?" is a common question in the Central Garden, a place full of exotic and curious plants. "James Cameron must have come here when he was dreaming up Avatar," I recently overheard a visitor say while pointing to some unusual specimen.
One of the most-asked-about plants is the one shown here, which blog reader Donna Martinez wrote to us about:
I visited the Getty last week and found a flower in the garden that I'm not familiar with. It appeared to be a vine, and if it didn't have any flowers I would have sworn it was a morning glory, but it had spikes of yellow orange and red. If anyone could tell me what this flower is, I would appreciate it.
It is indeed a type of morning glory, which means it's related to sweet potatoes and water spinach.
Have you guessed it? It's Spanish Flag (Ipomoea lobata), which is named after the red-and-yellow flag of Spain, making it an appropriate favorite for this World Cup year. Flowers emerge red and then gradually fade to orange, yellow, and white, creating a candy-corn effect.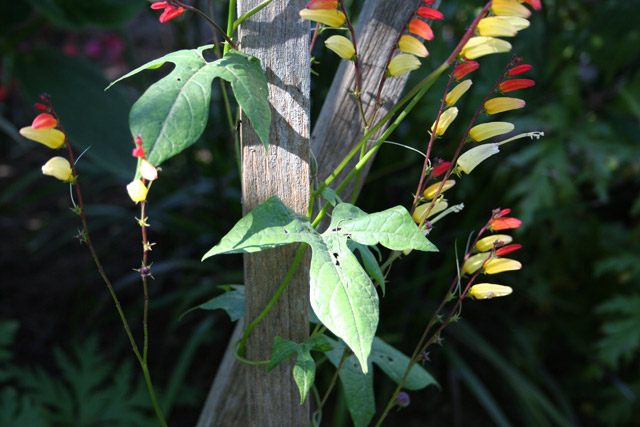 Spanish Flag is an easy-to-grow annual that thrives on trellises in the bowl garden (around the azalea pool). "We plant it every spring in the same beds, and lasts about six months—it'll still be blooming in September and October," our horticulturist, Michael DeHart, told me. "Robert Irwin selected it way back in the beginning when he was designing the garden, and we redo it every year."
It's easy to grow if you start it early in the spring, Michael says, and doesn't get many pests—but snails like it, so look sharp for slime trails and nibble holes (see photo above to know what to look for!).
Despite its name, Spanish Flag is actually native to Mexico and South America, so it makes a bicentennial fit with Mexican heather (Cuphia hyssopifolia) and Mexican sage (Salvia leucantha), also found in the garden.
But what's in a name? "It's really colorful and it gets a lot of attention," says Michael, "and that's what the garden is about."
Is there a mystery you'd like us to sleuth out? Leave a comment or contact us the old-fashioned way at blog@getty.edu.