Untitled photograph from the series Stucco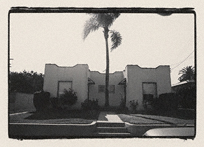 This series from Judy Fiskin's first body of work exhibit characteristics that would remain constant throughout her engagement with the medium. Contained in custom-made frames, the images are delineated from the rest of the photographic sheet by the black edges of the negative. Although the small scale encourages close viewing, Fiskin's propensity to backlight her subjects makes it difficult to read the details of these modest examples of vernacular architecture found in Westside neighborhoods of Los Angeles. Viewers may be inclined to squint against the harsh light of Southern California that she makes so palpable. After completing graduate studies in art history at UCLA, Fiskin joined the faculty of the California Institute of Arts in 1977.
Note: image is shown here at close to actual size.