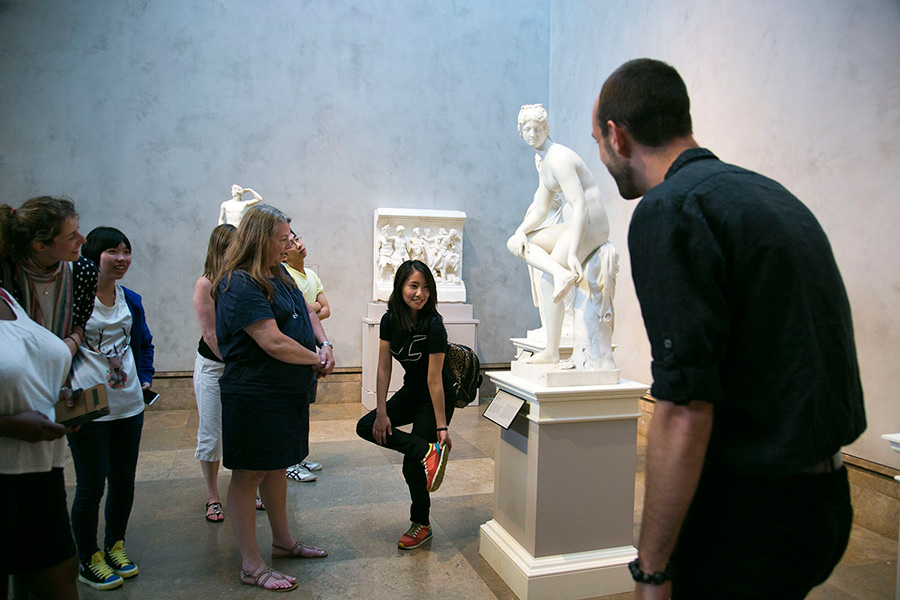 Whether it's your first visit or your fiftieth, you should go on a tour when you visit the Getty Center. Take it from someone who spent an entire day going on back-to-back tours! (Me. I did that. It was awesome.)
Before You Begin
Before you embark on your visit, pick up a "Today at the Getty" sheet and a map from the Information Desk in the Museum Entrance Hall. The sheet has a list of all of the tours offered for the day, as well as a list of exhibitions and highlights that should be on your "must-see" list.
Each day the Getty offers an extended list of tours with something for everyone—and all tours are free. Want to learn all about the Renaissance? There's a tour for that. Want to know more about the Getty's gardens and architecture? There are tours for those, too. Only have time for a quick, fifteen-minute tour? We have you covered. There's even a tour for those of you who prefer to experience art in silence (aptly named the "Silent Tour").
Top 10 Tour Tips
After attending a variety of tours offered here at the Getty Center and speaking to those who give them, here are my top tips to get the most out of your museum tour experience:
1. If you've never been to the Getty Center, or if you're curious to learn more about the permanent collection, I recommend going on the Collection Highlights Tour. It's a great introduction to the Museum, and even if you're a Getty veteran you'll learn something new and exciting on this tour.
2. If you have a question, ask it! Participation is always welcome. The docent or curator leading the tour will be glad to answer it, and it might start some interesting conversations within your tour group.
3. On that note, tell the tour leader what you're interested in, even if it's unrelated to the art. On the 15-minute Collection Spotlight Tour I attended, our docent learned that one of the visitors liked architecture, so she focused on architectural elements painted in manuscripts.
4. All answers are good answers! If the docent asks the group a question, don't be afraid to give your honest opinion (even if it doesn't flatter the art).
5. If you're looking for a tour that highlights your favorite time period, try one of the Focus Tours. I attended the Renaissance Focus Tour, and we saw most of the Renaissance galleries in an hour, and also took time to pause and learn about individual works of art.
6. If you're especially interested in a special exhibition, it's worth it to plan your visit on the same day as a curator-led tour. These tours explore the exhibitions in fascinating detail, and you'll learn from curators who have organized the show and studied the art for years.
7. Try a self-guided tour. The GettyGuide™ multimedia player offers audio and video on hundreds of objects, and features special themed tours for foodies, families, and more. While you're at it, try the Secret Tour, which begins in the Museum Entrance Hall and is quick, fun, and hands on. (I don't want to give too much away, but my experience included taking a selfie with a sculpture and removing my shoe in a gallery. It was pretty great.)
8. Don't be afraid to get up close to the art if it's in a glass case. (If it's unprotected, of course, always be careful!)
9. Wear comfortable shoes.
10. Have a good time, and enjoy the art! Tours at the Getty are as far from boring lectures as could be—they're great way to connect with the art, the people you came with, and other friendly visitors from around the world.