During my work as a Multicultural Undergraduate Intern at the Getty this summer,  I was invited to join colleagues from the Getty Research Institute on a visit to artist Thomas Demand's studio in Culver City. It was a memorable look at his unique process.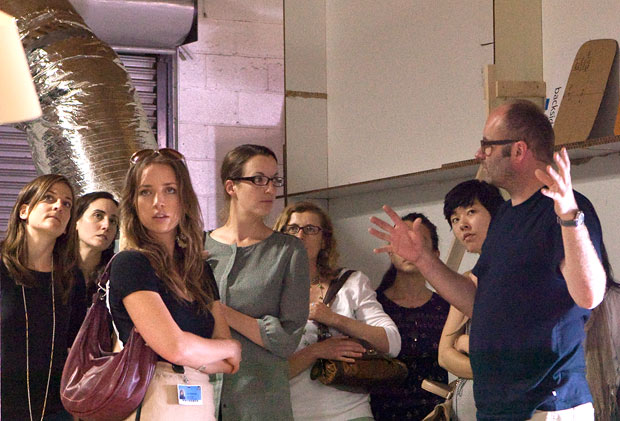 Demand is a contemporary artist from Germany who works mainly in sculpture, photography, and video. He's known for making photographs and films of 3-D life-size models, which appear in his work to be the actual rooms and spaces themselves. His paper and cardboard constructions of interiors and environments often depict historically or politically significant locations—such as the Oval Office and an embassy involved in the Iraq WMD forgeries—and create a tension between fabricated and real.
Demand was also a visiting scholar at the Getty this year. The Getty Research Institute's Scholars Program invites scholars and artists to work at the Getty Center or the Getty Villa, doing research on  a particular theme chosen each year. The theme of this 2010/2011 program was the display of art, and each scholar spent the past year or semester doing research surrounding this theme—or in Demand's case, making art about it.
On our visit, Demand greeted us at the door and led us past a makeshift curtain onto the set of a world of paper and cardboard. He showed us his latest project, a reenactment of a short video clip that depicts the reception area of a cruise ship as it is rocked and buffeted about by a storm.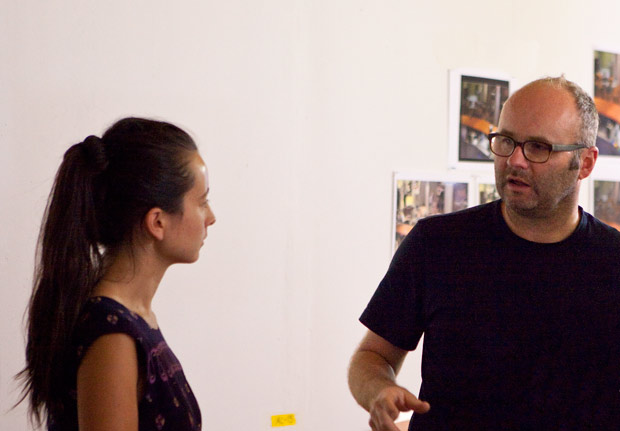 For this piece, Demand completely recreated the scene shown in the video, fabricating the entire set out of paper products.  Then, using stop-motion animation and a team of highly skilled animators and technicians, he filmed his paper version of the film clip, miniscule step by miniscule step.
As Demand led us around the space and showed us each component he used in creating his work, this ostensibly simple project exploded into complexities and intricacies, both of technology and of construction. He and his collaborators had broken this short video down into every visual element—every toppled chair and lemon slice—as well as every millimeter of movement.
To me, one particularly interesting aspect was how they'd worked out objects that, however briefly, defied gravity in the chaos and disorder caused by the rocking of the ship. Demand pointed out a few of the tricks he'd used on different objects in the set: swinging lights suspended diagonally by invisible wires, chairs mid-topple supported by miniature stands hidden from the eye of the camera.
As a piece of art based on a YouTube video, Demand's film is halfway between the humorous and the serious. It prompts a burst of laughter as you see the contents of a cruise ship topple to and fro, but it also explores the danger and destructive power of natural disasters that have the potential to occur anywhere, at any time. Spontaneous destruction, beautifully and painstakingly re-created.
(Photos by John Kiffe)