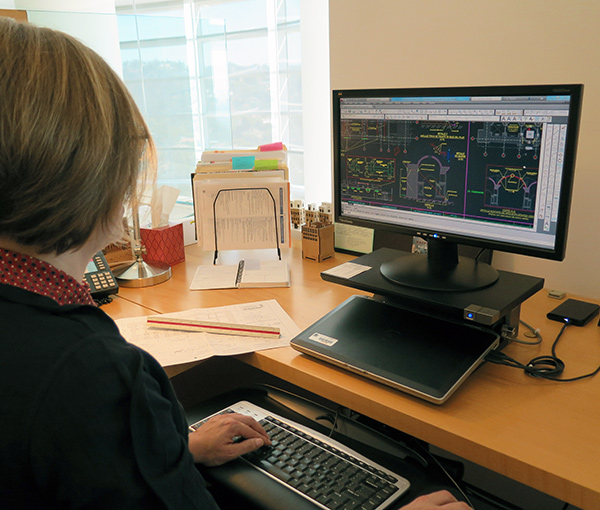 Sara Lardinois, project specialist at the Getty Conservation Institute, works on a CAD drawing
Staff members of the Getty Conservation Institute (GCI) come from a great variety of disciplines. Chemists, architects, biologists, engineers, and other specialists lend their expertise to advance conservation of the world's cultural heritage. Just as diverse as the staff's backgrounds are the tools they use to aid the Institute's conservation efforts.
When we think of architects, we often picture them standing over drafting boards sketching out their visions on large sheets of paper or surveying a site with rolled-up blueprints in their hands. Architectural drawings, however, are no longer created by hand on paper, but on the computer. Sara Lardinois, a project specialist at the Conservation Institute, is an architect who specializes in historic preservation. She uses a computer-aided design and drafting (CAD) software program in her work to conserve historic buildings and cultural heritage sites.
What Does the Tool Do?
Using CAD, Sara produces two-dimensional drawings as well as three-dimensional models of buildings and sites. The drawing program is essential to every step in her work, from documenting existing conditions to designing interventions. The program is also useful for presenting all that information to project team members, as well as keeping records of any treatments for future generations of conservators.
As part of the Conserving Modern Architecture Initiative, the Conservation Institute is performing condition surveys of the Salk Institute for Biological Studies in La Jolla, California. CAD was used to render building plans as well as detailed drawings of the teak window wall assemblies, which are in various states of deterioration after nearly fifty years in an exposed coastal environment.
The existing conditions of each window were recorded and presented using diagrams drawn using CAD. A three-dimensional view of the window wall assemblies was also drawn to help conservators understand how all of the pieces were put together. This detailed information will be used to develop treatment recommendations for the long-term care and conservation of the Salk Institute.
How Does It Advance Conservation Practice?
Once conservators have a good understanding of existing conditions, computer-aided design becomes a study tool for designing interventions or additional structures.
As part of the Earthen Architecture Initiative's Seismic Retrofitting Project, for example, Sara worked in conjunction with structural engineers to design temporary measures for a church in Peru that had been damaged in an earthquake. Because CAD is used widely among not only architects but also other specialists such as engineers, exhibition designers, and building contractors, it is easy to share information and make quick revisions.
When interventions are rendered three-dimensionally using CAD, users can see them in proportion to the existing structure and to the larger environmental context. They can also keep track of true-scale measurements as they zoom in and out and rotate through 360-degree views. "Prior to this, people were doing drawings by hand. There were problems with reproducibility, and it was difficult to update those drawings," Sara told me. "Now, they are living and evolving files."
________
Conservation Tools is an occasional series featuring tools essential to the work of the various specialists at the Getty Conservation Institute.