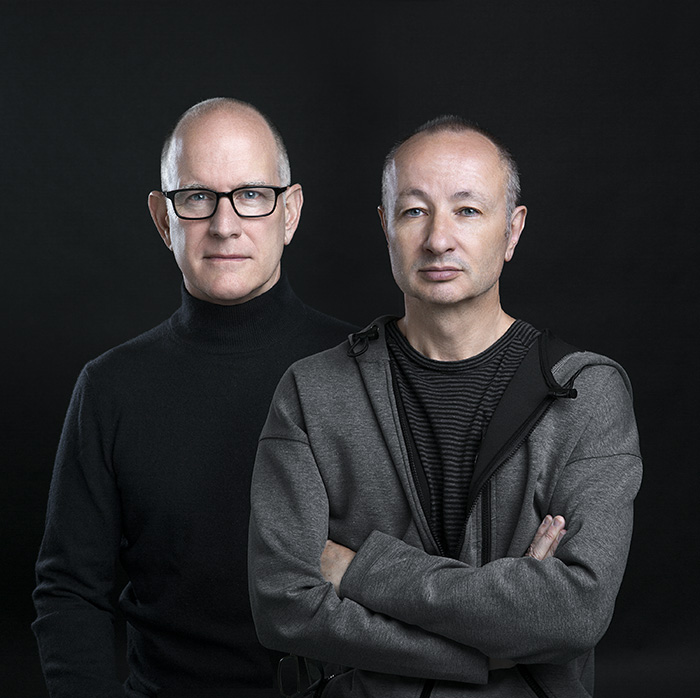 Filmmakers Randy Barbato and Fenton Bailey. Photo courtesy of and © Mathu Andersen
Randy Barbato and Fenton Bailey, founders of the L.A.-based production company World of Wonder, have been exploring underground culture through their unscripted work since they met as NYU film students in the early 1980s. Self-proclaimed screen agonstics, they have always maintained that it isn't the size of the screen but the dimensions of the story that matter. Their creative output spans Emmy- and award-winning documentaries, such as Inside Deep Throat, The Eyes of Tammy Faye, Party Monster, and includes reality hits RuPaul's Drag Race, Million Dollar Listings, and Big Freedia.
Their most recent project, Robert Mapplethorpe: Look at the Pictures, a documentary for which they interviewed many of Mapplethorpe's closest friends and associates, premieres on HBO today, coinciding with the exhibition Robert Mapplethorpe: The Perfect Medium, jointly presented by LACMA and the Getty.
We reached out to the filmmakers to learn more about how and why they made the film, and their impressions of Mapplethorpe and his work.
What drew you to Robert Mapplethorpe as a subject?
Robert Mapplethorpe drew us to him. Living in the East Village in the '80s, we were aware of the Mapplethorpe name—it was a constant presence in downtown New York. But we realized we were more familiar with his name than his art, more conscious of his brand than the man. Decades later, we were in New York having a conversation with Sheila Nevins [president of HBO Documentary Films], who wondered aloud to us about Mapplethorpe—and we instantly leaped at the opportunity to re-visit the man and his art.
Normally, putting together [all the elements and access necessary to make a documentary] can take years, even decades. But most of these pieces came together within about six months. We had the feeling that it was as if Mapplethorpe—who would turn 70 this year—was calling from the other side, ready for his close-up.
Did anything surprise you as you delved into Mapplethorpe's life and art?
Yes, many things, but the biggest revelation was that for Mapplethorpe, it was his life that was the work of art, and the pictures secondary. We realized with quite a shock that, as an artist, he was really a documentarian. We think that had he lived he would sooner or later have made this film.
The other big revelation was that although Mapplethorpe is a singular artist, he was a promiscuous collaborator. He himself said that taking someone's picture was an intimate collaboration, but his entire life's work was a series of intimate collaborations. He was very strategic in his choices—and very open about his calculations.
Take his patron and lover, Sam Wagstaff. When Mapplethorpe decided to be an artist working with photography, the medium wasn't considered an art. Now, it wasn't just—as Mapplethorpe admits—that Sam had the money to underwrite his career. It was that as a respected curator and collector, Wagstaff could help get Robert's chosen medium recognized as art. The problem was that Sam hated photography. Robert made him see the light. Theirs was an incredible collaboration, but it was authored by Robert.
How did Mapplethorpe's art and vision inform how you approached your project (in terms of both content and aesthetics)?
We always say that the story will tell you how best to tell it, and we simply did what we think Mapplethorpe might have done if he was telling his story.
There's a misunderstanding that Mapplethorpe could not write, and did not like to speak about his work. [Yet] he wrote the most beautiful letters, and, although sparing in his words, was completely clear about what he was doing and why he was doing it. Before he died, he told many of the people we interviewed in the film to write about him and tell his story.
At the beginning of the film, we feature Senator Jesse Helms denouncing Mapplethorpe's work on the senate floor—"Look at the pictures," he rails, waving around Man in the Polyester Suit [1980]. Well, this senate controversy [in 1989] was a result of the final show that Mapplethorpe planned, knowing full well that he was about to die.
[Editor's note:
 Robert Mapplethorpe: The Perfect Moment
 traveled to several institutions in 1988–89 before its presentation at the Corcoran Gallery of Art in Washington, D.C. was canceled after members of the Senate, including Helms, complained that some of its images were obscene. The incident occurred just after Mapplethorpe's death in March of 1989 and set off a controversy about government funding for the arts.]
Mapplethorpe wasn't political, but he knew what politics could do for him. The scandal made him a household name. From this beginning, the film unfolds, following the incredible trail of material he left behind.
What do you wish the public to take away from your film?
Speaking of his work toward the end of his life, Mapplethorpe said that art was about opening something up. That certain pictures of his will always get a reaction, because people have never seen anything quite like them before. It's not about shock, necessarily, but about opening our hearts and minds. Art in general, and Mapplethorpe's work in particular, is more important than ever, because we seem to be at a point culturally and politically that is about closing our minds and our hearts, doubling down on our prejudice and ignorance.
Robert himself opened his life up for us to see. He was completely open and honest—even if it wasn't flattering. He lived his life without shame, without apology. Hypocrisy had no place in his world, and if only we could see the rather desperate circumstances hypocrisy has placed us in today, it should have no place in ours.
So, ultimately, the film's take-away is very simple. Mapplethorpe said that through photography he was able to capture the magic of the moment. Years later, his photographs remind us that we only have a short time and we should make the most of it. He did. We could do worse than to follow his example.
Text of this post © J. Paul Getty Trust. All rights reserved.