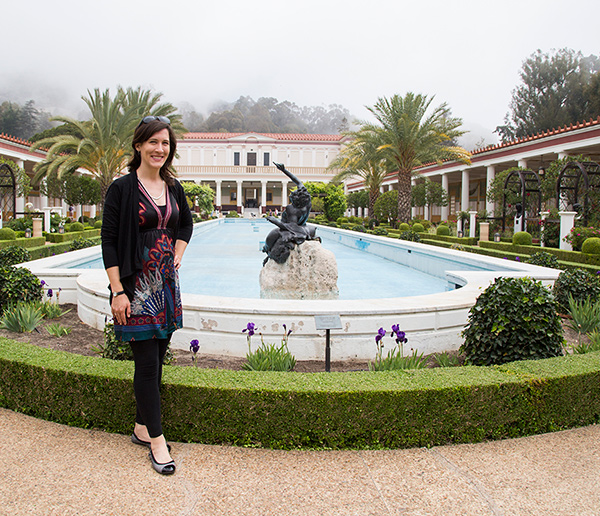 I've spent the past ten months as the curatorial intern in the Department of Antiquities at the Getty Villa while finishing a PhD in the history of art with a concentration in Greek archaeology. Participating in multiple projects that span the breadth and distance of the Mediterranean, my internship has allowed me to engage in all aspects of the curatorial process.
Proudest of: Working alongside curator David Saunders to develop a forthcoming exhibition of the watercolor landscape paintings of Edward Dodwell and Simone Pomardi, two artists who traveled extensively through Ottoman Greece during the early 19th century. I happily took on the challenge of planning an entire gallery, from the creation of labels and wall texts to the layout of objects. As both a photographer and scholar of the topography of ancient Greece, helping bring this exhibition to life holds a special place in my heart, as it has been the perfect opportunity for me to indulge in my parallel interests in the study and documentation of the ancient and modern landscape.
Favorite moment: The installation and group photo shoot of Dangerous Perfection: Funerary Vases from Southern Italy. I helped create the time lapse "documentary" of the process of photographing and installing the vases, the culmination of six years' collaboration between the Getty and Berlin's Antikensammlung. It was fascinating to watch curators, conservators, preparators, and photographers come together to present this fascinating collection of vases here at the Villa.
World adventure: My study trip was a Mediterranean adventure through Italy, Bulgaria, and Greece. I saw for the first time many of the places I've studied for years (Pompeii and Herculaneum), visited the Getty's exhibition of Hellenistic bronzes in Florence, explored entirely new territory in Sofia, and went to a conference on Ottoman Athens while seeing my second home with new eyes. Meeting with colleagues of my fellow curators granted me access to storerooms and seldom-seen places (including the Getty Villa's own inspiration, the Villa dei Papiri at Herculaneum), and I had multiple opportunities to investigate innovative digital technologies in a number of museums and special exhibitions.
Crystal ball: The knowledge I've cultivated this year in curatorial practice and digital experiences in museum environments will hopefully pave the way for a future career in which I can explore the antiquity of the Mediterranean through the lens of modernity.
Internship in three words: Make it count!