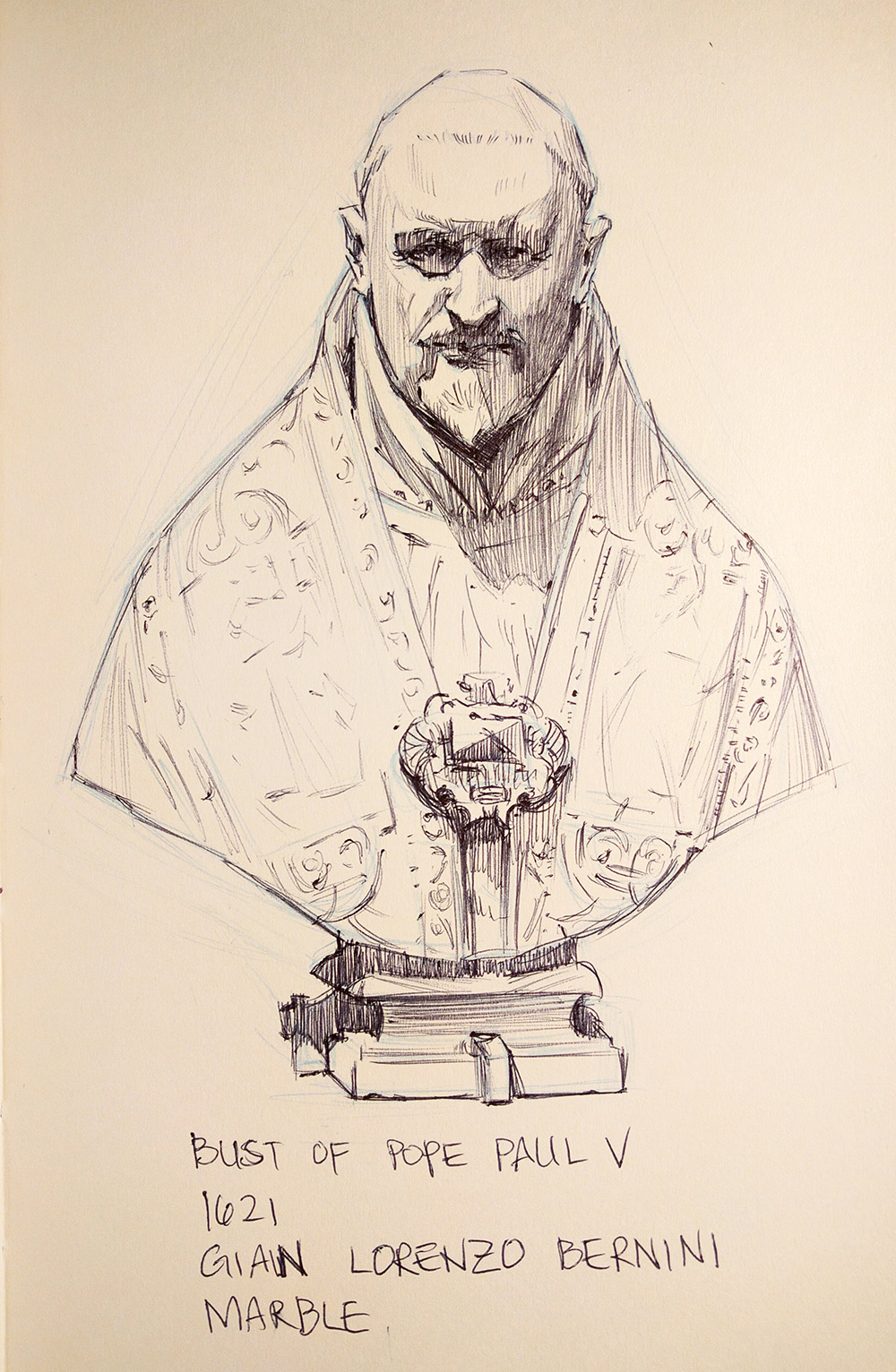 Sketch by Franklin Lei of Bernini's marble Bust of Pope Paul V. Courtesy of and © Franklin Lei
Franklin Lei is a game artist who works to fund his pursuit of traditional art. The self-proclaimed "doodler at heart" was mostly self taught before he started studying classical realism at a San Francisco atelier just a few years ago. He loves to paint both traditionally and digitally, and is currently exploring what he truly wants to communicate through his work. We first noticed Franklin when hs posted this gorgeous pen-and-ink of Gian Lorenzo Bernini's Bust of Pope Paul V.
Franklin shared his thoughts for our #GettyInspired series on sketching in museums, artist collaborations, and street style.
Tell me about your process and what inspires you.
I'm often inspired by various artists in my field of concept art and illustration, both old and modern art masters. I find it helpful, when looking at a piece of art and trying to decipher it, to figure out how exactly I would attempt to tackle doing something similar. Breaking down the process is a very daunting experience.
I'd compare studying at the atelier to learning my ABCs again, and creating a painting or a sculpture to attempting to read a well written piece of literature. Despite the difficulty, the greatest thing about learning from other artists is just being able to peek into what exactly they are trying to communicate.
What drew you to the Bernini bust at the Getty?
Bernini was one of the best sculptors who ever lived. The details and accuracy of the forms drew me into studying his work.
What does sketching from art tell you that photographing it doesn't?
By sketching what the light casts onto the sculpture, I'm able to study more in depth the forms Bernini sculpted. Studying anything at a museum gives me a peek into what might have gone through the minds of other creatives. Being with the art in person, I am able to capture so much more with my eyes than what I would from studying a photograph. The sensation you get when looking at a piece in real life is incomparable. I would recommend to any artist, if possible, studying real pieces up close before just diving into studying photos.
What do you when you're not painting? 
For me it's really important to find balance in life. As much as I love to paint all day, it's good to just take a break. Reading, watching movies, swimming, and a lot of other activities help me step away from the easel. Afterwards, I usually feel much more refreshed and able to either solve a problem with my painting, or get started on a new piece.
I notice that most of your sketches on Instagram are of people. Do you mainly do portraits? What about fashion-inspired or street style images?
One of my favorite go-to subjects is people. I often try to add more mileage by drawing people either from life or online. Funny that you ask about fashion and street-style inspiration, since one of my favorite websites to use as a reference is The Sartorialist. I used to do self-portraits weekly, but took a pause from that when I was studying at the atelier. This serves as a good reminder for me to hop back on it.
As an artist, how do you view collaboration?
For the most part I work alone when it comes to my personal painting, but I love collaborations; I see them as a dialogue between artists. It's great to see how another artist would approach something, and being able to riff off each other is just pure magic.