Road-tested tips for a family outing to the Getty, with bonus tips for Thanksgiving week 2015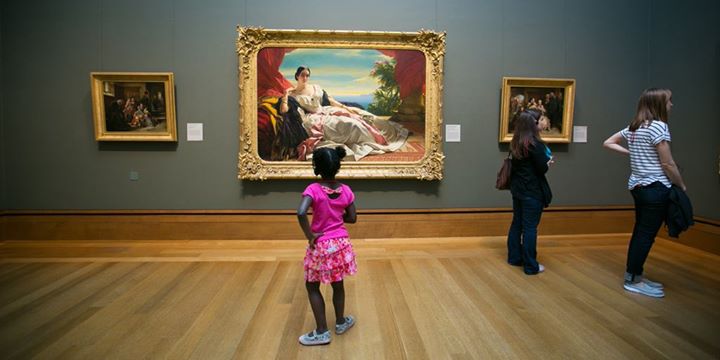 A friend recently asked me for some tips on visiting the Getty with kids, figuring I'd be an expert since I've worked here for a few years now. While I see kids and their families in action here all the time, I'd never experienced the Getty Center with them first-hand. So I asked some real experts—my colleagues with young children—and their collective advice was both imaginative and practical.
Update for Thanksgiving week 2015! It's the holiday season—and many L.A. kids are enjoying lots of extra days off from school. What are parents to do? The Getty Center is here to help you entertain your little ones during their school vacations—and celebrate the holiday. I've added some special tips for enjoying the Center with kids.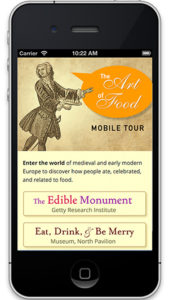 1. Enjoy a Mobile Tour for Families
The Art of Food scavenger hunt is fun for all ages. Using just your mobile phone, you can take your family on a merry tour of the two food-themed exhibitions currently open at the Getty Center: Eat, Drink and Be Merry at the Museum North Pavilion; and The Edible Monument at the Getty Research Institute (located near the Getty Restaurant). Even better, there are prizes available for those who complete the tour!
2. Enjoy the Holiday Lights
Starting November 28, 2015, the Getty holiday lights are back. The architecture is lit up and warm cider will be available on Saturday evenings, when the Getty is open until 9pm.
3. Explore in the Galleries with an Educator
Join us for Family Art Stops—half-hour, hands-on art experiences geared for families with children ages 5 and up. Special dates are scheduled for Thanksgiving weekend.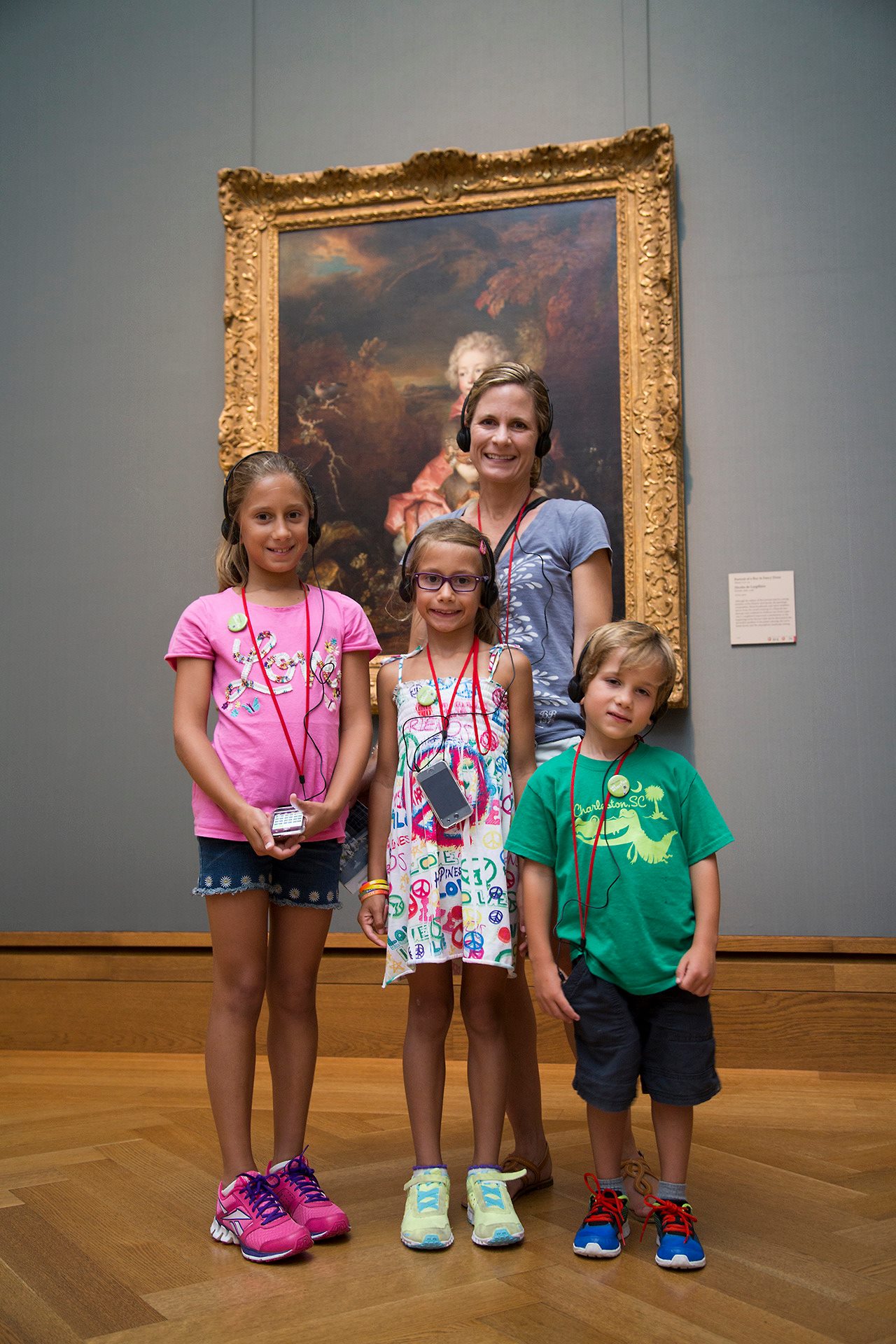 4. Take Advantage of Bonus Days
We're also staying open a few extra days during the holidays. The Getty Center will be open Mondays, December 21 and 28 (10am-5:30pm), and the Villa will be open Tuesdays, December 22 and 29 (10am-5pm). Both sites will be closed Christmas Day and New Year's Day.
5. Ride the Tram
I see it every day when I ride the tram with schoolchildren—they love the view of the 405, the houses on the hills, and the tall buildings in Westwood and beyond. And if they look hard enough and have luck on their side, they might even see a deer or two hiding among the trees.
6. Imagine Yourself an Aristocrat
Come see the decorative arts galleries in the South Pavilion! Kids love the period rooms, which look like an 18th-century French aristocrat's, and the galleries filled with fancy furniture, giant clocks, and silk beds.
7. Run and Roll on the Garden Lawn
This is a great way to burn off excess energy, as well as a good place to chill out and enjoy some quiet time. Pack a lunch or pick up some sandwiches at the cafe and enjoy a picnic on the green while the kids romp and enjoy the outdoors.
8. Visit the Giant Bug
Yes, the giant bug! (Also known as Specimen (After Dürer) by John Baldessari.) It's located right outside the Museum Lecture Hall; ask a friendly volunteer in a blue vest for directions.
9. Mix Up Your Visit
While the Getty's galleries make for fun, there's just as much to explore around the site. Take breaks in between your gallery explorations to enjoy the views and the garden's zigzag path, or grab a snack at one of our cafes or coffee carts, which all have outdoor seating.
10. Create Your Own Scavenger Hunt
Make the paintings galleries extra entertaining by making your own scavenger hunt. Have kids look for pretty dresses, men in armor, flowers, monsters, etc. Or keep count of all the dogs or cats or horses you can find in all the paintings. Which animal had better PR and appears in more paintings? Celebrate a successful hunt with a cookie in the garden.
Here's a tip: In the Entrance Hall, go up the stairs and start the galleries on the second floor. From there you can go all the way around the four pavilions and see the paintings in chronological order.
11. Strike a Pose
Have the kids pick their favorite painting in each gallery and try to emulate the subject. (I bet you can get some good photos this way.)
And of course, stop by the ever-popular Family Room. I've since visited it myself with my niece and nephew, and we had a great time. Here they are showing off a hand-decorated mask and playing in the tube sculpture.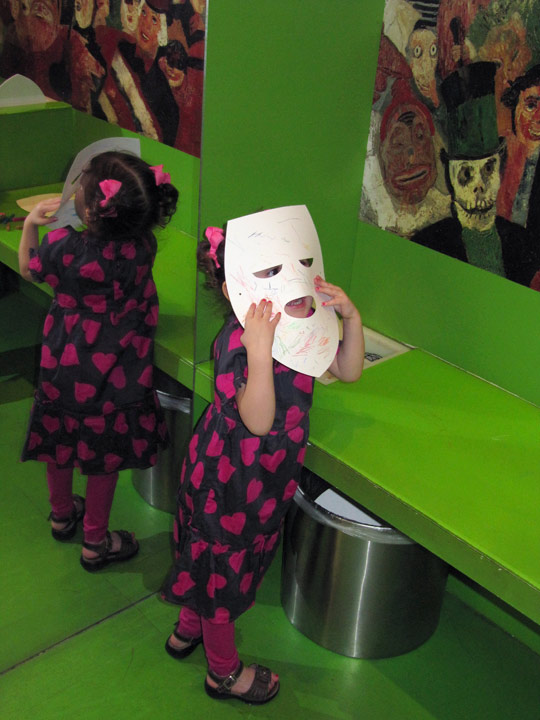 There are tons of other possibilities for entertaining young children here at the Getty Center, including our do-it-yourself Art Detective Cards and our many free programs led by museum educators.
One last thing: If you're coming up here with your kids, make sure there's plenty of space on your camera phone. You'll want to relive watching your kids laughing as they run across a lawn high up above the city noise.