Five questions for Ellen Lauren, who portrays the queen of Persia in SITI Company's production of Aeschylus's Persians
SITI Company, under its director Anne Bogart, began a remarkable journey when they took on Aeschylus's Persians. Always collaborative and analytical, the actors interrupt rehearsal constantly to rethink a few lines or entire scenes. Anne has divided up responsibilities for sections of the play, and leaders guide and encourage questions and dissent. The company pays close attention not just to Aaron Poochigian's poetic translation, but also to the ancient Greek text itself, often discussing in depth the meaning of a line or passage, what it meant 2,500 years ago, and what it means today.
I have had the great pleasure of participating in these conversations and watching Ellen Lauren confront the role of the strong Persian queen and make it her own. Before the company began rehearsals here at the Getty Villa, Ellen recorded an excerpt of the play, a moment before she invokes the ghost of her husband Dareius. I asked her about the text she recorded, her reactions to Aechylus's poetry, and her challenging role as queen.
What unexpected discoveries have you made about the queen since starting to rehearse Persians?
Knowing I'm in process as I write this, I'll try to capture where I am right now. It's a rich experience working on this role, one that has me constantly questioning my assumptions. Every week brings new respect for the power and depth of this text, how potent it is. I've likened it to a kind of incantation. Persians is a mystical piece dealing with visions and rituals that call up the dead.
But too, at the same time, it's so deeply human in how it portrays the stages of grief, anguish, hubris, terror. People are flawed in it; it's ambiguous in so many ways and strange because it feels so modern despite being the first extant play.  So things keep changing for me, and the play keeps casting its spell in new ways.
What did you expect from this role?
I don't think I understood how complex a role the Persian queen really was before we actually began rehearsals. I knew the energy required to perform it, as in all the Greek plays, would be extraordinary. And I was respectfully wary of it, knowing it to be one of the very first "characters" in Greek drama.
Dramaturgically, the role is the most sustained, and the queen is a kind of connective tissue holding the play together. As wife to Dareius and mother to Xerxes, she allows us to see the contrast between the former revered dead king and the present defeated one.  When I considered these things, I thought my task would be to discover expressive choices to serve these functions.
I'd read so much about how this role added up to little more than a function of the plot, without the depth or grandeur of Clytemnestra, for example. Going back to those books now, I shake my head in wonder at how different my understanding is.
Describe the queen as a character in Persians.
Queen, mystic, mother, widow: she is powerful and deeply conflicted.
As a devoted mother, her joy at her own son's survival only points to the anguish of all the mothers who have lost their husbands and sons, and this complicates her own relief. The news does seem to give her the strength to move forward and take action, though— another hallmark of the character.
As queen, she is the only member of the royal family present when the play opens. She speaks of her unrest, and there is a sense of the loneliness and pressure on her in the situation: to hold up, to perform the necessary rites for the well-being of her community.
Most of the movement [in the play] comes from her decisions. She has the strength to hold up as the Messenger relays the news of the Persian loss. She has the presence of mind (when the Chorus can't summon their own) to speak directly to the Ghost of Dareius, driven by both courage and desperation. Even in her lowest moment she resolves to take action to focus on her son.
It's complicated; she isn't a stock character or easy to judge as good or bad. She's human, and so she's flawed. But the sense of doing the best she can and not simply allowing grief to consume her is present in the words.
You said the queen provides the "movement" in Aeschylus's play. How does she do this?
It is in her role as mystic that she proves to be the real engine of the play.
Aeschylus shows us a woman of a great sensitivity and moral conscience. She dreams of Xerxes's defeat before directly hearing of it, and recognizes the losses yet to come. And in a stunning show of faith and again, courage—yes, from desperation too—she summons the ghost of her husband.
It is here, in the beautiful description of the libations she brings, that the playwright has created an extraordinary portrait of the senses. Somewhat like Lady Macbeth, though without the malevolence or direct guilt, the Queen's senses have shattered from the Messenger's news [of Persia's defeat]. Her speeches are based almost completely on her recounting the feeling of her experiences through sight, smell, and touch. It feels as if Aeschylus's invention—to separate a character out from the chorus—allowed him to talk about what it means to feel human. And under the pressure of great shock, what happens to the senses.
For an actor, this is a gift—to have such a clear roadmap to what she is literally smelling, hearing, seeing, feeling. She has this extraordinary way of articulating, and she does so to try to find a shred of hope in the situation. Is she driven by guilt for her son's role in the death of so many? I don't know. I know that I have to stay very physical, very focused on the quality of her energy. It helps me make choices that will not draw the audience into a situation that would be off-putting, or too distant or ancient.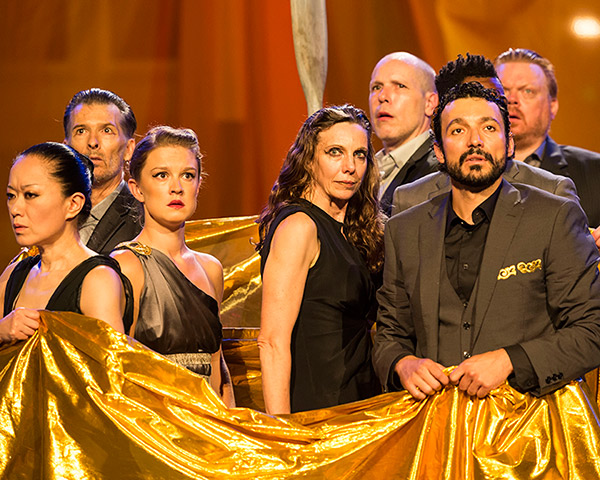 For you as an actor, what is the most challenging, or affecting, scene in the play?
When King Dareius finally appears from the underworld, answering the queen's and the Chorus's pleas, there unfolds one of the most remarkable scenes ever written in a play: a dead husband and a living wife, discussing the fate of Persia and their son's role in it. It is a ghost story, it is a domestic story, and it is about the fate of their people. It is all those things in a series of short lines back and forth (the Greek stichomythia). The power of the situation washes over me each time we've gone at the scene. I have everything to learn from it.
The scene happens without any real warning in the play. But as we build the staging, the event has to be set up just right, and our interpretation needs to strike the right balance between representing something wild and unknown and something with great dignity.
I knew the potential force speaking the words would have on me, the muscularity of them, but I underestimated their power to work on me in deeper more personal ways. Any role is really of set of words organized to represent facets of human experience, and so it has to run through the self.
Certainly I don't have magical powers; that's not what I'm saying. I imagine what quality of energy someone with these powers and insight would exude. What is the shape of their body, how do they breathe? This is all so the audience and I can look at this portrait written so long ago, and feel a relationship to such sadness, struggle, and complexity. We all share this at one point or another. And we all had a mom.
Text of this post © J. Paul Getty Trust. All rights reserved.