Jivita Harris-Casey is an L.A. artist who sells her one-of-a-kind jewelry across the U.S., including at the museum shops at FIDM, the Fowler Museum at UCLA, and our very own Getty Store. Handcrafted in recycled and reclaimed silver-plated bronze, each piece is designed with care using centuries-old techniques.
For our ongoing #GettyInspired series, Jivita took the time to talk to me about her pieces (I'll take one of each, please!), how she got started, and how important it is for artists to promote their work.
How did you get started or become interested in creating jewelry? I see that you studied metal arts.

I started making jewelry while at university. I'd just started in the art program at California State University Long Beach when a friend suggested I try a jewelry class. Within the first few months I realized that metal was the medium for me. I loved working with precious metal and stones. I loved the physicality of it. It requires strength but also very fine motor skills. I also loved the history of jewelry. Some of the oldest human artworks were for self adornment—jewelry.
My parents were extensive travelers. My sisters and I grew up going through our mother's jewelry boxes, where there were intricate filigree earrings from India, silver rings from Afghanistan, and old European jewelry from our family. I loved that each style was like a language from a different culture. Jewelry is the medium for a great conversation between the maker, the wearer, and the people that both interact with.
Your pieces are beautiful. I especially love the rings on your website, and the snake and pomegranate pieces you make for the Getty.
The Getty was the first institution that approached me for an exclusive collection to complement their aesthetic. The line was intended to correspond with the grand reopening [in 2006] of the Getty Villa, which houses the Greek and Roman antiquities. Taking the lead from there, I decided to use the lost-wax technique to design the collection. The lost-wax technique dates back more than 5,000 years.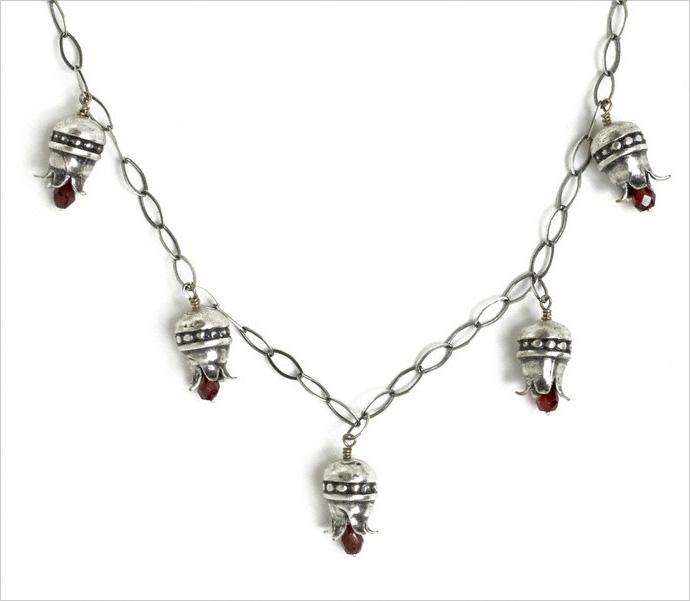 To further connect to the Getty's collection, we decided to use bronze as the base material. Many of the sculptures housed at the Villa, including the Victorious Youth, were created using this ancient technique and material.
I also saw that you sell to quite a few other museums now too. This is great! How did you become connected that way?
The first museum to carry my work was the Orange County Museum of Art. They were interested in showcasing handmade works from local artists. At that time, my work was almost exclusively all hand fabricated. The one-of-a-kind nature of these pieces made them of particular interest to museum stores and craft boutiques. I now extensively use the lost-wax casting technique, which allows me to reproduce designs and widen my audience. I still hand-fabricate the original designs and have a one-of-a-kind collection, but most of my current work is limited production collections.
How have ancient myth, classical art, and/or the Getty Villa inspired you?
I've always been interested in mythology. Reading Joseph Campbell's The Power of Myth, among others, brought me to understand how cultures from around the world use symbols to tell stories and share ideas that help us understand each other. The snake is one symbol seen in many pieces throughout the Getty collection that represents the Earth, the cycle of life, female power, and rain.
The pomegranate was the second idea added to the collection through collaboration with Getty product developer Darcy Estes Pinelo. The pomegranate is seen throughout the mosaics, gardens, and architecture of the villa. Pomegranates are seen in many cultures as symbols of health, fertility, and rebirth.
How do you feel about self promotion, especially this day and age when every artist is on Facebook, Twitter, Instagram, Pinterest, and more, trying to present themselves?
There are some really positive aspects to self-promotion using social media: I can directly engage with a global audience to share my ideas and inspirations.
Self-promotion can feel awkward at times because we are taught not to speak too highly of ourselves but let our work speak for us, but as artists we need to share the thoughts and inspirations behind a finished piece or use of a symbol, or even stone choices. A major challenge of using social media is that it is a hungry, fickle beast and the pace of keeping active online is consuming.
I have loved working with the Getty, it has been such a point of pride that my collection continues to sell well after more than 10 years!
Text of this post © J. Paul Getty Trust. All rights reserved.
_______
Look for Jivita's exclusive pomegranate and snake jewelry collection in the Getty Store.