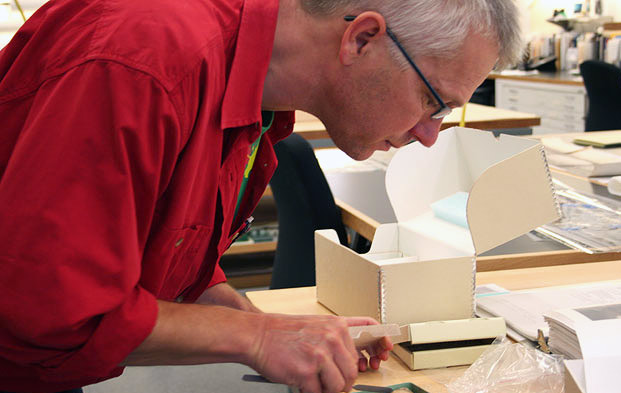 What do you do at the Getty?
I'm an objects conservator at the Getty Research Institute. The GRI houses a vast research library, with all sort of material relating to art history. Our special collections contain photographs, prints and drawings, designs, artist's books and sketch books, three-dimensional objects, and much more. This variety of materials needs a lot of specialized care. Our Department of Conservation and Preservation is made up of four conservators, one person working exclusively on electronic media, plus a highly skilled mount maker.
What projects are you currently working on?
I've been working on architectural models belonging to GRI's Department of Architecture and Contemporary Art. These models will be lent for an exhibition at the A+D Museum here in L.A. The collaboration with the A+D Museum is a win-win situation, because the public gets to see highlights of our architectural collection, the GRI fulfills its mission, and the A+D Museum benefits from increased exposure.
How did you come to work at the Getty?
I'm originally from Germany. When I finished high school, long ago, I didn't know what I wanted to do with my life—which is very common at that stage of one's life. I was fortunate to have an uncle living in Africa. There, in Kenya, I met someone who taught cabinet making, and that was thrilling to me. I did an apprenticeship and worked as a cabinet maker for about ten years.
After that time I moved to Portugal and worked at a museum for decorative arts, restoring 18th-century furniture with intricate carvings and inlays. I learned that taking good care of cultural heritage requires specialized training. So I went back to Berlin to study conservation, and I became a conservator of objects. I came to the Getty as a graduate intern and have stayed here ever since.
What skills are necessary for a conservator?
Knowing how to work with your hands and head is very important.
Some schools of conservation place more importance on manual skills, and others on art historical training. The challenge is to combine the two effectively. I think it's better to acquire manual skills early on and then add the art historical knowledge and the understanding of chemical principles later. But you can acquire this set of skills in any order.
Tell me more about the architectural models you're working on.
They're three-dimensional and made of multiple materials. Sometimes they were taped together, sometimes glued together, and usually only for a short time until the project was sold. Once a project was sold, the models often got kicked under the table or put in the attic. Sometimes they didn't get saved at all. In some cases the architect was fond enough of them to keep them for a while—and if by chance the project got famous, then the models got pulled out from under the desk and might have become part of an archive.
For instance, we recently received the John Lautner archive. It came with sketches, drawings, photographs, and archival models. I work on the mixed media, 3-D objects containing materials such as paper, foam core, wood, chip board, plywood, and all sorts of plastics. These models are often kept together by a variety of sticky stuff, like superglue or tape, that are not easily identified. Sometimes you don't even know whether the scotch tape is part of the model. In some cases the tape may have been applied by the architect to represent something, such as a frosted sheet of glass. I have to find out whether it's something I should remove, or something that should be kept in place.
How do you conserve an architectural model?
It's our explicit aim to keep significant signs of time and change visible. For example, we don't attempt to recreate the "original state" of the model if it has undergone changes, because we hardly ever know what alterations were made by the architect. Our approach is rather conservative—our most important goal is to keep objects from falling apart any further. It's important to determine what materials were used originally–in order to decide what adhesive, for instance, is appropriate to use now.
In addition, we often custom-make archival boxes to protect collection items from light and dust.
How do you research the objects you're conserving?
We're very fortunate at the GRI because we not only have books and periodicals on architectural projects in the library, but the archives in the special collections often contain helpful research material. In some cases we find unpublished pictures of the projects or even images of the original models in the archives. That helps a lot when you have to decide what piece went where. If we're not certain, we leave it as it is. We don't use fantasy when deciding where a piece should have gone. If we don't know, we keep fragments together with the object, stowed away safely in the same archival storage box. We don't want to mislead art historians or the public. That's a big concern in conservation.

Of the many projects you've worked on at the Getty, do you have a favorite?
A Fluxus piece called Hooked from the early 1980s. It's an ordinary tackle box containing a lot of everyday items. The artist, Ben Patterson, attached fishhooks to each object representing the potential for us to become "hooked": a credit card, a syringe for drug use, a bible (or a book that looks like it), pain killers, and booze, a little bottle of alcohol.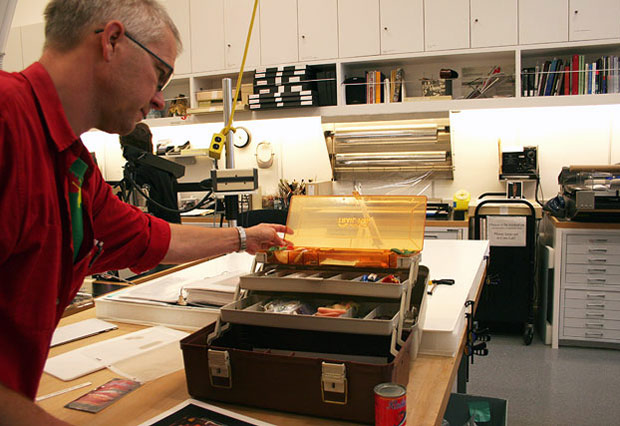 Tell me about some of the challenges of conserving Patterson's Hooked.
One of the objects was a can of sardines that, over the course of 30 years, had deteriorated. Actually it had corroded right through, and if it hadn't been bagged a long time ago it would have spilled all over the box. Now the box smells really bad, but that's not as bad as losing the piece. I was only able to save part of the label of the original can, so I put a new stand-in can in that space. I had to open the can, remove the fish so it wouldn't corrode again, and put in the equivalent weight so it wouldn't feel phony. I scratched in that it's a replica from 2010 to make sure that anyone who will study the piece or will look at it closer will know that this isn't the original. We don't want to fool anyone.
Ben Patterson is still alive, so we were able to get in touch with him. He seemed amused that his can of sardines had deteriorated.
This issue represents the type of problems that conservators have to deal with when attempting to prolong the life span of contemporary art: Artist often used unstable materials, or even incorporated perishables into their objects. While some artists might not be worried about degradation, others may even want their creations to rot away. That's an interesting dilemma.
How do conservators at other museums deal with these issues? Is there a dialogue between the GRI and other institutions?
Yes, there's a vivid dialogue going on, in the form of online mailing lists and specialized discussion groups. But beyond using Internet resources, it still helps to know colleagues across the country and abroad personally. It's always easier to send a message to someone you have actually met before, asking a couple of quick questions about an item in their collection or experiences they've had with a specific treatment approach. Communication keeps us from having to reinvent the wheel.
What do you most look forward to when you come in to work in the morning?
I like odd challenges. I've been working on implementing a schedule to periodically check items that have perishable or ephemeral materials, such as baked bread, rubber, chewing gum, mold—or worse!
For instance, the GRI owns a few peculiar items by Swiss-German artist Dieter Roth. There's one we call "the cheese book," which is apparently printed on processed cheese. He also made Poemetrie, aka "the urine book." He combined his poetry with odd materials that weren't used in traditional art. You can imagine that those materials are very challenging to work with.
Besides conservation, are there other careers that you might have been interested in?
As a society we face many pressing issues, and sometimes I ask myself, "Should I be working with people instead of objects? Should I be taking care of old people or teaching kids? What is the importance of keeping these objects around?" Then I remind myself why I want to preserve objects: to enable us to learn from them.
Art offers us a way to understand the emergence and decline of certain cultures—including the one we happen to live in today.