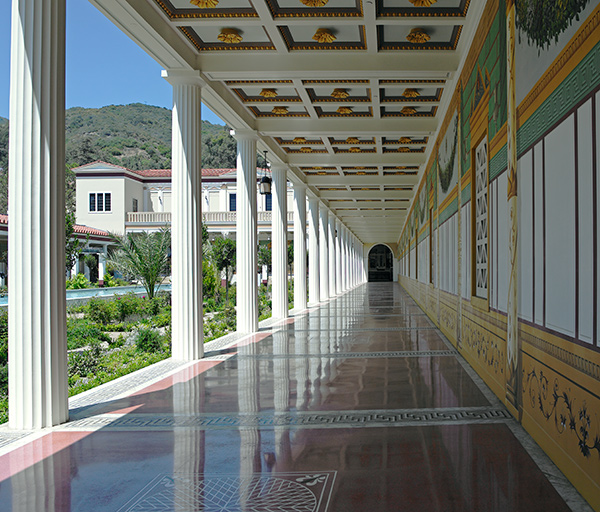 The idea of a venerable art institution like the J. Paul Getty Museum at the Getty Villa joining forces with the young, upstart event Death Salon may not immediately make sense. After all, when you're strolling around the Getty Villa, taking in the world-class ancient art and beautifully manicured grounds, your impending demise isn't the first thing on your mind. However, upon closer inspection, death is everywhere at the Getty Villa.
When taking the time to notice all the objects in the collection, questions begin to form. Whose faces were meant for the sarcophagus with scenes from the life of Achilles but never carved? Is that Roman gravestone honoring a beloved dog or a girl?
Particularly intriguing are the monumental funerary vases in the exhibition Dangerous Perfection: Funerary Vases from Southern Italy. How did ancient Italians use Greek mythic imagery to understand their mortality and afterlife? What are the perils inherent in conserving ancient art to allow it to survive well into the 21st century, when the creators and the civilizations from which they've sprung are long gone? Exhibition curator David Saunders will address these issues in a future blog post here on The Getty Iris, and also in a talk at the sold-out Death Salon Getty Villa event April 26. Engaging in questions like these at the intersections of death, history, and art is what Death Salon is all about.
The Origins of Death Salon
Death Salon hosts multi-disciplinary events around the world that gather academics of various fields, artists in all media, and death workers, such as morticians and medical examiners, to present about their work to a public audience. All of our presentations and performances touch upon some aspect of the history and cultural products of mortality and mourning.
The aim of Death Salon is to shed light on a subject most choose to ignore–death—and how it impacts our lives, inspires our art, and shapes our history. We hope to open up difficult conversations and put modern people back in touch with their own mortality while they learn and are entertained. To this end we have hosted everyone from green-burial morticians to musicians, mortuary archeologists, medieval art historians, performance artists, and forensic pathologists at Death Salons.
The idea for Death Salon came out of The Order of the Good Death, founded by mortician Caitlin Doughty, host of the YouTube series Ask A Mortician and now a bestselling author. Caitlin had established The Order of the Good Death as an online community of morticians, intellectuals, and artists working towards death acceptance in creative ways. In 2013, when I was inducted into The Order, we new members were so intrigued with one another's work that we wished there was a way we could all meet in person. As that idea took shape, we realized that if we did get together in person, it would be a shame if we didn't allow the public the opportunity to engage with the ideas being shared. And so Death Salon was born.
That first Death Salon in Los Angeles in 2013 was chronicled in The Atlantic, and after that the events followed fast and furious, with 2014 events in London and San Francisco, and upcoming 2015 events at the Getty Villa in April and the Mütter Museum in Philadelphia in October.
With each event we strive for more diversity of speakers, fresh areas of the world covered, different eras represented, and new art forms explored. Our partnership with the Getty Villa allows us to dig deep into death in the ancient world, while also contrasting ancient customs with those you'll find in modern Los Angeles. For instance, archaeologist Lisa Pieraccini will delve into ancient Etruscan funeral feasts, and LA Times restaurant critic Jonathan Gold will explain how shiva platters help keep Jewish deli culture alive in LA.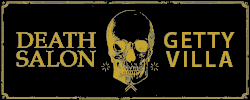 In addition to a full day of thought-provoking lectures, we will also have a live recording of a comedy podcast, a performance by indie rock songstress The Mynabirds, a self-guided tour of death-related items in the Getty collection, and a reception with funeral-themed snacks. It will be our most artistic and interactive Death Salon yet, and we cannot wait to bring it to you.
_______
Death Salon Getty Villa sold out immediately when tickets went on sale in February, but audio recordings of the talks will be made available on SoundCloud after the event. Join the event backchannel on Twitter and Instagram on April 26 with the hashtag #DeathSalonGV.