This morning Anne Helmreich of the Getty Foundation, who manages the Online Scholarly Catalogue Initiative (OSCI), led a Google+ Hangout on Air with three OSCI participants on the front lines of museum digital publishing—Kyle Jaebker of the Indianapolis Museum of Art (IMA), Liz Neely of the Art Institute of Chicago, and Nik Honeysett of the Getty Museum. The key takeaway: Digital is changing not just the form of content we create now, but also the way it's planned, created, consumed, and measured.
During the talk, embedded below, many astute and probing questions and comments came in on Google+. Liz, Anne, Nik, and Kyle continue the conversation by responding here.
How and when in the process of developing an online catalogue did you identify the target user/audience for a project?
—Sarah W.
For the Art Institute catalogues, we had a very narrow audience focus—scholars—from the outset. This doesn't mean that the features don't work for other audiences, but when we were evaluating a feature, we were able to focus. A narrow focus can be very useful in making a very tight and focused scope. —Liz
Likewise [for our ancient ambers catalogue], we started thinking this was a scholarly audience, pure and simple. But as the project progressed and you begin seeing some of the functionality—like hi-res images, 360-degree rotations, etc., you realize that the content is much more accessible. Then, when you consider that you're generating discrete resources around works of art, and you have an infrastructure to deliver those to multiple places—for example, integrating into your collections online, then you realize that the audience is much broader. It's important to have a focused target audience to begin with, but ultimately you can't second-guess who might want to consume this content. —Nik
Are you building the digital catalogues for web consumption or as native apps for mobile devices, or both?
—John M.
The OSCI Toolkit is built as a web reader that can be viewed/used on a tablet (or even an iPhone) because it features a responsive layout. This approach also meets the needs of our conservation scholars, who may have two 27″ screens. Going with an app would be less flexible for the needs of scholars. —Liz
The tools we've worked on are all web-based. But based on the architecture of the OSCI Toolkit, an app could be built to consume the data just as the web app does. The web offered us the broadest reach with the catalogues, so that was the first choice. —Kyle
We're creating resources and content around individual works of art and want to be in a position to deploy or package them to wherever makes sense: web, app, and that new shiny gadget that is just around the corner. —Nik
Some of the online projects are webpages, such as SFMOMA's Rauschenberg Research Project, while others are more formal, separate web publications, such as the AIC's Monet and Renoir catalogues. What factors influence the decision to go one way or the other?
—Dale K.
For the Art Institute's catalogues, we really wanted to focus on the reading experience, and the reading of the text along with the usage of the images. Art history scholarship is so visually reliant that we wanted to keep that relationship packaged and intact: more book-ish than database-ish. But there are certainly benefits to incorporating it into the database. We'll link to entries from the online collections, but want the catalogues to remain packaged experiences. —Liz
I think you could do this in a lot of different ways—there is no right answer. The Art Institute can link to the catalogue from a collection record and link out of the catalogue to other resources as well. The content should be stored in a portable manner so that it can be used in whatever context works best for your situation. One thing that we always see is that the presentation can change over time, so making sure the content can be repurposed should be a primary goal from the start. —Kyle
We want to hand off that decision to our audience. Provide access wherever it makes sense. —Nik
If you look across the initiative, there are actually three typologies:
Those that resemble webpages and that often aggregate online collection information with added scholarly interpretations/essays functioning as wrappers, such as SFMOMA's Rauschenberg Research Project, published this week; Tate's The Camden Town Group in Context; and the forthcoming catalogue from the National Gallery of Art.
Those just as you describe—formal, separate web publications—as found in the AIC prototypes (built using the OSCI toolkit).
The strategy adopted by the Seattle Art Museum, which is using a publication module that is part of TMS (The Museum System) collections management software designed by Gallery Systems.
Institutions have adopted these typologies for a variety of reasons; for example, the size of the institution and the scale of the technology department, the type of collections management software, if the online publication was aligned with the redesign of the institution's web interface, or if the catalogue was intended to present an experience distinct from or integrated with the experience of the online collection—just to name a few. While all the OSCI institutions are working collaboratively to design solutions to publishing collection catalogues, there's no "one size fits all" solution. —Anne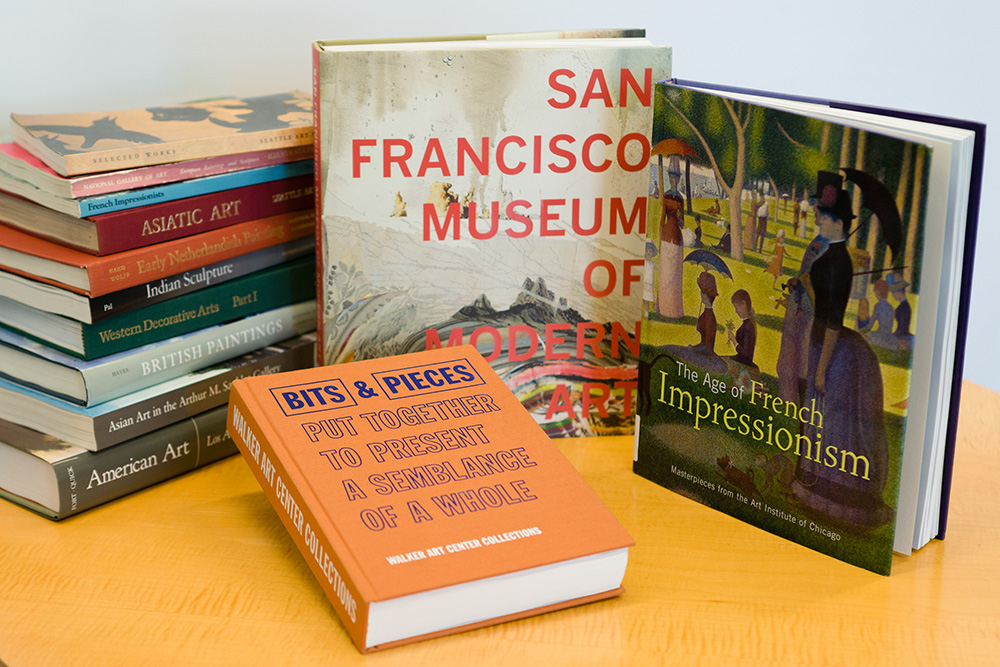 How are you measuring success on an OSCI project?
—Sarah W.
At the Art Institute:
Citations (an age-old scholarly measure)
Access in libraries
Awareness (Is it used in classrooms? Do people know about it?)
Usage
Personalized usage (Notes, etc.)
Have we advanced and helped legitimize digital art history?
—Liz
Agreed. Obviously one measure of success is that you actually deliver a product. But like a print publication, where copies sold is the measure of success and a reprint is cause for celebration, it's more complex in the digital world. Essentially we're still figuring out what success looks like. We can track usage to the nth degree, we can say we had 1,000 unique visits in a month, but how does that stack up again 1,000 copies sold? Don't forget the accidental visitor to your digital resource. In the print world, paying the book price demonstrates a commitment, but you don't know whether that person read the book. In the digital world you can actually see if someone is consuming the content, paging through, clicking on zoomed images, etc. So in that respect you have greater insight into consumption and usage as a measure of success. The true test will be citations, which has an elegance about it—two totally different mediums with exactly the same measure of success. Even better, if we can demonstrate an increased level of citations over print, I think we can all go home for tea and medals. —Nik
Working on the technical side of things, seeing others actually adopt the tools for their publications is a great measure of success. In addition, seeing the analytics of what features are being used can inform how to streamline and focus the reading experience. —Kyle
Have you considered Creative Commons licensing of OSCI material?
—Neal S.
All the code we've developed for the OSCI Toolkit is open-source and freely available. I can't speak to the content issues around the publications, though. —Kyle
Like many museums, we are having broader discussions around the issue of image use for our entire collection, not just within the confines of OSCI. —Nik
Issues of copyright and licensing for our publications, collection information, and images are part of a broader strategic discussion at the Art Institute. —Liz
The combination of interactive imaging tools with the scholarly essay seems to change the dynamic of "reading." Your thoughts?
—Robert S.
I agree—the dynamic of reading is not just about text but the entire experience. Interactive elements, especially in relationship to the text, enhance and give deeper access to the narrative and scholarly arguments. It also allows the reader to further test the assumptions and conclusions of the writer, thus changing the authoritative dynamic. —Liz
Agreed. In the online world, we were all headed down the path of short-form text: people only scan on the web, you need to edit copy for the web, make it shorter and more succinct, etc. For OSCI, we're reversing that. How do you elegantly present long-form text, and what does it mean to embed tools and functionality into the scholarly reading and researching experience? We haven't answered that yet. I think we have changed the dynamic, but it's not clear if we changed it in the right way. Ultimately I think we have to look at our success measures: if our online scholarly catalogues are cited, they're accepted as a changed dynamic. —Nik
Yes—it seems like a more active reading experience and, according to educators, active engagement produces a stronger learning experience. It would be interesting to test this. Audiences seem to be more and more accustomed to consuming content in interactive ways, and museums want to be part of this new wave in publishing. —Anne
Text of this post © J. Paul Getty Trust. All rights reserved.