Leading Spotlight Talks was one of my many tasks as a Multicultural Undergraduate Intern in the Education Department at the Getty Villa this summer. These talks are interactive discussions between an educator and visitors about one object at the Museum. Every month, a different artwork is highlighted, and during the month of August, the monumental Greek vase known as the Gela Krater is the focus.
The Gela Krater isn't part of the Villa's permanent collection—it's on loan from the Museo Archeologico Regionale in Sicily. Therefore, it had no extensive object file with background information and teaching suggestions, so I had to be especially resourceful when developing my talk. I realized that in order to facilitate an interesting and substantive 15-20 minute discussion about the vase, I'd have to get creative.
I began to research the context of the artwork, such as how vases were made in antiquity, as well as the myths represented on the vase. The Gela Krater includes images of an Amazonomachy (battle between Amazons and Greeks), the hero Herakles, and centaurs, which makes for an exciting story to discuss with Museum visitors.
When I lead the talk, I first ask visitors to take time to look at the work so they can form their own relationship with it. This step is especially important with the Gela Krater because it's so large (over two and a half feet tall), and because its display in the center of Stories of the Trojan War (Gallery 110) encourages visitors to walk all around it. This allows them a moment to consider the object and to formulate questions and opinions about it.
I also incorporate "touchable" materials from a wonderful collection of objects developed by the Education Department. These are materials that visitors can touch in order to learn about art in a more tactile way. For this artwork, I often pass around a replica of a vase fragment to show the interior of a vessel, as well as different kinds of brushes that would have be used to paint vases in ancient times. I even show a tiny brush with only a single hair—a mouse whisker!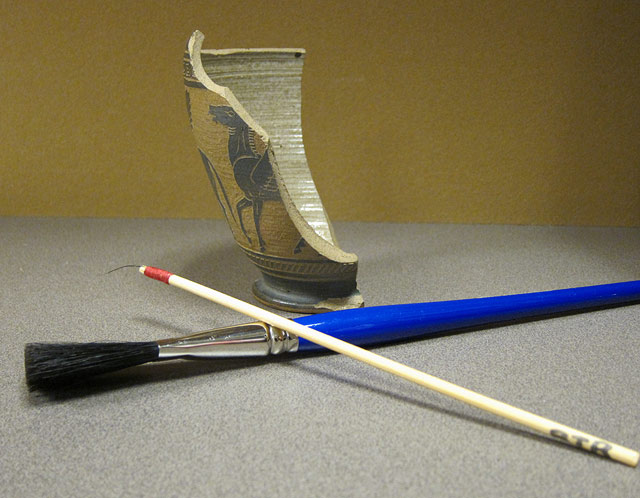 This experience has made me realize that it takes a lot of work to teach in the galleries. I'm grateful that I was given the opportunity to teach in a museum, especially with an object as exciting as this remarkable vase.
Although my internship has just ended, Spotlight Talks on the Gela Krater continue through the end of August, and the vase is on view through October 11. Come by and get to know it for yourself!