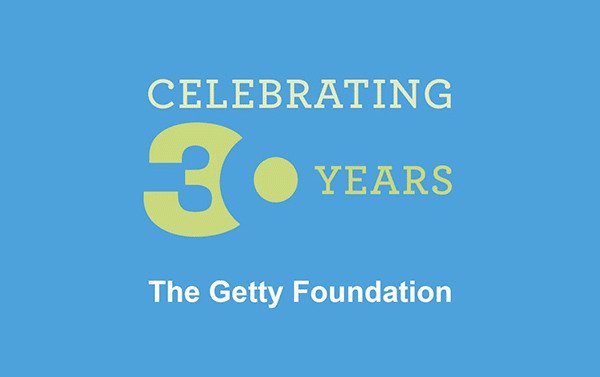 This month the Getty Foundation is celebrating its 30th anniversary. That's three decades of grants that increase the understanding and preservation of the visual arts in Los Angeles and throughout the world. To date, the Foundation has developed, assessed, awarded, and monitored nearly 7,000 grants in more than 180 countries.
As for all thirty-year olds, it's a moment for reflection about our past accomplishments as well as what lies ahead. We've learned some valuable lessons in our first three decades that today guide our efforts.
1. Keep an Open Mind
From the very beginning, the Getty Foundation has embraced the broadest definition of art—all places, all times, across all different media. This means almost all topics are fair game, and our earliest grants for postdoctoral fellowships and publications are great examples of this flexibility. Postdoctoral fellowships supported the emerging leaders in the field of art history and connected art history to other humanistic disciplines. Publication grants covered such a wide range of topics that they helped broaden the definition of art at a time when the term was under much discussion.
2. Look for Ways to Make a Difference during Big World Events
We live in times of great change, and problems arise that our grants can address. The whole world was watching when the Berlin Wall fell almost 25 years ago, and this momentous occasion touched the fields we serve, too. Colleagues who had experienced decades of intellectual isolation were now reachable, but the years of living behind the Iron Curtain meant many needed to catch up.
The Foundation created the Central and Eastern European Initiative (1991–97) to strengthen art historical scholarship, providing fellowships to more than 120 people from the region to conduct research outside of their home countries, most for the first time. We also provided grants to key art historical libraries to enhance their collections, giving scholars improved access to key research in the field, coordinating with the Getty Research Institute to donate duplicate books to the same libraries.
Another example closer to home was the civil unrest in Los Angeles in the early 1990s. In response, the Foundation developed the Multicultural Undergraduate Internship Program to encourage greater staff diversity in professions related to museums and the visual arts. The program is still going strong today, with nearly 3,000 interns at over 150 local arts organizations including the Getty since the first interns arrived in 1993.
3. Be Patient—Change Takes Time
Sometimes it takes a while to see the results of a grant, but we trust in supporting projects with integrity and letting them unfold over time. A good example of this is Pacific Standard Time: Art in Los Angeles, 1945–1980, an initiative that was fueled by a decade of grants from the Foundation. It started out modestly, as an archival project, but grew into a huge region-wide celebration of the birth of the L.A. art scene following World War II. The first archival surveys and grants were awarded in 2001 and then culminated a full ten years later when 60+ exhibitions opened across Southern California in the fall of 2011.
4. Remember that Small Grants Can Have a Big Impact
We value opportunities to realize large impact with relatively modest grants. Museums in Africa is one of our longest-running areas of support and began with rather small investments. This effort to train sub-Saharan African museum professionals in preventive conservation began in 1986 with a few modest grants to bring a number of individuals out of the region for training in Rome. These trainers then returned home to share their skills in follow-up courses, and the impact multiplied.
Now over 25 years later, Getty grants have provided training for hundreds of museum staff from more than 40 countries. And the grants led to the establishment of two permanent African conservation institutions, and to a recent partnership with the British Museum.
5. Appreciate the Work that Happens Behind the Scenes
Sure, sexy projects are nice, but we've always believed in the integrity of the roll-up-your-sleeves, behind-the-scenes work that is necessary for public projects to succeed: research, conservation, interpretation. Over the years, Foundation support has increased the access to many important museum collections and archives. It is painstaking work, but essential to the creation of new scholarship.
We could name dozens of examples, but one particularly compelling project is the Years of the Cupola. A Foundation grant in 2000 supported the creation of a database of documentary sources on the administration of Florence Cathedral in the 15th century during the construction of Brunelleschi's dome. It is an amazing repository of material about Florentine art, architecture, society, and material culture during the Renaissance. Scholars had been dreaming about gaining access to this material for over one hundred years, and now it has been made possible by computer technology.
In the conservation field, behind-the-scenes work takes the form of research and planning.  We have a long track record of providing support for the development of conservation plans, for both museum collections and architectural monuments. Our support of the conservation of the Nagaur Fort is another illustration of taking the long view when it comes to assessing outcome. This example of Rajput Mughal architecture in northwest India had fallen into ruin, and series of grants of a 15-year period (1992–2007) supported the planning and conservation of the fort, restoring this complex of palaces, gardens, and temples to its former glory. Grants supported a blend of modern scientific techniques and local methods and garnered a UNESCO Award for Excellence.
Our our newest initiative Keeping It Modern (designed to complement the Getty Conservation Institute's Conserving Modern Architecture Initiative) is another example, highlighting the issues related to the conservation of modern materials through grants for iconic buildings around the world.
6. Don't Go It Alone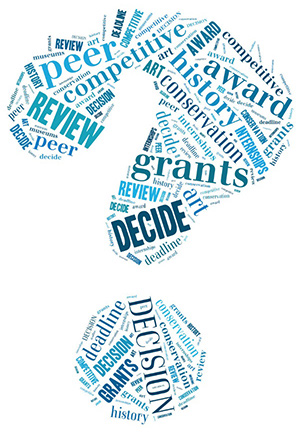 "It takes a village," and this is certainly true for efforts to make a difference in our fields. So we've embraced the spirit of collaboration, especially for projects where we have willing partners and big issues to tackle. Pacific Standard Time: Art in LA 1945–1980 is the most obvious example of the collaborative approach (and stay tuned for Pacific Standard Time:LA/LA coming in September 2017). But so is the Online Scholarly Catalogue Initiative (OSCI), which is focused on helping museums transition their publishing to the digital age—a very complex task. We've worked with a consortium of eight different museums to identify challenges and solutions, which are in turn shared broadly with the entire field.
This is just a taste of what we've learned in our first three decade. And while these principles are all sound guideposts, to make important decisions about what to fund, we also consult with our colleagues within the Getty and elsewhere and look for areas where we can make a difference. We rely on the expertise of literally a cast of thousands, from peer reviewers to distinguished advisory committees. And some of you reading this may very well have served in this capacity, so we wish to share a heartfelt thank-you for this work you have contributed to the field.
Admiration and gratitude seems a fitting place to end this brief history. Admiration for the grantees whose work we have had the privilege of learning from, and thanks for the work of past and current Getty Foundation staff, who work behind the scenes for the greater understanding and preservation of the visual arts.