This weekend, we're screening a four-part film series, Soy Cuba!, that offers a brutal and beautiful look at Cuba through different perspectives in the 1960s (and one from 1959 with Our Man in Havana), a time of great transition and uncertainty on the island nation. The series, complementing the exhibition A Revolutionary Project: Cuba from Walker Evans to Now, is a rare opportunity to see some very important depictions of Cuba on film.
Most exciting for me, it's also an opportunity to catch Tomás Gutiérrez Alea's Memories of Underdevelopment (Memorias del Subdesarrollo) one more time…only now, finally, on a big screen.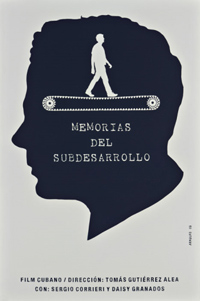 As someone who's intrigued by film history and the breakthroughs of Italian Neo-realism and, subsequently, the French New Wave, watching Memories of Underdevelopment for the first time was an anxious joy and a pleasant surprise. Alea's innovative use of narrative fiction, still photography, flashbacks, and documentary footage, coupled with the main character's charismatic inner ramblings, is a masterful balancing act of analysis through the fragmented nature of memory and criticisms of the time and place it represents.
Sergio, the film's lead, is a bourgeois playboy and former aspiring writer who at first glance would seem just as easily at home in Jean-Luc Godard's Paris or Federico Fellini's Rome. He has stayed behind in Cuba after his family, and so many like them, fled the island shortly after Castro took power.
Set mostly in 1961, between the Bay of Pigs invasion and the missile crisis, the film uses Sergio's past experiences and current exploits with a young and naive girl as parallel symbols of what was likely Alea's own criticism of the Cuban experience up to that time. In dealing with Sergio's inner struggle to understand what has happened with his life and what may be to come on the island, Memories of Underdevelopment goes beyond feelings of alienation and into a sense of entrapment in an "underdeveloped" and "un-relatable" world seldom captured in this style.
The film, influenced greatly by Alain Resnais' Hiroshima Mon Amour, strived to achieve the sophistication of European films; in doing so, it also achieved a deeper irony than most great films of its era. Produced in 1968 by the Castro-backed Instituto Cubano del Arte y la Industria Cinematográficos (ICAIC), of which Alea was one of the founders, Memories of Underdevelopment became one of the most respected Cuban films in world cinema, celebrated for delicately pointing out the shortcomings of the new Revolutionary government.
Come join us this weekend to see this rare screening of Memories of Underdevelopment (Sunday at noon), along with three other great films, all brilliantly brought together by film curator Andrea Alsberg. Here are Andrea's summaries of the rest of the films: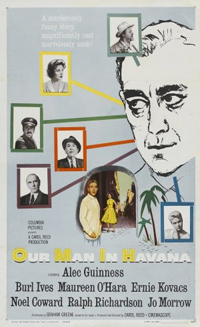 Our Man in Havana | Saturday, June 11, 3:00 p.m.
(1959, 107 min., 35 mm)
Directed by Carol Reed
Our Man in Havana is set in late '50s pre-Castro Havana (though shot just after the fall of the Batista government in 1959). Alec Guinness plays a mild-mannered expat vacuum cleaner salesman who needs extra money to send his rather spoiled daughter to finishing school in Switzerland. Enter the suave and finely tailored Noël Coward, who hopes to recruit Guinness as the new MI-6 intelligence gathering "man in Havana." Desperate and a bit greedy, Guinness takes the job. Having not the slightest idea how to spy, but pressed for information, he concocts mythic subagents and fabulous plots. What follows is a neat mix of fantastic folly, sparkling intrigue and a shot-glass of tragedy.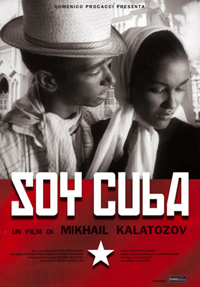 I Am Cuba | Saturday, June 11, 6:30 p.m.
(1964, 141 min., 35 mm)
Directed by Mikhail Kalatozov
Filmed in 1964, I Am Cuba is a virtual love letter to Castro's Cuba from Russia, with love. The film consists of four short stories dramatically linked by the theme of native people exploited by capitalists: a prostitute stripped of religion and pride as she is literally tossed about between ugly Americans; a sugarcane sharecropper whose land is sold to the United Fruit Company; a university student who takes it upon himself to assassinate the brutal chief of police; a peasant farmer who initially resists the revolution until his family's home is bombed.
Lucía | Sunday, June 12, 3:00 p.m.
(1968, 160 min., 16 mm)
Directed by Humberto Solás
Director Solás's triptych depicts the three stages of Cuba's fight for liberation through the stories of three different women named Lucía. The first episode is set in 1895 during the struggle against Spanish colonialism. Set in 1933, the second Lucía is a discontented middle-class young woman who takes off with a young revolutionary with the hopes of overthrowing dictator Gerardo Machado. Again, tragedy ensues after violence fails to bring change. The third Lucía, "Lucía, 196-," is a young field worker and revolutionary in her own right, but after marriage, her husband won't let her out of the house. Their fiery relationship finds them unable to separate or agree to a way of life (his cronies imply that he is betraying the revolution through his machismo and possessiveness), yet the film ends on a comedic note, which implies that the present is superior to the past.