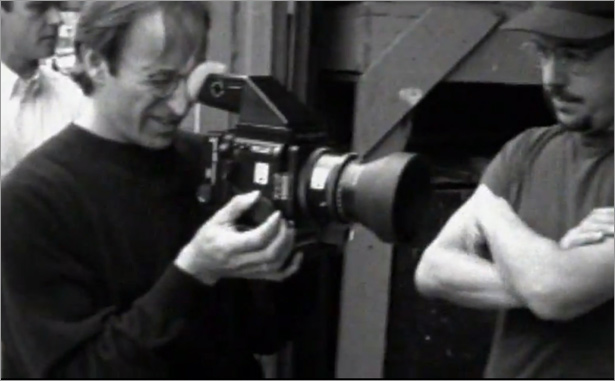 A 12-minute film on Herb Ritts was just released to complement the exhibition Herb Ritts: L.A. Style, newly extended through September 2. Here the film's director reflects on getting to know the artist, who died in 2002, through extensive interviews with his models, collaborators, and friends. The film screens continuously in an orientation theater in the Museum Entrance Hall, and you can watch it online here.
When we set out to make a documentary on Herb Ritts to complement the exhibition Herb Ritts: L.A. Style, we wanted to explore his approach to and style of creating images. Herb's body of work is an expression of who he was and where he came from. His photos aren't just stories about his sitters; they are stories about him, his humanity, his way of experiencing people, nature, movement, light, shape, and texture.
Most of the people we interviewed for the film had worked with Herb, either in front of or behind the camera. They provided candid insight into his process, technique, passion, and sources of inspiration. There wasn't always agreement about what made up his signature style or how he achieved it, but there was agreement about the inimitable quality of it.
Many interviewees spoke about Herb's ability to get the best out of them. They spoke of a trust and an intimacy with the photographer that elicited and evoked something more than just striking a pose. They would get swept up in his creative process, often at the expense of their clothes or sometimes—as you can see in the film—their personal safety. They talked about how Herb was trying to find something different or slightly off, and how his pursuit of that unexpected beautiful moment translated into kinetic and dynamic shoots.
In short, we wanted to make a compelling and accessible film that would get you excited about Herb Ritts and his work; a human and emotional film that would portray Herb's optimism as well as his quest for beauty in everything he shot. I hope that's what you experience when you watch it.
Text of this post © Aion Velie. All rights reserved.