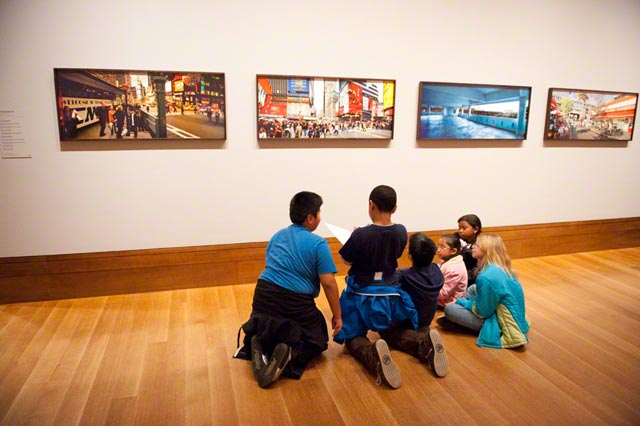 Palms Elementary was our partner this year for Art Together, a pilot program that invited students to explore the Museum in depth over multiple visits. We invited Mrs. Millenbaugh's fourth-grade class at Palms to come the Museum three times.
Why Palms Elementary? Because of the school's enthusiasm and eagerness to collaborate in this learning experience off school grounds.
Why three times? Because repeat visits enable students to engage more deeply with the Museum.
Over their three visits, students explored photography exhibitions, discovered the gardens, wrote haiku in the decorative arts galleries, and made drawings inspired by works in the paintings collection—more than they could have done in a single outing.
Two other Getty educators and I also visited the fourth-graders' classroom twice. During these sessions, students reflected upon their visits in personal journals and worked with drawing, painting, and collage materials to create unique works of art inspired by the Getty's collection. Plus, we led parent and teacher workshops and participated in the school's annual open house.
In the spring, the entire Palms Elementary community was invited to the Getty Center for a culminating event and celebration of the first year of Art Together.
On May 22, the Museum provided buses that picked families up in front of their school. Once on site, families participated in tours led by Getty educators—with help from Mrs. Millenbaugh's students. The kids showed off their artwork and writing in an exhibit called "Getty Inspirations," which was on view for all to see.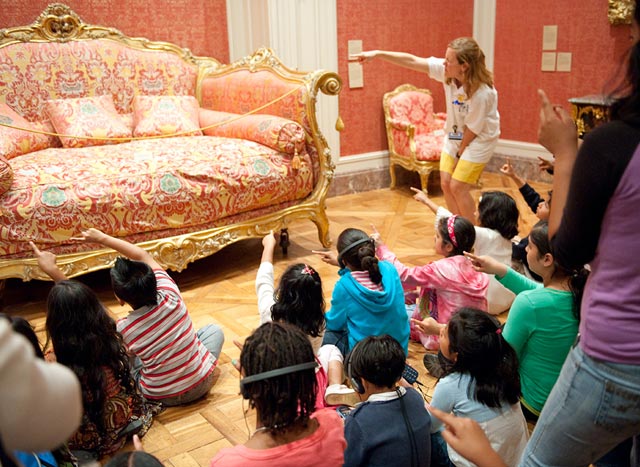 Families capped off a fun day with art projects and a picnic overlooking the Central Garden. For many Palms families, it was their first visit to the Getty Center, and we were honored to welcome them.
What impact did all these visits have on students? To find out, evaluators interviewed parents about how their children felt about the Museum once the program was over. The impact was real, and deep. As one Palms Elementary parent said about her daughter, "She loved art before this, and museums too. After this program? I think she respects it more, understands it more…now she wants to come more often."
Because the pilot program was such a success, Art Together will continue this fall, when we'll work with two other fourth-grade classes from Palms Elementary. As the educator in charge of the first year of Art Together, I was thrilled to get to know individual students, to show them the Getty's collection, architecture, and gardens, and to share ways to find inspiration both in artwork and in the world around us.
I'm looking forward to next winter, when we'll hold another culminating event and again celebrate Palms Elementary families and the Getty community coming together. In the future, we'll expand to even more schools in the L.A. area, creating a new generation of students with ties to the Getty Museum!