For the third installment of #FridayFlights, Permanent Records selects songs for The Scandalous Life of James Ensor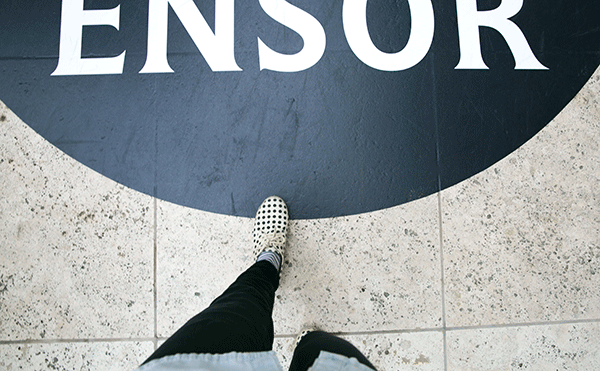 Each month we've asked Permanent Record shop owner Liz Tooley to mine her vast knowledge of music to create a playlist of songs that respond to the art on view in our summer exhibitions. The playlists are part of Friday Flights, an ongoing summer program that explores the overlapping worlds of music and art.
For James Ensor, a reclusive artist who lived in the attic of his family's curiosities shop and painted grotesque masks and demonic visions, Liz reached into the dark and obscure corners of music history to conjure up some wonderfully grotesque musical moments.  The following songs speak to the unsettling carnivalesque qualities, the satirical wit, and the morbid psychosis that has led Ensor to be hailed as one of the fathers of avant-garde expressionism.
We invite you to find out how listening to these tracks might inspire new ways of looking at Ensor's paintings. Bring your headphones to the gallery and pull up this playlist on your smartphone when experimental band No Age hosts Friday Flights at the Getty Center this Friday, July 18.
Tom Waits, "Cemetery Polka"—Rain Dogs (1985)
Combining dark New Orleans Jazz and hard blues, "Cemetery Polka" is the perfect fit for the album Rain Dogs. The 8th album from Tom Waits is sinister and carnivalesque and addresses uncomfortable topics, continuing a theme that would start with Swordfishtrombones and wrap up with Frank's Wild Years. Released in 1985 to a baffled public used to synthesizers and drum machines, Waits's Rain Dogs was a welcome outcast for many who were looking for a more organic sound. "Cemetery Polka" is widely regarded as one of the most prominent tracks from this outstandingly, unusual release.
Pink Floyd, "Bike"—Piper at the Gates of Dawn (1967)
Piper at the Gates of Dawn is the only Pink Floyd album that was made under the direction of Syd Barrett, shortly before his eternal departure into what many believe was LSD-induced madness. Piper been highly ranked as one of the best psychedelic albums of the '60s. Pink Floyd got quite the reputation as a band that created music for LSD users. Most of the band credits go to Barrett, with the quirky, quickie "Bike" having been written solo the year prior.
Flower Travellin' Band, "Satori I"—Satori (1971)
Allied with Japan's counterculture movement, Flower Travellin' Band cooked up a mixture of heavy metal and psychedelic and progressive rock. They received wide acclaim from critics but never attained commercial success. "Satori I" is a powerful example of the Japanese psychedelic rock scene that would emerge there in the late 60s into the '70s. This style of music has been attributed to American troops stationed in Japan around this time, who brought rock 'n' roll and psychedelic drugs to the country—though it's widely said that few Japanese musicians in fact used drugs, due to extremely harsh drug laws in the country.
Black Sabbath, "Black Sabbath"—Black Sabbath (1970)
Pioneering one of the earliest examples of a genre that would become known as heavy metal, Black Sabbath would quickly fly to the top of the charts with their unusually aggressive style of rock 'n' roll. The track "Black Sabbath" is attributed to the obsession of Geezer Butler, their bassist and primary lyricist, with Satanism. In fact, lead singer Ozzy Osbourne had given Geezer a book about witchcraft that he read before bed that night, and placed on a shelf by his bedside. He claims to have awoken with a dark figure looming over the end of his bed. When the figure disappeared, the book was said to be missing from the shelf. This track is such a band and fan favorite that it has been featured on every single tour throughout their career.
Goblin, "Suspiria"—Suspiria (1977)
Goblin are an Italian progressive rock band known mostly for their work with legendary horror director Dario Argento. The band was heavily influenced by the early works of Genesis and King Crismson, and "Suspiria" is considered to be one of their darkest works. The inclusion of a child's toy accompanied by whispering demonic vocals provides the flawless soundtrack to a film that follows a young girl who discovers her new ballet school is run by a coven of witches. Suspiria became one of Argento's most successful films, no doubt in large part to its eclectic soundtrack.
Throbbing Gristle, "Persuasion"—20 Funk And Jazz Greats
Throbbing Gristle evolved from a performance art group known simply as COUM. Today they are considered to be one of the co-inventors of the industrial music genre. Their sound was deliberately disturbing and meant to explore the darker side of obsessions; in concerts they often paired their music with graphic images. "Persuasion" is an ominous, mostly spoken-word piece with creepy lyrics performed by the now-infamous Genesis P-Orridge and backed by a truly frightening soundtrack.
Tuxedomoon, "No Tears"—No Tears (1978)
A post-punk, new wave band from San Francisco, Tuxedomoon was part of the American punk movement back in the late 1970s. Combining punk and electronic, the band would craft a sound all its own. Screaming vocals and a somewhat cabaret sound made "No Tears," and the band themselves, post-punk classics.
The Screamers, "122 Hours Of Fear"—Demos 1977–1978 (Unofficial)
The Screamers were early in the game for the genre that would soon be recognized as synth punk. The Los Angeles-based group was known for its eclectic songs, both infectious and spooky. They were also widely hailed for their theatrical performances driven by the band's manic lead singer, Tomata Du Plenty. The Screamers have managed to gain a sizable audience over the years, though they never released a proper album. They sold out the Whisky A Go Go and were the first band without a record contract to headline the Roxy. "122 Hours Of Fear" is a ruckus pop track that was inspired by the hijacking of Lufthansa Flight 181.
John S. Hall & Kramer, "Hide The Knives"—Real Men (1991)
Hall began his career as a part of New York's Lower Eastside poetry scene. He became well known in the scene as a pale, bald man dressed mostly in black and white and always donning a porkpie hat. He later went on to co-found King Missle, an '80s avant-garde rock band. Shortly after King Missle signed to Atlantic, Hall got permission to record a record with producer and co-founder of Shimmy Disc, Kramer. "Hide The Knives" is comprised of quirky, rambling spoken-word lyrics with an almost comical synthesizer accompaniment provided by Kramer.
Nick Cave and the Bad Seeds, "Mercy Seat"—Tender Prey (1988)
The fifth studio album from Nick Cave, Tender Prey, was recorded in West Berlin and London and was dedicated to Fernando Ramos da Silva. The album opens with Cave's now infamous track "The Mercy Seat," which details the life of a supposedly innocent man awaiting his imminent electrocution on Death Row. Cave has been quoted as saying of the song, which was reportedly recorded at a time of heavy drug use by many members of the band, "it was a nightmare, that record." Nonetheless, "Mercy Seat" has gone on to be the single most performed song in the Bad Seeds' repertoire due to its overwhelming popularity.
The Residents, "Rest Aria"—Meet The Residents (1974)
Founders of the widely eclectic Ralph Records, The Residents are an art collective best known for their avant-garde music and multimedia performances. Formed in 1974, the band has over 60 albums under their belt as well as numerous short films and DVDs. Since forming, the band has operated under total anonymity; they always appear costumed, often donning eyeball helmets, tuxedos, and top hats. The song "Rest Aria" stands out among the other tracks on Meet The Residents, as it contains no lyrics and is verges on classical.