We all hear the news—the U.S. is behind in education. Our kids are having trouble mastering reading, math, and science. Schools lack teachers' aides, computers, reliable internet, sometimes even basic classroom supplies. Can kids really afford to take a whole day, or even half a day, out of school to visit a museum? What's the point?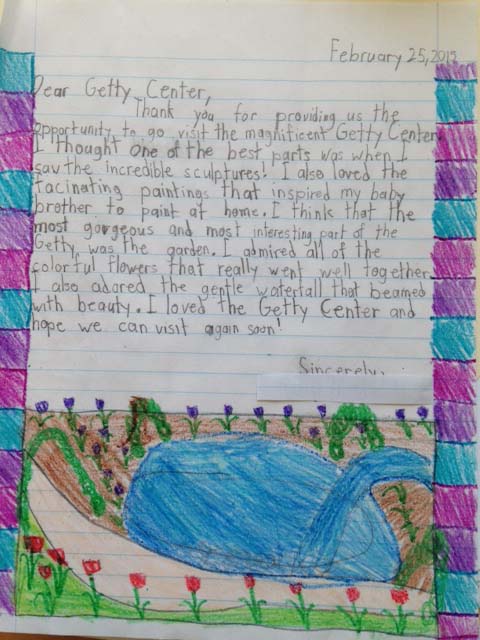 Many people feel instinctively that there is value to a museum field trip, but struggle to articulate exactly what it is. It's good for kids to get out of the classroom a couple of times a year. It's good for them to see knowledge at work in the real world. It's good for them to experience subjects like the arts that are frequently absent from the classroom.
As the school programs manager at the Getty Museum, I know museum field trips have value, and it's more than any of these things. The mission of the Getty's school programs is to ignite interest in and foster discoveries about works of art by K-12 students. We facilitate experiences in which students learn how to explore their own perceptions and the possible meanings of works of art. They learn to make connections to other artworks, but also to their own lives, knowledge, and feelings, and to society both past and present. These are all aspects of learning that students themselves have identified as important.
Evidence from a recent study shows that even a single field trip can increase students' ability to think critically about art, as well as their ability to appreciate and understand what life was like for people from other time periods. Each work of art is a window onto new worlds for students. Those worlds offer students a broadening of their own worlds.
During the 2014–15 school year, we welcomed over 160,000 K–12 students to the Getty Center and the Getty Villa. Of those, 73% came from Title I schools, and over 80% of those came to the Museum on buses paid for by the Getty. When we surveyed teachers, we learned that the cost of transportation is the number-one barrier to taking field trips. So today, any Title I school that is within a 30-mile radius of the Museum and can fill a bus with 50 students can get a free bus for their field trip.
The Museum is also committed to providing as many students as possible with a guided lesson in the galleries. This school year, our amazing, dedicated corps of 150 school-group docents provided over 100,000 students with guided tours.
A guided lesson lasts one hour and consists of stops in four galleries. From time to time we receive comments from teachers who urge us to make kids see as much of the Museum as possible, but we value time spent with single works of art–time that allows students to look, contemplate, and form opinions and perceptions about art.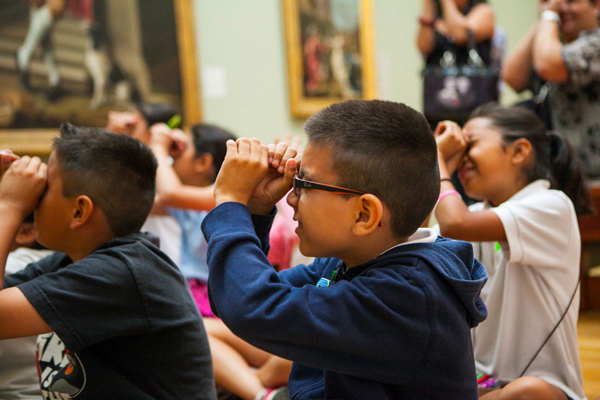 About a third of the Getty's school visitors come on self-guided visits, which means that their teachers (not Getty docents) guide their visit. While we offer teachers many ideas and activities to use in our galleries, just as often teachers apply their own talents and devise their own creative lessons.
When we survey students, they almost always ask for more time to explore on their own, so we encourage even teachers who have booked guided lessons to allow time for students to do some unstructured exploration of the galleries.
For yet another great benefit of a museum field trip is simply letting students discover that free-choice learning environments like museums exist in their communities – places they can use for the rest of their lives to learn, to play, and to reflect. Places they can make their own. Every student who visits the Getty receives a free parking pass so that they can return with their families in the next few months, and each year thousands of people take advantage of a return visit.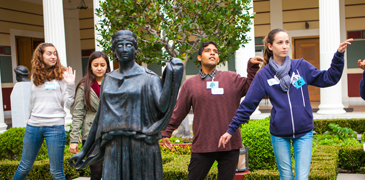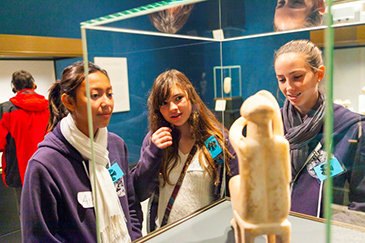 Field trips have enormous benefit to museums as well. Museums are nonprofit organizations, and their public value has been the subject of essays, blogs, conferences, and books. Providing students with experiences connecting them to their cultural heritage, to beauty, and to thought-provoking works of art is one clear way museums provide value to society. Not only will many of these kids become the visitors and patrons of the future, but among them are also the future curators, conservators, educators, and, of course, artists, who will fill and operate museums for the next generation.
And not least for those of us who work in museums, the chance to meet and interact with the thoughtful, curious students flooding our galleries is one of the most exciting and joyful parts of our work.