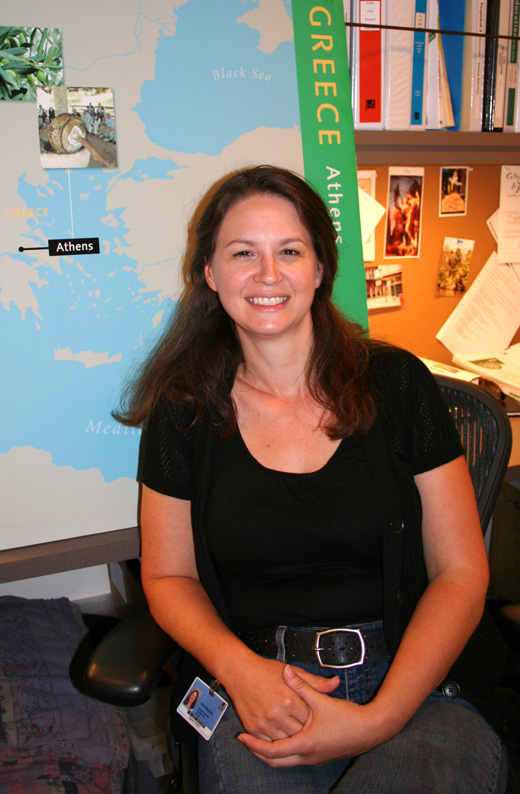 What is your job at the Getty?

I'm an education specialist for family programs. Since I came to the Getty Villa in 2008, I've been building programs that appeal to parents and kids. There's also a healthy new education section our Web site that I've been helping develop.
What is your background?

I'm old school—I started as a tour guide when I was 19 in college. I fell in love with it, so I stayed on. My first real profession in a museum was as the director of science and education at a small arts and science center, because I had a bachelor's degree in biology and a background in the performing arts.
From there I moved to a visual arts museum that also had a children's theater, and was a curator of education for seven years. By that point the field of museum education had become very professionalized, so I went to the School of the Art Institute of Chicago and got a master's in art education. And then I came to the Getty.
How did you become interested in arts education?

I was into the sciences and the performing arts early in my career. My interest shifted to the visual arts, though, because it seemed to me that schools were very focused on math and science, while the arts were getting shortchanged.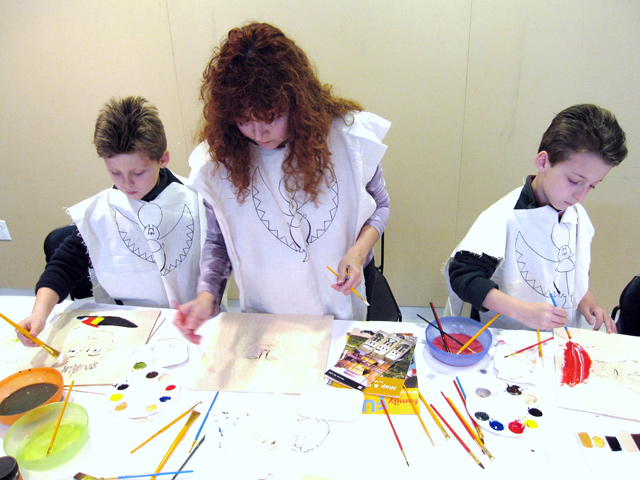 I'm also tremendously fascinated by and passionate about people's creativity—the creativity of every single person. I'm glad to work in a museum that has beautiful things made by artists. But instead of thinking that artists are a special class of people, I want to inspire the creative spark in everyone who comes to the Villa. That's the beautiful thing about working in a museum—this is the place in our culture that's the cauldron of creativity.
How is working at a small institution, where you started out, different from working at a large place like the Getty?

Some things are different and others are totally the same. Here everybody is doing a job that's completely different from everyone else's, which is fascinating. That part is the same.
The Getty is the only place I've worked where I haven't spent a lot of time raising money. In other jobs I had to write grant applications and ask for money to fund programming. Here, we get a lot of time to be creative.
At a lot of the places where I worked, I was the only educator. I did it all—kids' programs, school programs, adult programs. It's good to have a large group of talented colleagues here that I can bounce ideas off.
What personal skills do you think are necessary for this field?

Communication, definitely. Part of being a museum educator is translating scholarly information to all different visitors—whether an eight-year-old kid or someone with a PhD who's been to antiquities collections all over the world. It requires sophisticated communication skills to talk up and down that spectrum.
What kinds of programs do you create at the Getty Villa?

The Getty is unique in having professional gallery teachers. I work with them to develop our Art Odyssey family tours, which we offer on weekends most of the year, and every day except Mondays and Tuesdays during the summer. On these 45-minute tours, families look at objects and do a hands-on activity.
We've also developed a summer program, called ArtQuest! Recently we've been expanding it and adding a better gallery component. We've also been offering family workshops on the weekends, and we've instituted a teen program to introduce students to the many different careers in museums.
We've started doing drop-in programming during winter and spring breaks, too. And we train the docents to facilitate the Family Forum, an interactive space.
How are the Art Odyssey family tours different from other gallery tours at the Villa?

Excellent question! Programming for families is meant to be multigenerational. That means we have a layer that's appealing to kids, and a layer that's appealing to adults. We try to create programming that encourages families to work together.
A lot of times, "family programs" really means "kids' programs." We need to fight the impulse of parents who take family tours and stand in the back and think, "I'm just going along for the ride." Our programming is really for the whole family—as interesting for the parents as for the kids.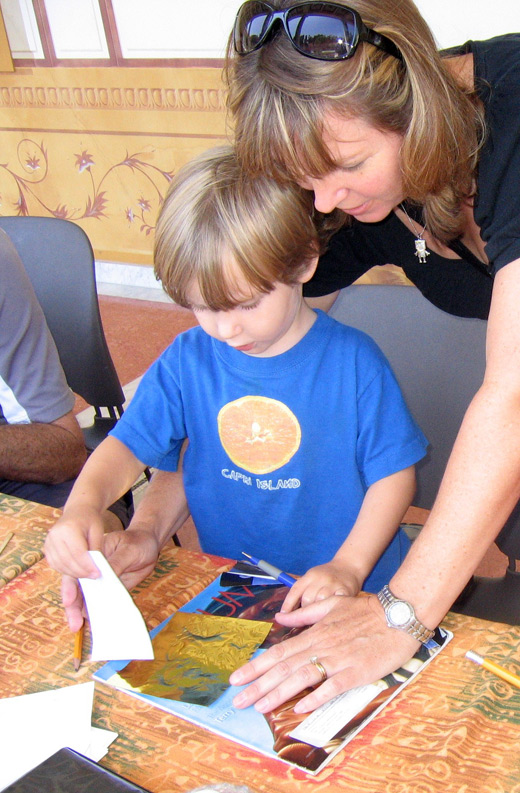 For families we want to make the experience educational, but what's most important is that they have a memorable experience with their kids. My goal is that two years after they come, they look at each other and say, "Remember that day when we went to the Villa? That was so awesome!"
What is the ArtQuest! program all about?

ArtQuest! is our biggest program. It has a hands-on component—for instance, this year we're doing mosaic-making for the first half of the summer and fresco-making for the second half. We also have a lesson about ancient artists' workshops. We tell participants about how ancient artworks were created, and then we walk them through creating an artwork—although, obviously on a smaller scale than a whole mosaic floor or a frescoed wall. (Laughs.)
The gallery component this year is brand new, and uses the principles of gaming to teach and to provide fun experiences. We've introduced a gallery game called the Mysteries of Ancient Art where families can challenge up to four mythological monsters. Let's say they decide to fight the Minotaur. We tell them the myth of the Minotaur right up until the moment of the battle. Then we give them clues and say, "You need two tools to defeat the Minotaur. Go to the works of art—if you can gather the right two tools, you can defeat the monster!" There are different levels; if you defeat one, you're a warrior, and if you defeat all four, you're a demigod. Then you can make yourself a champion button that you can wear around for the rest of the day and take home.
The game is designed so parents and children work together—it's a multigenerational challenge. It's brand new—a prototype. Our Villa teen apprentices helped develop the game, they now run the game, and they're giving us feedback on it.
How are people using the monster game so far?

People either do one monster and say, "Thanks a lot, that was fun" and leave, or they get really excited and do four—which is great. We wanted it to be free choice.
Some people finish the game in 30 or 45 minutes. Others make it part of their whole day. They'll fight one monster, have lunch, come back to fight another one, and then go make a mosaic or fresco of monsters and heroes.
Developing a program like this is the fun part of this job. I like to figure out ways to help people make connections between what they're interested in and the artwork and their family experience here.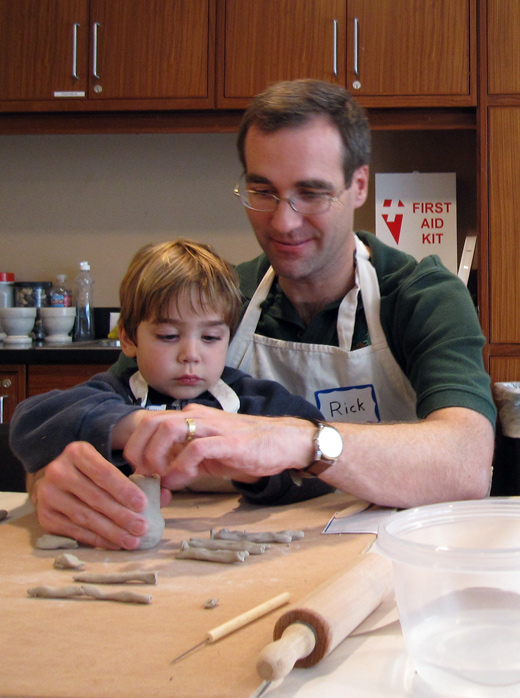 Do your programs center on the permanent collection, or do you also incorporate temporary exhibitions?

We work with temporary exhibitions whenever possible. For instance, last summer our ArtQuest! program focused on trade routes because our exhibition was  The Golden Graves of Ancient Vani. Vani was the land of the Golden Fleece. We created an activity in which you were a trader in the eastern Mediterranean. You started with either wood or cloth, and you needed to make perfume and gather gold as an offering to Poseidon. You had to go to three different areas and trade your items. You went to Athens to learn how olive oil was made and to Egypt to learn about the ancient spice trade. Then you mixed your spices and oil to make perfume—which is how perfume was made in the ancient world.
The works in the show were beautiful jewelry and fantastic gold. So the third stop was Vani, a mining site, where you could make a gold medallion. The story was that it was an offering to Poseidon—but you could take it home with you.
We were trying to give people an idea of how the trade routes worked in a way that was fun and interesting. It was a huge hit. Adults, even if they didn't have kids, wanted to do it, which is great!
We succeeded—it was appealing to adults as it was to children.