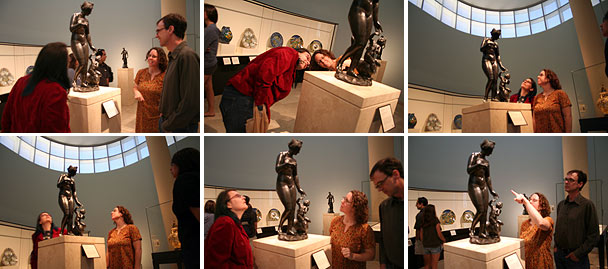 "Focus is power," said theater director Peter Sellars to a packed crowd at the American Association of Museums annual meeting earlier this year. Artworks can make you recognize things you instinctively knew but weren't able to articulate. They bring ideas into focus. This recognition is empowering; when we can name an idea or emotion, we are compelled to deal with it.
Titled "Art as Social Action," Sellars's lecture emphasized the importance of nourishing the creative soul of each person. He identified creativity itself as an act of political rebellion, because ruling social systems do not want a populace of independent and critical thinkers. He suggested that if we could take the flame of creativity and spread it, the power would be deafening.
Sellars's belief in the importance of art was palpable—and heartwarming. To him, an artist is a truth teller, willing to explore the dark and hidden parts of life and then share the results of this dangerous and exhilarating journey. As the keeper of artists' works, the museum is not a house of decorations; it is a site for discovery, challenge, and revolution.
Renew yourself in the oasis of ideas and beauty—but don't stop there, said Sellars. Take what you've learned and venture back into the messy, blinding world. You will see it with different eyes; you will question the status quo of politics, wars, advertisements, friendships. You will remove the veils and take action.
This journey of the artist, the search for subject and how to organize it into composition, is one I know well. Hours, days, weeks alone in the studio set the stage for contemplation and persistence.
But as a gallery teacher—as the person talking about art and ideas that someone else articulated, leading groups of visitors through bustling galleries for one hour—this noble goal of sparking epiphanies becomes harder to realize. How can I achieve clarity when visitors are immersed in so many stimuli?
For me, Sellars's ability to move the crowd at AAM demonstrated a way. His oratory, shifting from whispers to shouts, and his descriptions of topics as personal as romantic relationships and as public as the prison system, was unpredictable and kept listeners eager to hear more. His words of love and acknowledgment of human hopes and disappointments beautifully addressed many things I've thought about—as he might say, "things I instinctively knew but hadn't named."
Those of us who work at museums need to make time to find the power in the objects and let it move through us. We need to talk to visitors about content we have recognized and, as Sellars suggests, "ask deep and beautiful questions," for we so often find what we are looking for.
His inspiring words were heightened by a sparrow lost in the conference room. It became a metaphor for us. I wanted to tell it: Go out the double doors, down the hall; turn left and descend the stairs, the light will become stronger and show you the way outside, then you are free.