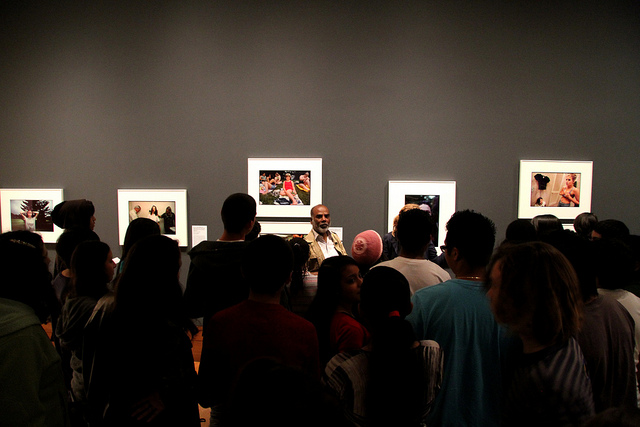 Don't call Sudharak Olwe a teacher. When the photojournalist from India met with a class from Venice High School at the Getty Center to discuss technique and creativity in photography, he turned the gathering from a workshop into a conversation.
"I do an exchange," said Olwe. "I start the dialogue and then the communication happens. I show myself first to them, and then they show themselves."
For Olwe, conversation is the best way to learn. "We're both happy. I got. They got."
Olwe's visit was part of Community Photoworks, a program aimed at engaging young students to exercise their imaginations using photography. Community Photoworks is a partnership between the Museum's Education Department and 826LA, a nonprofit organization dedicated to helping students with their writing skills. Students are asked to consider an issue to which they'd like to bring awareness, and then explore how they can communicate that issue artistically.
The class walked with Olwe through the exhibition Engaged Observers: Documentary Photography Since the Sixties. The photographs covered various social and political issues ranging from homelessness in Seattle to revolution in Nicaragua. Olwe also shared some of his work, including views of life in Mumbai.
The students and Olwe discussed composition, light, and shallow depth of field while studying the works of Sebastião Salgado, Mary Ellen Mark, and Susan Meiselas.
"We've learned how to capture pictures of emotion," said Keanna Lee, a ninth grader. "And the different conflicts people go through."
Inspired, students were given digital cameras to go out into the Getty Center and think critically about different ways they can frame people, architecture, and nature through the lens.
"You don't have to go to Afghanistan to do great things," said Olwe. Creative photographers can create a dozen great photographs right where they are—make that a million if you're at the Getty. "It's an architectural masterpiece, the garden is unbelievable," he said of the Getty Center. "We don't have to airlift them and teach them. It's all here."
After meeting with Olwe, students were given cameras to go back to their community and think critically about how to tell a story. Students will showcase their work at the Social and Public Arts Resource Center in Venice (SPARC) starting November 29.
Despite differences between Indian and American culture, Olwe believes photography can build bridges. "It doesn't require words. It's very direct," he said. "Photography is a universal language."
Fluent in their new language, Venice High Students are ready to tell their stories.
Text of this post © J. Paul Getty Trust. All rights reserved.