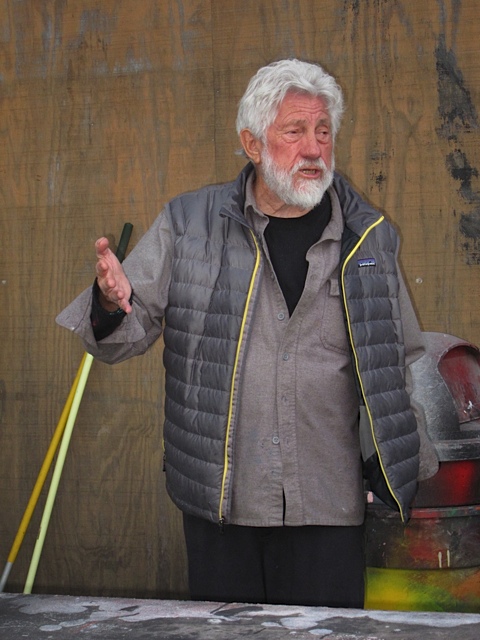 Artist Ed Moses opened his studio and shared insights into his creative process last December 18 as part of In Studio, a program we in the Museum's Education Department organized featuring six artists whose work is included in the exhibition Pacific Standard Time: Crosscurrents. The following questions grew out of that visit.
Where do you get the titles of your works, like Dalton's Waffle #1?
They appear as a word. The word pops out. It's sort of an intuition that may be a correspondent to the painting, or not.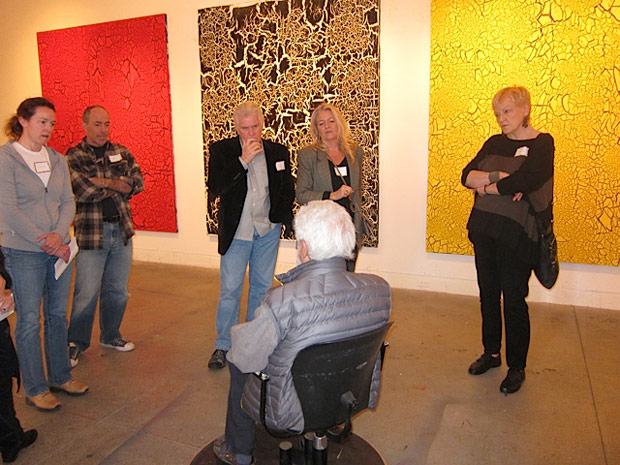 Does Buddhism inform your outlook?
I've been student of Buddhism since 1960. And of course it interfaces how I behave, how I think, how I perceive.
You described painting as a daily ritual and likened getting ready to work as preparing for a surgical procedure, laying tools out in a methodical way. But you also emphasized the importance of serendipity, stumbling across things that you like or move you in the work. Can you describe your method and how you make space in the studio for control and surprise?
Balance or harmony are things that are not of any interest to me. It's really the adventure of going out every day, setting up the workers and myself, and what follows that preparation is chance and circumstance. I never know where I am going—or do I?
Sometimes the previous day leaves evidence for the next day. Evidence in the form of, What will I do, what will the process be, what paint will I use, how will it be applied?
I'm often described as unafraid. Actually that's not true. Or actually it is true. I am unafraid but I'm really terrified. Terror is my constant companion. Maybe brought on by ghosts at the hour of the wolf, 4:00 a.m.
What is it about painting that continues to inspire you?
I'm never inspired. I'm obsessed. And I look forward every day to paint.
Text of this post © J. Paul Getty Trust. All rights reserved.
Learn more about Ed Moses and see a video interview with the artist here.