Follow the head of St. Luke to the Getty Center to experience this interactive altar tonight. Next stop: Hollywood Forever Cemetery on November 2
If there's one thing I didn't expect to be doing the week before Halloween and Día de los Muertos, it was following a trail of dismembered body parts. Don't fret, they're made from plaster and wire by students from Otis College of Art and Design for an interactive, walk-in altarpiece in the Getty Center's auditorium lobby. You can become part of the installation tonight at a conversation organized with Zócalo Public Square on why we love, call on, befriend, and need saints. Come early to meet the students and hear about the project.
The project grows out of the Getty Museum's long-standing collaboration with Otis, which seeks to engage students with the Museum's exhibitions and events.
Participants in Otis's Integrated Learning program, the talented group focused on the theme of saints and spirits, tackling the question, "Why do saints matter"? Los Angeles is a city rich in saints, and one of conflicting narratives—from spirituality (saintly names all around us) to superficiality (hello, Housewives of Beverly Hills). Where do these saints of centuries past—which the students contemplated during a visit to the exhibitions Miracles and Martyrs: Saints in the Middle Ages and Canterbury and St. Albans: Treasures from Church and Cloister—fit with our lives today? The concept for the installation was also shaped by their reading of the book My Life with the Saints, a personal memoir by James Martin. Rather than simply erecting a public altar, the students crafted a more intimate space, inspired in part by the architecture of confessionals, where visitors have a personal interaction with the idea of saints.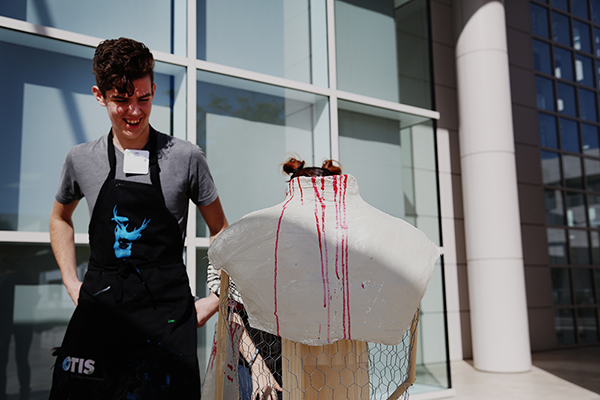 Students across departments came together to intertwine narratives of L.A.'s creative energy, spiritual tradition, saintly patronages, and contemporary artistic practice to craft the entire piece, including its star, Saint Luke, patron saint of artists. Luke is known as the first icon painter, and he may have been one of few New Testament figures who was a practicing artist. Seems perfect to bring his patronage to the Getty Center. Other saints that the students picked as representative of our city are Christopher (exploration and travel), Sebastian (sports and gay men), and Drogo (coffee and ugly people—or as one of the students humorously described the combo, "losers").
Skeletal Luke is seen here, draped in fabrics and adorned with paper flowers, mini skulls, and flickering candles. Sarah Kim, a digital media student, designed tarot cards featuring the four L.A. saints; a limited edition of 300 will be printed and distributed to altar visitors tonight. Other students brought their skills in areas as diverse as illustration, painting, and product design. For example, designers Josh Wallace and Summer Arrowwood were in charge of building the 3-D Luke out of acrylic, wood, chicken wire, and plaster cast (what doctors use to fix broken arms). In fact, Luke's arms and hands are cast directly from Josh's body.
So what will you find inside of the larger-than-life theatrical calavera? Besides the altar, look for black-and-white murals incorporating Los Angeles's iconic architecture, Starbucks symbology, and of course skulls—including a fantastic painting riffing on James Ensor's Christ's Entry into Brussels. Come inside to leave an offering, post a confession, celebrate the lost, or ask for guidance (perhaps on how best to navigate the 405 traffic on the way home). Ponder the relevance of spirituality in this complex world. As a bonus, you'll walk away smelling faintly of rosewater.
This piece is up at the Getty for one night only—it must come down in time to make it across town to the Hollywood Forever Cemetery celebration on Saturday, November 2. Find the students in the Cemetery at Lot 37, and chances are you might be able to take home a relic of their amazing work—just ask!