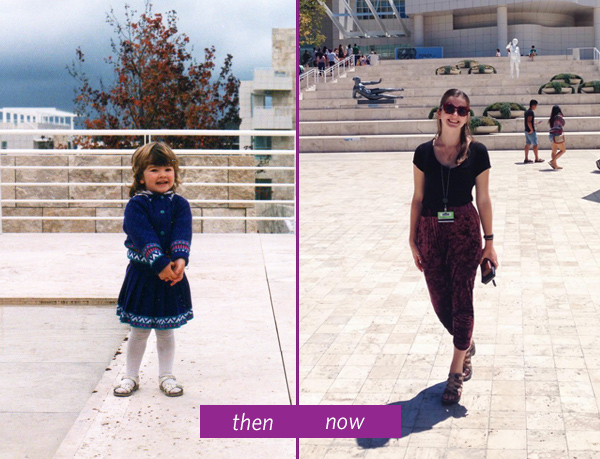 Whether it happens on a school field trip or wandering by chance into a local art museum, everyone has a story about their first memorable encounter with art.
My first experience was actually at the Getty. My mother is one of the Getty Museum's conservators, and it was because of her that I grew up surrounded by the Getty's collection. I was maybe three or four (that's me in the picture above), and I remember being mesmerized by Lawrence Alma-Tadema's Spring. I imagined myself as one of the little girls carrying a basket of flowers through the marbled streets, and wearing a crown of flowers in my hair.
At that age, for me art captured a fantasy world, one that was more marvelous and enchanting than I could have ever imagined. As my mom led me through the Getty's galleries, I would pretend to get lost in the landscapes, and imagine what it was like to be one of the people painted in the portraits.
What was your first experience? To hear more perspectives, I recently asked members of the Getty to share their first memorable experience at a museum.
Their stories give a behind-the-scenes look at the individuals who work at the museum and the meaningful, transformative experiences they have had with art. The fact that so many of these stories are set in childhood or adolescence demonstrates to me how important, enriching, and valuable it is to be exposed to art at an early age. These experiences created a foundation to pursue a career in the arts, and to continue a lifelong love for art.
A Chivalrous Child
As a five-year old I went with my parents to see the Hermitage Museum in what was then Leningrad. Or rather, my parents went to see it and took me along. They seemed to get lost—and I was about to lose it!—in the Old Master paintings, and particularly the Impressionist galleries. I constantly had to remind them that there is much cooler stuff to look at, namely the vast armory with its rows of full-body metal suits for knights! In her diary my mother complained that because of me she didn't get to see more Monets. To this day, having worked mostly with ancient sculpture, I still have a preference for three-dimensional art.
—Jens Daehner, associate curator of antiquities, Getty Museum
Roaming Free
I grew up in a small town with an important glass museum. When there was a big flood, they rebuilt the museum in a modified wheel shape with the highlighted objects in the center and more and more objects (different time periods, parts of the world, etc.) as you went further down the various spokes. I remember loving that idea, that you could skim over some things and then see everything in other areas, with choice guiding your exploration. I was allowed to roam free and pick my fancy depending on my mood (we went there a lot!).
Later in life, I fully understood the importance of looking at art with children when I took my young daughter to LACMA to look at the Altmann Klimts after they were reclaimed and before they were dispersed.  I remember to this day getting down on one knee, head to head, seeing from her vantage point, picture by picture, while we talked about what she saw. Magic.
—Quincy Houghton, associate director for exhibitions, Getty Museum
Wanting More Time
As a child, I enjoyed three things: itineraries, beauty, and elephants. One year, as part of a school trip to Washington, D.C., my class was given a few hours to freely wander any one of the Smithsonian museums. I remember being perplexed as to why more time (read days) was not allotted to be able to mindfully visit these great institutions. Seeing this as a challenge, my chaperoning grandmother and I raced Ferris Bueller-style through the National Museums of Natural History, American History, and parts of the National Gallery. I knew exactly what I wanted to see and how to navigate the museum galleries thanks to Encyclopedia Britannica's fold-out maps. Hours later and completely out of breath, we managed to see the Hope Diamond, the First Ladies' gowns, Leonardo's Ginevra de' Benci, and of course the Fénykövi Elephant. That same spirit of adventure and discovery—and a desire to maximize every moment in a museum (but no longer at a sprint pace)—continues to guide my engagement with art and with visitors at the Getty.
—Bryan Keene, assistant curator of manuscripts, Getty Museum
From Long Beach to the Getty
When I was a child, each Sunday in the summers my parents used to take us to a park in Long Beach that is right on the ocean. There they would meet up with longtime friends for a weekly picnic.  While the parents played cards and bocce (lawn bowling), the kids would run off to the beach and enjoy the water. This was in the days when parents would let their kids wander off alone.
The summer when I was about 10, I wandered off alone one afternoon and into the Long Beach Museum of Art, which was practically across the street. That summer the Museum had an exhibition of videos from its collection, and I was mesmerized. I literally spent hours and multiple subsequent weekends at the museum. And, each summer thereafter, I would spend my Sunday afternoons at the Long Beach Museum of Art. Ironically, those videos I saw so many years ago are now in the collection of the Getty Research Institute, having been acquired from the Long Beach Museum of Art in 2006.
—John Giurini, assistant director for Public Affairs, J. Paul Getty Museum
Walking into the Middle Ages
When I was eight years old, my family moved to Kansas City, Missouri, just blocks away from the wonderful Nelson-Atkins Museum. It was one of the first places we visited after the move, and I remember literally walking into the Middle Ages—a complete cloister from fourteenth-century France. It was an immersive art experience. I remember feeling the stone (probably not allowed, but I was eight!), the low lights, seeing the delicate tracery carving, and weaving in and out of the spaces, imagining monks doing the same. It was like being transported to another world, and I still carry that feeling of wonder with me today when I experience medieval art.
—Elizabeth Morrison, senior curator of manuscripts, J. Paul Getty Museum
As Soon As I Got My License…
I didn't grow up going to art museums, not that I remember. But as soon as I had my driver's license, I started visiting the Art Institute of Chicago with friends. It's the museum where I have spent the most time and whose collection I know best—so well that I can visualize works that I remember well but whose names I never really learned, such as Chagall's America Windows. For me, art museums have always evoked independence, and being able to choose how and with whom I spend my time.
—Michele Ciaccio, managing editor, Getty Research Institute Publications
One Mile to LACMA
Growing up in L.A., we went to museums a lot. My dad would circle highlights in the members' magazines (we were members of everything) and march my sister and me through the masterpieces, reading the texts aloud for our edification. At age 9, I did not want to be edified. I wanted to wander free, finding offbeat, mysterious, weird, touching, and funny things and unlocking their stories. Today I get to do that for a living.
After my dad died, I unearthed his enormous cache of museum takeaways—cards, photos, brochures, hundreds of scratched-up admission pins. Taking us to museums meant a lot to him. He grew up as a Lutheran minister's son in Indiana, always longing for another museum trip to Chicago. In L.A., he could share the culture of the entire world with us, and all we had to do was drive a mile to LACMA.
—Annelisa Stephan, manager for digital engagement, Getty Trust