Melaney Schmidt loves the Getty almost as much as she loves her (amazing) job crafting wine lists and cocktails for events all over SoCal. She recently spoke about her craft with us, and even developed a special #GettyInspired libation inspired by the Getty Museum's collection (see the recipe below the Q&A).
What's your connection to the Getty?
My connection to the Getty started nearly eight years ago when I began studying fine art photography. The museum houses some of the most amazing art in the world, and I'm lucky to have gone to numerous showings to pull inspiration to use in my own work.
Often I'm inspired by female artists who have come great lengths in an industry and whose work provokes me to have constant drive.
How long have you been bartending? When did you start your business?
I've been bartending for nine years in various establishments—nightclubs, high-end mixology bars, tiny pubs, and so on. About a year ago I decided I should take all of the knowledge I'd gained from some of the best in the business, and use it to catapult my own career outside of a brick and mortar. My business Public Provisions was designed around the concept that people should be able to get wonderful cocktails anywhere for any occasion.
You mentioned that you also bartend at The Standard in downtown LA, and that there's a lot of art there. Does it influence your work and the cocktails you create?
My role as bar manager at The Standard is great, because we not only showcase permanent art in the building, but also have a rotating mural on 6th street. The Standard celebrates artistic mediums and that free-spirited creative vibe is felt throughout the space. I try to match this creative spirit with my cocktail programs by featuring innovative menus and cocktails that showcase various spirits from all over the world.
Where, in your opinion, do fine art and the art of drink-making meet?
The art of drink-making and fine art merge when there is thoughtfulness and a commitment to craft, to expose something to a viewer or consumer. In art you have composition, subject matter, color, etc., and a well-made drink will be just as focused on balance, harmony, and a cohesive execution to elicit a response. Art aims to engage and stimulate the senses and cocktails can, and often, do the same.
Let's talk about your #GettyInspired cocktail. How did you come up with it? What is it inspired by?
I was inspired by the work of Ishiuchi Miyako in the Museum's collection [most recently on view in Ishiuchi Miyako: Postwar Shadows], which is striking and evocative, and by Robert Irwin's Central Garden. To tie these works in with a cocktail I chose to use matcha green tea. Matcha is used in Japanese ceremonies to honor mindfulness and respect. This cocktail pays homage to history, women, and dedication to two mediums that inspire me. Also, I love how from above, Irwin's gardens look like fluffy loops of green matcha.
This cocktail—named Cocktail #221 (alluding to the date Postwar Shadows ended, February 21, and paying homage to the way Ishiuchi titles her prints)—is also made with fresh yuzu juice, cucumber, mint, gin, cream, and matcha.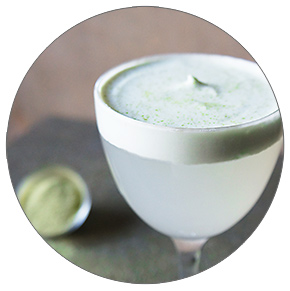 Recipe: #221 Cocktail by Melaney Schmidt
1.5 ounces CapRock® gin
.75 ounce fresh lime juice
1/4 teaspoon fresh yuzu juice
.75 ounce simple syrup
Muddle 2 cucumber wheels; shake hard and fine-strain into a martini or coupe glass. Top with matcha whipped cream (see below) and garnish with a dusting of matcha powder.
Matcha whipped cream
1/2 cup heavy whipping cream
2 tablespoons fine powdered sugar
1/2 tablespoon matcha powder
Mix ingredients and whip by hand or with an electric beater until it reaches the desired consistency.
Text of this post © J. Paul Getty Trust. All rights reserved.