As a new school year begins, we're excited to launch the third season of Art Together, which invites local students and teachers to visit the Getty Center three times over the course of the year.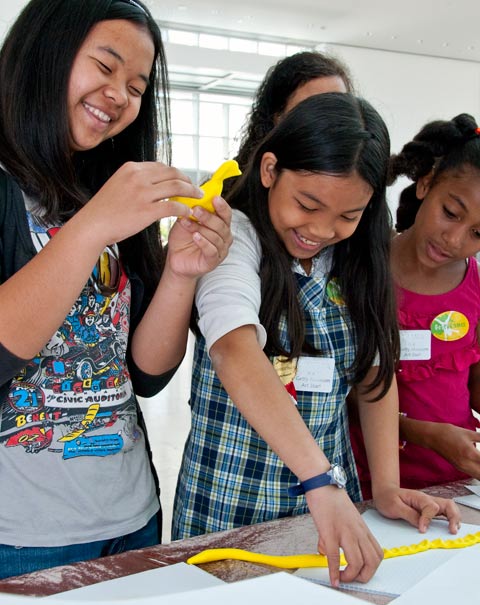 Following last year's program, when we welcomed twice as many students as in our first year, we're preparing for an even bigger third year, this time welcoming fourth-grade classes from both Erwin Street Elementary and Hooper Avenue Elementary. Museum educators will visit the students' classrooms at the beginning and end of the program, and students will visit the Museum three times in between. Come spring, the program will culminate in a school, community, and family day at the Getty Center. (It was a fun and activity-packed day last year, as you can see in the photo above.)
Before continuing this pilot program, we carefully considered whether Art Together was meaningful for its participants, both personally and academically. The answer was yes! Through an in-depth evaluation, we learned that the program was achieving its goals: expanding students' knowledge about art, helping them navigate a museum, and igniting their enthusiasm for museums as places of fun and learning.
Goal 1: Knowledge About Art
Our study showed that participants demonstrated greater ability to critically analyze works of art than a control group of students who had visited the Museum only once—even months past the program.
This ability shone through when we showed participants in the previous year's program a reproduction of a painting in the Museum's collection and asked, "What's going on in this picture?" One student wrote:
The people may have been on the ship that might be sinking, and now they are abandoned in a strange land. Two people are on a rock—perhaps they still see people on the ship. Everyone looks wet and tired; maybe they were thrown out of the little raft by the waves. In the distance I see houses, so maybe they were sailing to the town to deliver something and on the way home the ship started to sink.
This and other answers reflected students' skills not only in finding relevant details in an artwork, but also on speculating on a work's story and meaning—a sophisticated skill for fifth graders.
Goal 2: Understanding of Museums
Another goal of our program was to help participants learn the purpose and values of museums, as well as skills for navigating them. In our evaluation, we asked these three questions:
What is an art museum?
Why are museums important?
What can you see and do in an art museum?
Participants in Art Together demonstrated a greater understanding of the function and importance of art museums than the control group, not only listing more concepts for each question but also supporting their concepts about museums more deeply than non-participants. Among the answers:
In art museums you can imagine you are in a picture.
[An art museum is] a place where you can use your imagination and discover.
[Art museums are important because] some people can't express themselves in words, they need to show how they feel possibly with different colors or shapes.
When asked to describe what they remembered about their visits to the Getty, participants in Art Together also named more specific works of art ("handmade tapestries," "the pink bed") and included more details ("I remember a parade painting and a painting of animals," "I saw tapestries that told stories") than their peers.
Goal 3: Enthusiasm for Museums
In addition to learning about art and the role of museums, we were delighted to find that participants discussed their experiences at the museum in more enthusiastic terms. "I had a great time at the greatest museum in California" was (of course!) one of our favorite comments.
Moreover, these positive associations with museums carried over into students' lives: Art Together students returned with their families at a notably higher frequency than did students who had only visited once.
Collaborating teacher Alex Zwick of Erwin Street Elementary summed up the students' enthusiasm this way:
The students looked forward to each activity and lesson, both at the museum and at our school, eagerly anticipating each excursion. They were able to become critical thinkers in evaluating why and how artists created their works, and to create their own work based on those inspirations. The school as a whole greatly enjoyed the Getty family day, and the opportunity to gain an exposure to a world many had never experienced.
We're pleased that the Art Together program is helping students see the museum as a welcoming place for fun and learning. As we enter year three of this exciting school partnership with Erwin Street Elementary and Hooper Avenue Elementary, we look forward to fostering the next generation of art and museum lovers.