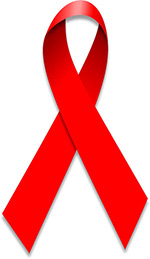 December 1, 2012, marks the 24th year that museums and other art organizations have observed Day With(out) Art in order to raise awareness about the AIDS epidemic. Although medical advances in the treatment of HIV/AIDS have improved the lives of those affected, there is still no cure.
Robert Mapplethorpe's vibrant career was cut short when he died of AIDS-related complications on March 9, 1989, at the age of 42. In my experience, even the most optimistic artists are unable to keep the pain and sadness of AIDS from occasionally surfacing in their art. Mapplethorpe was no exception. While studying his photographs, I noticed a perceptible shift in the emotional tone of his self-portraits occurred in 1986: the year he was diagnosed with AIDS. In 1988, while the disease wreaked havoc on his body, Mapplethorpe used the camera as a means of taking artistic control over what was happening to him. In doing so, he joined a group of important visual artists such as Keith Haring (died age 31), Felix González-Torres (died age 38), and David Wojnarowicz (died age 37), whose work also addressed the AIDS crisis.
This photograph shows Mapplethorpe's face with signs of illness and fixed with an impassive expression. His head appears to be floating, and his hand grips a skull-topped cane, a symbol of his impending death. The simple composition (with elements protruding from a tomb-like darkness) and brutal honesty of the work make this photograph one of Mapplethorpe's greatest achievements.