We're welcoming Lionheart, one of America's leading ensembles in vocal chamber music, for a concert this Saturday. Their performance of music from the early Renaissance complements the exhibition Florence at the Dawn of the Renaissance: Painting and Illumination, 1300-1350. The Getty provides musical inspiration through a rich collection of art and literature of the period, which is one of the reasons why Lionheart, which has appeared at the Getty Center once before, is returning for an encore visit.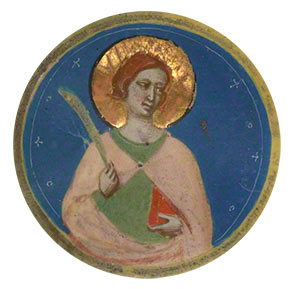 "We love performing at the Getty Center not only because of the beauty of the place and its collections, but also because the audience will have just seen in the galleries visual art that goes with and adds context to the music," Richard Porterfield, a member of Lionheart, told me.
Keeping true to the fusion of art and performance, the music for the evening comes straight from the manuscripts on view: Lionheart will be performing music from the Laudario of Sant'Agnese, an important illuminated book of hymns from the first half of the 14th century. Illuminated by Pacino di Bonaguida and the Master of the Dominican Effigies, this beautifully executed and ambitiously designed illuminated manuscript was dismantled and dispersed sometime in the 19th century, and 24 of the 26 leaves that survive today have been reunited for Florence at the Dawn of the Renaissance.
One of Lionheart's biggest challenges is piecing together and interpreting music from this time using very limited information—audio recorders were still about 500 years away, and the music is in fragments. However, it offered an exciting challenge to the musicians.
"When the illuminated panels were cut out, they carried on their reverse sides only the final verses of the preceding lauda [hymns], and lost connection with the continuation of words and music of the piece," Porterfield said. "Fortunately, the intact Cortona and Florence laudarii  [significant laudarii from 13th century Cortona and 14th century Florence, respectively] transmit much of the same repertoire, so even though the page on which that verse was written in the Sant'Agnese source has been lost, we can reconstruct how it should go by comparing what survives from that source with what we find in others."
In addition to reconstructing the music for live performance, the group also had to deal with other challenges, such as understanding the manuscript's spellings, which reflect the peculiarities of Florentine pronunciation. The ornate melodies also revealed the development of more complex music during this time, as compared to pieces created just years before.
As for tunes to begin the holiday season, in addition to the performance and free download of the Christmas hymn "Christo è nato" (courtesy of eOne Music) above, Porterfield says the group has something special in store.
"We do have a holiday-themed hymn in English ready as an encore. Try getting through that without shedding a tear; it's always a challenge for me not to."