I have the good fortune to spend my days on a hillside with a view, in buildings filled with artistic treasures and surrounded by gardens. Still, I often amaze myself at how infrequently I take advantage of what's around me. Somehow, my days as a developer of educational experiences for visiting kids and families rapidly fill with e-mail, meetings, and the general flurry of tasks.
So I was particularly thrilled recently to reconnect with the fun of artistry while talking with Kelly Williams, a project specialist here in the Getty Museum's Education Department, about the Family Drawing Hour workshop she was planning in conjunction with the photographs exhibition In Focus: The Tree. A free program, Family Drawing Hour combines a gallery visit with fun drawing projects.
In this workshop, Kelly planned to look at images of trees with family visitors and share some techniques for drawing them. When I expressed further curiosity about what these techniques might be, she got out her drawing pad and gave me my own private five-minute lesson on how to draw a tree.
While I'm somewhat comfortable with a sketch pad as a result of several art classes in college, I usually feel too rusty now to pull one out and play around. But that hesitation soon melted and I was inspired to grab a pad and head outside to try my hand at creating one of the amazing tree drawings I had just seen Kelly produce before my eyes in a matter of minutes. (That's my tree below.) By working with negative space—sketching in the tree's form and then creatively erasing—you can create a dramatic tree without rendering leaves and branches in detail.
Perhaps you're like me, someone who needs a little extra nudging or inspiration to turn on your artistic mind and pick up a pad? So Kelly agreed to give an encore five-minute tree drawing lesson on video to share with you using one of Myoung Ho Lee's photographs of a tree as inspiration (pictured below). At your next coffee break, or with your kids this weekend, I invite you to grab your pencil, pad, and eraser, and give it a try.
Kelly uses several charcoal pencils, a kneaded eraser, some tissues and a sketchpad, and gets great results with these materials, but being a minimalist, I tried using the #2 pencils and eraser that I could find at my desk.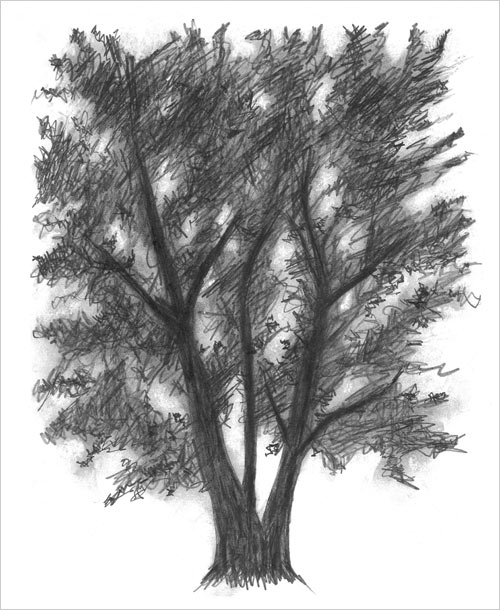 Come meet Kelly and be inspired to draw some more at Family Drawing Hour, offered on selected Saturdays from October through May. "Tremendous Trees" is offered on May 7; a related theme, "Our Natural World," is the topic on April 16 and May 21.