When Edgar Garcia participated in the Getty Foundation's Multicultural Undergraduate Internship program in 1999 with a position at the Los Angeles Conservancy, little did he think his supervisor would become his boss at a different organization several years later. But that's exactly what happened when he took a job as the City of Los Angeles's first ever preservation planner in the Office of Historic Resources in 2006.
Below is the third in a series of alumni interviews we're featuring this summer to celebrate 20 years of supporting internships at arts organizations across L.A. County through the Getty Foundation's program. You can read the first two interviews here.
How did you end up interning at the Los Angeles Conservancy through the Foundation's intern program?
I had taken architectural walking tours with the LA Conservancy when I was very young, so I was well aware of their work. As it turns out, that summer they were working on an architectural tour and exhibit of Lincoln Heights which just happened to be the neighborhood I grew up in, so I think I was a good fit for them.
And you probably have the most unique answer when it comes to whether you have stayed in touch with your supervisor.
Yes, my supervisor then is still my supervisor now! As I was finishing up my M.A. in urban planning, I found about the newly opened Office of Historic Resources. I applied for a position, and before I knew it I was working in City Hall and responsible for the entire city's designated historic and cultural heritage. As a preservation planner, I review and approve all proposed changes and impacts to protected historic resources. These include everything from the Bradbury Building and the Chinese Theater to Watts Towers, the Venice Canals, and the Hollywood Sign…essentially everything loved and cherished by Angelenos!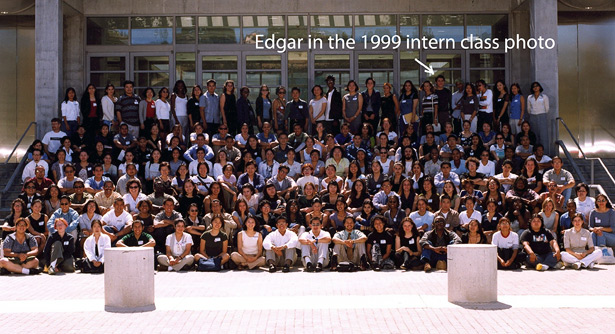 Obviously you have a deep and passionate connection to Los Angeles's cultural heritage. Did that start before your Getty internship?
I think part of the reason I became a preservationist was to connect to my surroundings growing up, to the city around me. My Getty internship helped me do that in a very concrete way, but even during the years after that I was trying out different jobs: gallery work, public arts management, even HIV-prevention work. Then I remember at one point stopping and asking myself when I was happiest in my work. And I thought, wait—I want my career to be like that summer of my Getty internship! I want to be that person I was: working on our city's architectural and historical legacy. It's also why I opted to do graduate work in urban planning, to help guide L.A.'s growth while maintaining its historic buildings and places, and really improve the quality of life of all people here by ensuring our city resonates with meaning and community.
And was your family supportive of this decision?
I have a wonderful memory from one of the L.A. Conservancy's Last Remaining Seats film screenings in the beautiful baroque style lobby of the Los Angeles Theater during my internship. My family came to meet me, and I introduced them to my colleagues. I think once they saw the splendor and magic of that space, they really understood why I wanted to pursue a career in preservation. That moment helped us understand each other better.
Are there other challenges you faced on the job that really stick out in your mind?
I remember going to hearings in City Hall to support the Adaptive Reuse Ordinance for downtown and hearing the discussions to pass the legislation. It would become one of the main catalysts for rehabbing so many vacant historic buildings into the lofts we have today. I can recall walking by the vacant lot that's now Disney Hall on my way back to the office and worrying if the concert hall would ever really be built, after reading about all the setbacks at the time.
Remember, it was not too long after the 1992 civil unrest and the '94 Northridge earthquake—even the Central Library itself had just only recently reopened. Downtown was still not "there" in so many ways. It was the everyday challenge of feeling whether our work toward preservation and revitalization was really going to have an impact. And I think we can all agree that it already has.
I'm glad you mentioned the civil unrest in the early '90s and the inequities it surfaced, as this was really what prompted the Getty to establish the Multicultural Undergraduate Internship program.
For some of us of diverse backgrounds, we have had to overcome huge socioeconomic hurdles to get ourselves ahead and pursue higher education and career goals. Unfortunately, however, many of the narratives we hear as students still neglect to mention viable opportunities in the arts and culture. And even today, there are still times where I might be the only Latino in a meeting full of professionals. The simple fact that a program like the Getty's acknowledged the challenges for students of color in the arts was a true boost for me.
Any parting words of wisdom for future interns?
Stay in touch with each other, with your supervisors, and with Getty. You rarely get opportunities to be among so many super smart, fun, motivated, and like-minded people as your fellow interns. And trust me, you will be seeing each other over the years as you become established in your respective careers, especially if you're in the L.A. area. And definitely reach out to Getty alumni, as we love to talk about our own experiences!
Text of this post © J. Paul Getty Trust. All rights reserved.